What's in a name? As Shakespeare orated in his epic love story Romeo and Juliet, "that which we call a rose, by any other name would smell as sweet." But in Florida Governor Rick Scott's world, the perils of a warming planet are somehow diminished simply by changing the words we use to refer to them.
According to the Florida Center for Investigative Reporting, Scott, recently reelected to a second term, commanded environmental officials at the Florida Department of Environmental Protection (DEP)—the very agency in charge of setting the state's conservation policy and enforcing environmental laws—to stop using the terms "climate change", "global warming, and "sustainability" in official communications, reports, and emails—an immensely ironic action considering that Scott governs a state that is precariously positioned on the front lines of climate change.
Even "sea level rise" was under temporary siege (provisionally replaced by "nuisance flooding") despite the fact that rising sea levels are expected to submerge up to 30% of the Florida coast over the next 85 years.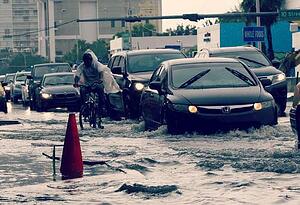 Miami Beach, Florida, in 2014. (Lynne Sladky/AP)
Beyond strange wordplay, Scott seems to be avoiding the environmental realities that his state is facing. Florida has already been hit hard by superstorms and climate events. Sea level rise has already caused extensive flooding at high tide in the southern part of the state. Salt water has already contaminated drinking water. Heavy rain during exacerbated storms has already impaired stormwater drainage systems. And warming temperatures and increasing ocean acidification have caused extensive damage to coral reefs surrounding Florida's sandy white beaches.
In what seemed like a moment of enlightenment, Scott recently unveiled a $106 million proposal to deal with "the effects of rising oceans". Sustainability advocates waited with bated breath, but were sorely disappointed: $50 million of that amount was allocated towards a sewage plant in the Keys and $25 million for beach restoration—hardly a viable plan to protect homes, communities, and key infrastructure from the threats of climate change.
When asked about his stance on climate change and his banishment of related terms, Rick "I am not a scientist" Scott simply responded that he is not convinced that climate change is caused by human activity—as if that matters one way or another in scenario planning for the future. Whether climate change has been created by humans or not, Scott needs to be preparing his state and protecting his people.
Scott also denies expelling the terms in question. However, verbal testimony from four former DEP employees, confirming that the order was "well known and distributed statewide" puts Scott's abnegation in question. "We were dealing with the effects and economic impact of climate change, and yet we can't reference it," one former DEP employee said.
Scott's heedlessness is particularly infuriating in light of Florida's bleak prognosis: it's projected that Florida will be the U.S. state hardest hit by climate change. According to Ben Kirtman, professor of atmospheric science at the University of Miami, Broward and Miami Dade counties are expected to experience two feet of sea level rise by 2048, swallowing much of Miami-Dade and Monroe counties and nearly all of the state's barrier islands. Climate Central projects that this extent of sea level rise will affect approximately 300,000 houses and cause nearly $145 billion in damages.
Now, I'm not a scientist either, but these numbers are impossible to ignore. Even if there is only a 10% chance of the forecasts coming true, isn't that enough of an incentive to develop appropriate policy to protect Florida residents?
Don't want to speculate about the future? Fine. Here are some irrefutable numbers: 14 of the past 15 years were recorded as the hottest ever, with 2014 topping the list with record breaking temps across the board. Paying attention yet?
Instead of seizing an opportunity to show courage, foresight, and innovation, it seems that Scott is resolved to pass up a huge leadership moment. It's unfathomable that he's tripping over semantics—avoiding scenario planning that could mean life or death for the citizens of Florida simply because he can't decide whether climate change is human induced or part of a natural planetary cycle. And I'm pretty sure that ignoring science isn't an effective legislative approach.
Perhaps Scott thinks he can skirt the issue since he'll likely be out of office by the time things really start heating up in Florida, but it's hard to believe that voters aren't up in arms over his $1.4 billion dollar budget with its glaring—and dangerous—blind spots, demanding better representation and greater protection.
Unfortunately, Scott's not alone. There is precedent—North Carolina passed a bill in 2012 that banned state agencies from basing coastal policies on the latest scientific predictions about rising sea levels. Instead, policymakers have been instructed to refer to moderate "historical data" and completely ignore a report conducted by the state's own Coastal Resources Commission, forecasting that North Carolina will face a 39 inch rise in sea levels by the end of this century. The sickening scuttlebutt is that this policy was, apparently, a concession made to the real estate industry, which lobbied that they'd lose home sales if prospective buyers knew that their homes were expected to be swallowed by rising tides.
The sad truth is that policy makers fighting for sustainability are finding in today's polemic political climate that the most effective way to get climate policy passed is to shroud it in something that looks nothing like climate policy. Climate change is now referred to as extreme weather, and climate action is now called resilience.
Let's be honest, folks. At this point, it really doesn't matter what is driving climate change or what we call it. Ignorance, evasion, and stubbornness won't reverse its effects. What matters is that things are getting hot, and crowded. Our air and water are visibly and undeniably dirty. Our soil is increasingly unproductive. Our prairies are becoming deserts, and our forests and coral reefs are dying en masse. Regardless of the cause, this is simply not acceptable, and if we have any iota of humanity left in our profit-driven society, then we must have the courage to do better.
Fortunately, only the smallest bit of financial analysis proves that clean energy, carbon taxes, and intelligent technologies that facilitate sustainable living are actually economic boosters rather than shackles.
According to the Advanced Energy Now 2015 Market Report conducted by Navigant Research, in 2014 the global market for advanced energy products and services experienced unprecedented growth and reached $1.3 trillion, making it as large as the fashion and apparel industry and four times the size of the worldwide semiconductor sector.
In the U.S. alone, the advanced energy market has grown 38% since 2011, growing five times faster last year than the nation's overall economy to $200 billion—a staggering 14% increase representing 15% of the global market. Fortunately, for those of us in the building sector, building efficiency is now the largest segment of the U.S. advanced energy market, representing revenue of $60.1 billion in 2014 and 43% growth since 2010. Not surprisingly, solar photovoltaic revenue has experienced 173% growth over the past four years, reaching $22.5 billion.
So what will happen when Florida is hit with the inevitability of climate change? I suspect that the state will become green by necessity, forced to invent long-term sustainable solutions to deal with extreme weather and rising tides. Until that time, barring a new stock of enlightened leadership, Florida's future is unknown, but suffice to say that it will be difficult to plan for climate events if they're expelled from the state's dialogue and vanished from the government's vernacular.
Are you as outraged as I am by Scott's North Korean style censorship? Write to me at sara.gutterman@greenbuildermedia.com or follow me on Twitter or Facebook.
For more information about green building and sustainable living, visit Green Builder Media at www.greenbuildermedia.com, like us on Facebook, and follow us on Twitter for regular updates and breaking news.