Climate Change and the Housing Crisis
From Puerto Rico to Alaska, communities across the nation are being rocked by extreme weather events and natural disasters, further exacerbating the already snowballing housing shortage. Some communities in the bullseye of this season's assault haven't even had time to rebuild fully from last year's calamities. Something has to give.
It's no secret that our country is facing a far-reaching housing crisis. California, New York, Florida, Texas, and Washington are reaching a breaking point with respect to housing shortages and homelessness, with over 250,000 people living on the streets in those five states alone.
While housing shortages exist at all levels of the market, it's not surprising that the hardest hit sector is affordable housing. Studies by the National Low Income Housing Coalition indicate that there is a shortage of 7 million affordable housing units nationwide.
These shortages are a result of shrinking supply: ever-increasing land prices, infrastructure expenses, water tap fees, and building material costs make it difficult for builders and developers to get the returns they need from affordable housing projects—the numbers just don't pencil out.
To add insult to injury, the housing crisis has been aggravated by extreme weather and climate events, with low-income communities most drastically impacted. In fact, some municipalities are pulling funding from affordable housing programs to support disaster relief, placing a disproportionate burden on low income communities that are on the frontlines of rising sea levels, flooding, and other climate events.
According to a report by the Center for American Progress, "Efforts to address the devastating impacts of natural disasters … have thus far failed to consider the threat multiplier effect that more extreme weather and scarce supply of affordable housing has on frontline communities — those most likely to experience the worst and first climate impacts. Solutions that offer only temporary relief in the wake of disasters and/or are directed to wealthier households and homeowners will perpetuate the loss of affordable housing stock that, when damaged, is often demolished rather than rebuilt. Moreover, they will increase displacement, housing poverty, and homelessness."
With over $1.6 trillion in losses from natural disasters in the U.S. since 1980 (as estimated by NOAA), communities across the nation, especially low-income ones, are not able to meet the astronomical costs of rebuilding and disaster mitigation. And relying on federal funding is becoming increasingly precarious as the availability of capital falls far short of the vast actual need.
Which brings us to a challenging and unavoidable series of questions: how can we build durable, healthy, efficient, affordable communities that can withstand nature's extremes and prevent displacement?
How can we design sustainable structures to include not just energy efficiency, water conservation, smart technologies, and renewables, but also the innate opportunity for inhabitants to live vibrantly and age with dignity, while simultaneously protecting (even regenerating) ecosystems and other species?
How do we elevate our approach to sustainable development so that it bolsters the physical, psychological, and economic health of inhabitants?
And when disaster occurs, how can we coordinate recovery efforts, such as and rental assistance and homelessness services, in a fair and equitable way?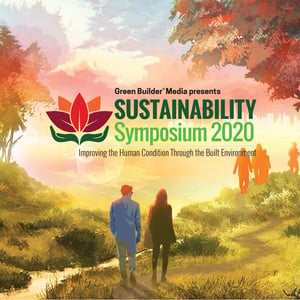 These are just some of the questions that we'll explore at Green Builder Media's upcoming Sustainability Symposium 2020: Improving the Human Condition, on January 20, 2020 at the Artemis W. Ham Concert Hall on the UNLV campus in Las Vegas.
Our renowned speakers, including sustainability expert and author of Green to Gold and The Big Pivot Andrew Winston, world-renowned architect and Founder of Architecture 2030 Ed Mazria, award-winning Thrive Home Builders CEO Gene Meyers, and distinguished civil rights attorney Kalpana Kotagal, will lead a robust discussion about the nexus between environmental stewardship, social equality, and financial abundance.
Additionally, we invite you to join us for a special gala dinner on Sunday, January 19 to celebrate the winners of our annual Home of the Year and Sustainability Awards—a group of building professionals who have solved for many sustainability issues that we face today.
Space is strictly limited and by reservation only, so reserve your seat today! Register for the Symposium before November 22, 2019 using the code EarlyBird and you'll receive a $50 discount.
A sincere thank you to our generous sponsors, Trane, Mitsubishi Electric Trane, and Zappos, for helping to make the Symposium and gala dinner possible.
To learn more about the Sustainability Symposium 2020: Improving the Human Condition, visit the event microsite or write to me at sara.gutterman@greenbuildermedia.com.
Want to read more? Follow me on Twitter and Facebook. For more information about green building and sustainable living, visit Green Builder Media at www.greenbuildermedia.com, like us on Facebook, and follow us on Twitter for regular updates and breaking news.