During the recent Presidential debate, Floridian Mayors demanded answers about rising sea levels. The candidates' responses were passionate, but has climate change really received the attention it deserves?
PRESIDENTIAL CANDIDATE HOPEFUL Martin O'Malley made sure that climate change was front and center in every debate he participated in, hitting the audience with point after poignant point about the urgency of the issue. Since his departure from the race, the topic has been marginalized, relegated to a few comments here and there by Sanders and Clinton about clean energy and climate action, and ignored completely by Republican candidates (in fact, frontrunner Trump has disavowed climate change completely, calling it a hoax.)
Recently, however, Florida Mayors brought the issue to the forefront, demanding answers from the Democratic candidates about how they would combat the rising sea levels that are threatening the State.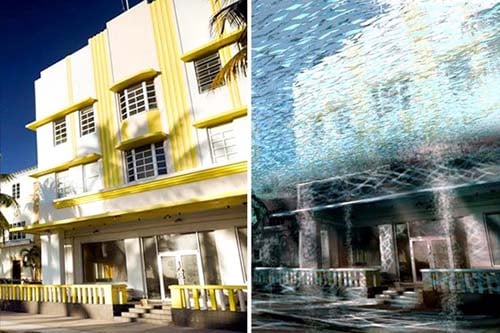 What sea level rise could look like at the Ocean Drive in Miami. Photo credit: Climate Central via EcoWatch
Miami, the location of the debate, is considered ground zero in the battle against rising sea levels, with daily high-water marks increasing almost an inch each year. The city, experiencing regular flooding that has caused widespread damage to homes, businesses, and communities, has already spent over a hundred million dollars on disaster recovery, and it has plans to spend twice that much on mitigation and resiliency. Some say that those efforts are futile, and that sooner rather than later the city will be deluged. Already, insurance companies are taking a cold, hard look at issuing policies for luxury condos on Biscayne Bay and banks are rethinking mortgage policies.
Miami is just one of many examples of coastal cities across the globe that are threatened, to one degree or another, by rising sea levels. With the effects of climate change quickly intensifying and accelerating, the fact that the topic is still poo-pooed by certain political leaders is completely unfathomable, making our selection for the next President more critical than ever. The stakes couldn't be higher—our nation's health and livelihood are on the line.
With a Republican President, we will undoubtedly remain on path that supports fossil fuels and opposes incentives for renewable energy. A Democratic President will likely expedite the transformation to a clean energy future—but will it be fast enough?
According to The Conversation:
Donald Trump has repeatedly stated that he does not believe in climate change, which he calls a hoax. Trump has made few substantive comments about energy policy beyond asserting that wind turbines kill lots of birds. He sued unsuccessfully to block construction of offshore wind turbines near one of his golf resorts in Scotland, arguing the turbines were ugly and would ruin the view and reduce tourism.
Senator Ted Cruz has called climate change a "pseudo-scientific theory." Cruz advocates strongly for an "all-of-the-above" energy strategy, is calling for an end to all energy subsidies, and criticizes the Obama administration for waging a "war" on coal, oil and natural gas. Although he represents Texas, the state with the most wind generation capacity in the country, Cruz does not directly acknowledge opportunities offered by a rapidly accelerating transition toward more renewable based energy systems.
Both Hillary Clinton and Bernie Sanders contend that it is urgent for the United States to accelerate its transition away from fossil fuels to clean, sustainable energy. Both candidates say that doing so will create new jobs and help mitigate the impacts of global climate change.
Clinton has set two broad goals for expanding renewable energy. First, she has pledged to install 50 million solar panels by the end of her first term, which would represent roughly a seven-fold increase. However, solar energy is already growing rapidly – the U.S. solar market grew by 17 percent in 2015 – so it is possible that this increase might happen even if Clinton's plan were not enacted. Second, Clinton pledges that within 10 years of her taking office, the United States will generate enough renewable energy to power every home in the country.
Clinton emphasizes the importance of bringing the benefits of energy efficiency and renewable energy to low-income communities, and she also has released a plan to modernize North American infrastructure that includes investments in hydropower and modernization of the electric grid. In her campaign launch speech, Clinton pledged to increase fees and royalties on fossil fuel production and use the revenues to help support a clean energy transition. She also supports production tax credits for wind and solar power.
Among all of the major candidates, Bernie Sanders has proposed the most urgent and specific policies for shifting rapidly toward 100 percent reliance on renewable fuels, taxing carbon and leaving fossil fuels in the ground. Sanders has referenced statements by Pope Francis to support his argument that moving away from fossil fuels toward renewables is a moral imperative to protect the planet.
In the Senate, Sanders has introduced multiple bills designed to expand access to renewable energy, including the Low-Income Solar Act, the Residential Energy Savings Act and the Green Jobs Act. Sanders has also proposed legislation to ban all new fossil fuel production leases on public lands, and supports production tax credits for wind and solar power.
Both Clinton and Sanders advocate stricter regulation of fracking, but Sanders has also proposed a series of specific actions to limit fracking. Clinton and Sanders also have expressed frustration with their political colleagues who deny the link between fossil fuel combustion and climate change.
The Clean Power Plan, the COP21 climate pledges, and the recent extension of tax credits for renewable energy (Production Tax Credit or PTC, for wind and Investment Tax Credit, ITC, for solar) have set the stage for our nation's transformation to a sustainable future. The next President has an excellent opportunity to leverage the momentum into a massive movement, finally tackling the scourge of infinite growth and dismantling the parts of our economy that no longer serve us.
The choice we face in November is not just about who will run our country for the next four or possibly eight years. It's about whether we have the courage and political will to work together to address our exigent problems, instead of kicking the can down the road, waiting to develop real solutions until some mythical point in the future when our country has reestablished our supposedly vanished greatness—which, by the way, will never occur until and unless we actually make the transition to a sustainable economy.
How do you think the next President can facilitate the transformation to a sustainable economy? Write to me at sara.gutterman@greenbuildermedia.com or follow me on Twitter or Facebook.
For more information about green building and sustainable living, visit Green Builder Media at www.greenbuildermedia.com, like us on Facebook, and follow us on Twitter for regular updates and breaking news.