Last week at the G20 meetings, leaders from across the globe reaffirmed their commitment to climate action through the framework set by the Paris Agreement. This week, international delegations are meeting in Poland for the United Nation's climate change conference, COP24. The Trump Administration has been conspicuously absent from the conversation.
At last week's G20 meetings, countries from across the globe united, once again, in their commitment to aggressive climate action. In a joint statement, G20 leaders emphasized that "a strong economy and a healthy planet are mutually reinforcing." The G20 leaders recognized the importance of "comprehensive adaptation strategies, including investment in infrastructure that is resilient to extreme weather events and disasters."
Meanwhile, the Trump administration stood isolated on the world stage, firm in its decision to abandon the Paris Agreement.
This week at the COP24 meetings, leaders from 200 countries are charging ahead with the full-scale implementation of the Paris Agreement—irrespective of the U.S. holdout. Rolling up their sleeves, delegates are diving headlong into the intricate process of developing a "work program" that will determine guidelines for how to track, report, and verify emissions reductions.
Located, ironically, in Katowice, Poland, a mining region that is among the most polluted in Europe, the COP24 meetings are focused on forging a rulebook for transitioning to a global economy powered by clean energy and enabling technologies.
Particular emphasis has been placed this week on forest protection, supporting poor countries that are bearing the brunt of climate change, and increased investment in e-mobility.
Amidst protests and political posturing, leaders from all sectors are stepping up with bold commitments.
The World Bank announced a $200 billion investment plan to boost support for adaptation strategies across the globe. "We are clearly the last generation that can change the course of climate change, but we are also the first generation to live with its consequences," said World Bank CEO Kristalina Georgieva.
Shipping giant Maersk committed to cut its carbon emissions entirely by 2050 with net zero emission fleets, urging others to follow suit. "It's vital that we find solutions for this problem. We want many future generations to have a healthy and peaceful existence on this earth," stated Maersk Chief Operating Officer Soren Toft.
And Volkswagen announced that it will end production of combustion-engine vehicles in 2026 and, from then on, only produce electric vehicles.
While the rest of the world engages in productive dialogue about climate action, the Trump administration has scheduled a side-event at the COP24 to promote fossil fuels and clean coal.
As BusinessGreen editor James Murray states, the current administration "may be planning to quit the global climate accord as soon as possible, but that has not stopped the United States wanting to leave its mark on the agreement. The U.S. team already has managed to chalk up minor victories in the run-up to the summit, watering down language in support of the Paris Agreement in the G20 statement and reportedly tweaking a recent U.N. report on climate finance to dilute references to industrialized countries' funding obligations."
Indeed, the Trump administration's flaccid stance on climate change has now been deemed the "Trump Effect". In a report published earlier this week, Joseph Curtin of the Institute of International & European Affairs (IIEA) assets that this "Trump Effect" has created moral and political vacuum, slowed global markets, and damaged international goodwill.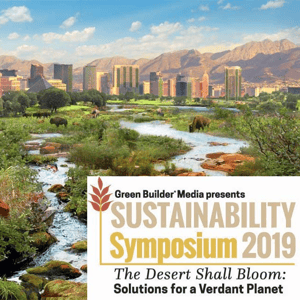 Fortunately, plummeting renewable energy and clean tech costs are serving as a counterbalance to the "Trump Effect". Now, it's up to other global leaders to continue forge the path to a multilateral, rules-based world order that will shift the international economy into high gear on a race towards zero emissions.
Interested in being part of the solution? Join Green Builder Media as we explore common-sense solutions for climate action at our upcoming Sustainability Symposium 2019: The Desert Shall Bloom on Monday, February 18, 2019 at the UNLV campus in Las Vegas. Brimming with vision and ingenuity, the event's agenda includes luminaries like General Wesley Clark, Academy-Award winning actor Jeff Bridges, and NBA legend Bill Walton.
And, don't miss a special VIP dinner the night before the Sustainability Symposium on February 17 at 6:00 p.m. at the exclusive Mr. Chow in Caesars Palace.
Click here to register for the Sustainability Symposium 2019: The Desert Shall Bloom and Sustainability Awards gala. Space is strictly limited and by reservation only, so reserve your seat today!
A sincere thank you to our generous sponsors, Samsung, Ingersoll Rand, Emerson, Andersen, Owens Corning, and Caesars Entertainment for helping to make the Symposium and gala dinner possible.
Have you heard of any other interesting news to report from the COP24? Write to me at sara.gutterman@greenbuildermedia.com.
Want to read more? Follow me on Twitter and Facebook. For more information about green building and sustainable living, visit Green Builder Media at www.greenbuildermedia.com, like us on Facebook, and follow us on Twitter for regular updates and breaking news.