The UN's World Meteorological Organization released its annual Greenhouse Gas Bulletin last week. Not surprisingly, the results are bleak: concentrations of key gasses that drive up global temperatures are at an all-time high, and the changing climate will unequivocally impact global financial stability and force the U.S. into uncharted territory. Which begs the question: is anyone in Washington listening, and if so, will they have the courage and wherewithal to take action?
The annual climate report issued last week by the UN's World Meteorological Organization (WMO) stressed the urgency of climate action with conviction, asserting that the "Earth's climate is now changing faster than at any point in the history of modern civilization, primarily as a result of human activities."
According to the report, the concentration of carbon dioxide in the atmosphere is now at 405 parts per million (146% more than pre-industrial levels in the 1750's); methane is at approximately 1,860 parts per billion (nearly 260% more than pre-industrial levels); and nitrous oxide reached 330 ppb (122% more than pre-industrial levels), with no reversal in sight.
"The last time the Earth experienced a comparable concentration of CO2 was three to five million years ago, when the temperature was 2-3 degrees Celsius warmer and sea level was 10-20 meters (approximately 32.8 to 65.6 feet) higher than now," said Pettero Taalas, WMO's Secretary-General. "The science is clear. Without rapid cuts in CO2 and other greenhouse gases, climate change will have increasingly destructive and irreversible impacts on life on Earth. The window of opportunity for action is almost closed."
While the report indicated that the rise in CO2 concentrations was not as high in 2017 as in 2015 and 2016, it is estimated that the slower increase was not attributable to climate action or progress, but rather to El Niño, which "triggered droughts in some parts of the world, which in turn reduced the ability of forests and vegetation in these areas to soak up CO2, hence more of it stayed in the atmosphere," according to Matt McGrath, Environmental Correspondent for BBC News.
The report also cited an increase in CFC-11, a damaging ozone layer gas that is used in the production of foam insulation. While countries across the globe agreed to phase out this gas as a part of the 1987 Montreal Protocol, the Environmental Investigation Agency has found a number of factories in China producing the destructive gas.
Unfortunately, the detection of the increase of CFC-11 might just be an initial warning signal. "It's possible that the new emissions are the tip of the iceberg," said Dr. Matt Rigby, an atmospheric chemist at the University of Bristol. "If the signals we've seen are due to CFC-11 released during the manufacture of products such as foams, there could be much more that has been locked up in these new materials, which will ultimately be released to the atmosphere over the coming decades."
In stark contrast to the Trump Administration's dogma that environmental deregulation will spur economic growth, the WMO's report bluntly asserts that the devastating effects of climate change, including, but not limited to, catastrophic super storms, rampant megafires, widespread crop failures, crippling drought, diminishing freshwater supply, crumbling infrastructure, and disrupted supply chains will assuredly wreak havoc in the U.S. and across the globe.
According to the report's findings, unless substantial steps are taken immediately to curb emissions, the American Gross Domestic Product (GDP) could plunge 10% by 2100 (the equivalent of more than double the losses of the Great Recession), with an anticipated $141 billion in costs from heat-related deaths, $118 billion in losses from sea level rise, and $32 billion in expenses from infrastructure damage by the end of the century.
The report concludes that climate change is "virtually certain to increasingly affect U.S. trade and economy, including import and export prices and businesses with overseas operations and supply chains."
What does that mean for the average consumer? We can expect to see price spikes across all sectors of the economy—since no geography or industry segment is expected to be immune from disruption, no product will be spared.
Furthermore, the report forecasts the Midwestern U.S. will be particularly hard-hit, with an expected dramatic reduction in agricultural productivity. "Rising temperatures, extreme heat, drought, wildfire on rangelands and heavy downpours are expected to increasingly disrupt agricultural productivity in the U.S.," the report says. "Expect increases in challenges to livestock health, declines in crop yields and quality and changes in extreme events in the United States and abroad."
This report follows on the heels of an alarming Special Report on Global Warming issued last month from the UN's Intergovernmental Panel on Climate Change (IPCC), which urged policy makers to implement sweeping regulation in all sectors of the economy with the goal of cutting greenhouse gas emissions by 45% of 2010 levels within 12 years and reaching carbon neutrality on a global scale by 2050.
Which brings us to the silver bullet question: is anyone listening?
On an international scale, the verdict will be revealed soon: global leaders will gather in December at the COP24 meeting in Katowice, Poland to review Paris Agreement commitments and explore further climate action.
In Washington, certain elected officials—some of whom were recently elected in the midterms—are betting their careers on climate progress.
As one example, Representative-elect Alexandria Ocasio-Cortez recently joined 150 Sunrise Movement protestors for a sit-in at Nancy Pelosi's office. The group demanded nothing short of a Green New Deal to avert the impending climate catastrophe, including massive investments in green infrastructure and technology; legislation for getting to 100% renewables (by 2030), net zero energy, and carbon neutrality; federal jobs programs with training and incentives to boost green jobs; and funding for communities that are most vulnerable to climate related disasters.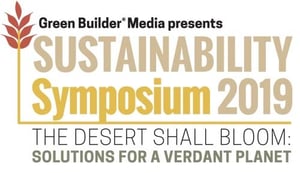 And it's not a minute too soon to be thinking about aggressive action in the form of a Green New Deal—tepid measures and marginal policies are no longer appropriate for the immense scale of the climate challenge ahead of us. Let's hope that this recent report, as well as a handful of plucky young members of Congress, will get us to the promise land.
Interested in being part of the solution? Join Green Builder Media as we explore common-sense solutions for climate action at our upcoming Sustainability Symposium 2019: The Desert Shall Bloom on Monday, February 18, 2019 at the UNLV campus in Las Vegas. Brimming with vision and ingenuity, the event's agenda includes luminaries like General Wesley Clark, Academy-Award winning actor Jeff Bridges, and NBA legend Bill Walton.
And, don't miss a special VIP dinner the night before the Sustainability Symposium on February 17 at 6:00 p.m. at the exclusive Mr. Chow in Caesars Palace.
Click here to register for the Sustainability Symposium 2019: The Desert Shall Bloom and Sustainability Awards gala. Space is strictly limited and by reservation only, so reserve your seat today!
A sincere thank you to our generous sponsors, Samsung, Ingersoll Rand, Emerson, Andersen, Owens Corning, and Caesars Entertainment for helping to make the Symposium and gala dinner possible.
Do you think this report will spur real climate action in Washington and across the globe? Write to me at sara.gutterman@greenbuildermedia.com.
Want to read more? Follow me on Twitter and Facebook. For more information about green building and sustainable living, visit Green Builder Media at www.greenbuildermedia.com, like us on Facebook, and follow us on Twitter for regular updates and breaking news.