Clear VISION: VISION House Orlando
One of the best things about the building business is the opportunity to imbue ideas with intention until they take on a life of their own. Actions result in solid forms that last for long periods of time and significantly affect the lives of inhabitants, neighbors, and communities.
I think it's fair to say that we all try to lead meaningful lives. The decisions that we make today, for better or worse, can be undone, but only after years of hard work. And in those years, we change. We become somehow different than we are today. Potential and promise transform, and our projects, as well as our lives, often turn out differently than we had originally expected.
The choices that we make are ours, and ours alone. In the building industry, a choice to improve a building envelope with better insulation or high efficiency windows might seem small, but our collective incremental decisions have the power to make exponential change.
Every day, I see innovative ideas put into action, resulting in extraordinary building projects. There are a plethora of examples of people expressing their core values through green design and construction.
At Green Builder Media, we get the opportunity to manifest our essence in the built environment through our VISION House Series, a group of demonstration homes that we build around the country. You've probably seen editorial coverage about recent projects such as the ReVISION Vegas, a net-zero energy retrofit of a 1960's mid-century modern tract house, and the VISION House Aspen, a high-end home for the luxury resort market.
Our underlying goal with the VISION House Series is to create homes that are replicable and serve as models not just for green building and design practices, but also for the larger theme of sustainable living. Our VISION Houses generally provide real, cost-effective, sustainable solutions that are appropriate for typical American families in today's economy.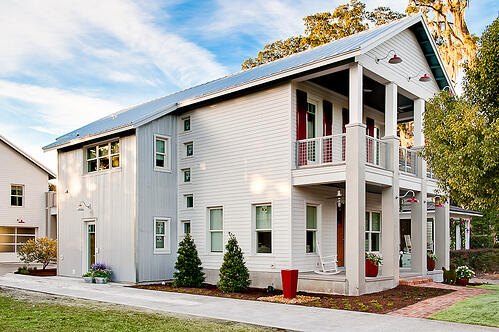 With excitement and anticipation, we have embarked on our next VISION House project, VISION House Orlando '11, which is comprised of one new house and one retrofit in the charming College Park neighborhood near downtown Orlando, FL. In conjunction with builders Southern Traditions Development, architect Ed Binkley, and interior designer Pat Gaylor, we will not just showcase cutting-edge green products and systems, but we will also address the critical issue of how we as building professionals can illuminate and encourage homeowners to live more sustainably.
Our generous sponsors, including AT&T, ARXX, Anderson Windows & Doors, Boral Roofing, Icynene, Mohawk, Panasonic Home and Environment Company, Uponor, Whirlpool and others, are contributing some of the most advanced, yet practical, green building products available on the market today to enhance the performance and sustainability of the homes.
Now, we need your help to make the VISION House Orlando '11 project as meaningful as possible. Please follow our progress in Green Builder magazine and on our VISION House Orlando pages at www.greenbuildermedia.com, share your own experiences with us, and let us know how you think we can make better individual and collective choices that will result in long-lasting, sustainable change.
---
Write to me at sara.gutterman@greenbuildermedia.com or follow me on Twitter or Facebook.
For more information about green building and sustainable living, visit Green Builder Media at www.greenbuildermedia.com, like us on Facebook, and follow us on Twitter for regular updates and breaking news.