Don't let the initial low cost of an off-the-shelf window-sized air conditioner fool you. Before long, you'll be paying far more for that cool air than you would with an alternative such as geothermal.
That back bedroom is just too hot! Maybe "they" didn't run a big enough duct, or you've never had AC there.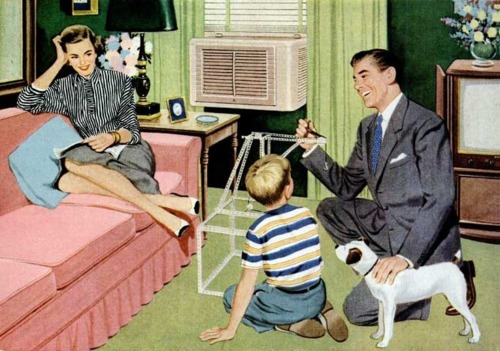 Cold Comfort. Window-sized air conditioners may seem like a good deal, but they're woefully poor users of energy.It doesn't matter if you're in a four room apartment or a single family home, the weather outside is hot.
The first stop for most people is the home improvement store, Amazon, or whatever else is available in a moment of desperation. We purchase a $200 window or "through-the-wall" air-conditioning unit, and pay tremendously high energy bills for a woefully inefficient product. Let's look at some of the real and intangible factors with regard to the cost of installing a window air conditioner, some of which may not have come to mind.
A through-the-wall air conditioner is typically chosen in response to the following question: "What is the largest number of BTUs I can get for the least expense?" Here a short list of things that may be wrong with this line of thinking:
The window AC is likely either oversized or undersized for the space, each of which wastes energy
A through-the-wall air conditioner is likely rated for an EER (energy efficiency rating) of 10. The #1 bestselling window AC on Amazon is a Frigidaire FRA052XT7 5,000-BTU Mini Window Air Conditioner, with a 9.7 EER. The cost is $119.73. As I stated earlier, we buy "cheap" in a pinch; Case closed. Not really …there's more…
If you're shopping for high efficiency window units, the next best option is the Friedrich SQ05N10B 5,200 BTU - ENERGY STAR - 115 volt - 11.2 EER. Still, a long way to go to measure up to the minimum standards of 13 SEER for home air conditioners, and they're getting pricey at $578.94 on Amazon.
Installation rarely works out the way instruction show, and the finished product is typically considered, even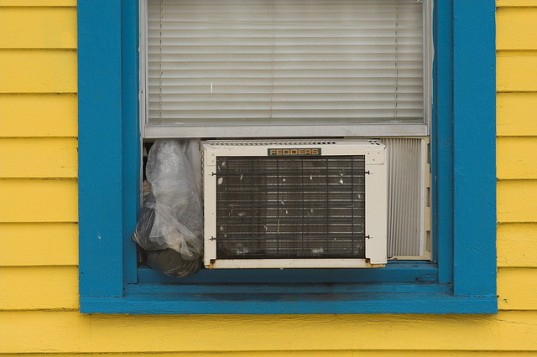 by the installer/homeowner as "poor at best". This results in increased thermal gains due to infiltration of air, solar gains, and other losses in efficiency. The install may even be a safety hazard.
One report in 2011 states that Poorly Installed AC Units Cost New York City $180 Million in Fuel Consumption each year and the New York Times reported in a similar article that it was found that the average gap size for an AC unit was about the size of a fist, and "The cost of fuel lost to such energy waste is equal to the total cost of cooling the building alone…".
I have visited many homes and businesses over the last 30 years in which they've installed a window air conditioner(s) and complained of increases in energy expenditures of $50-$200 per month. Many of these homes could be completely conditioned with geothermal HVAC systems for fraction of that kind of energy cost.
Beyond all of this, first cost is so low for the installation of window air conditioning units that it has become epidemic in many areas, even being used in office buildings and residential apartments.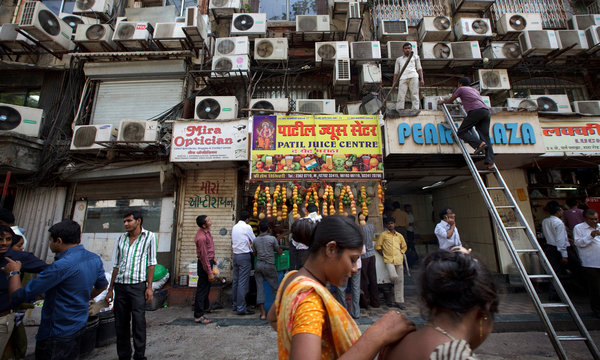 Now, let's continue the list of adverse results from these unsightly pimples, commonly called window air-conditioners. Window air-conditioners can result in:
High energy consumption
Proportionally high CO2 emissions
Increased noise pollution proportional to the number of window ACs in a building
Increased safety risks and equipment hazards on ground level (and even upper level) installations
A greater security risk (often because of poor installation)
Below is a chart depicting energy consumption of the typical 1500 ft.² house using window air-conditioners (10 SEER), and conversely using a geothermal HVAC system (20 to 40 EER).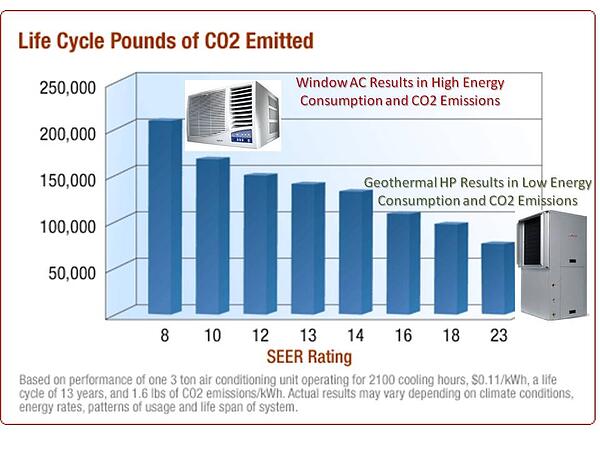 To be fair, it's not uncommon for a home that uses only through-the-wall air-conditioning to use less energy per square foot than a home that uses central air-conditioning. This has to do with energy habits. We've all been in homes where the occupants only air-condition the living room during the day and then just the bedroom at night. This is a good energy habit, and can also be effectively applied with HVAC (ducted) systems using zoning (a well installed duct system with automatic dampers to cool and heat only the rooms occupied).
Much like energy efficiency in vehicles, we often feel we can't afford the costs associated with high efficiency products, when in reality the economics show a much different picture.
It's hot out there. Take a moment and "look before you leap". Grab a cool drink and consider the resources available. You'll make the right decision when you "Think Green".
Geothermal Cooling and Heating; Sharing Energy with Mother Earth
Jay Egg is a geothermal consultant, writer, and the owner of EggGeothermal. He has co-authored two textbooks on geothermal HVAC systems published by McGraw-Hill Professional. He can be reached at jayegg.geo@gmail.com .