In its recently unveiled 13th Five-Year Plan, China has set aggressive targets to solve its pressing environmental problems, including air pollution, water conservation, responsible urban growth, clean transportation, and renewables. It's a pleasant surprise that China is taking climate change so seriously. Can the U.S. keep up?
Marco Rubio was dead wrong. I suppose that blasting him for things he said while on the campaign trail is futile at this point, but I can't help but vigorously refute a statement that he made in the last Republican debate—that the U.S. shouldn't engage in any meaningful climate action because the planet is constantly changing (which is true), that China and India are ruining the environment (also true), and that, since everyone else is polluting and acting irresponsibly, anything we do is pointless because we're all going to hell in a handbasket (unequivocally not true).
While China, India, and the U.S. are, indeed, the world's largest emitters of carbon and other pollutants, we also have the power to remediate the damage and transform the global economy.
Of the three nations, China currently seems to be the most ambitious—and united—in its efforts to tackle climate change. As revealed in its new 13th Five-Year plan (a guide for the country's financial development through 2020), China plans to aggressively grow its services sector (which is less polluting than heavy industry), expand efficient manufacturing, increase clean transportation, adopt widespread renewables, and reduce energy use.
China has set a new target for carbon reduction of 48% from 2005 levels by 2020, exceeding its previous target of 40%, and plans to reduce energy use by 15% through energy efficiency initiatives.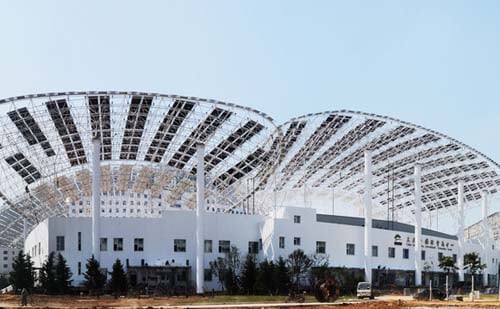 China installed 15GW of solar capacity in 2015 as part of major renewables deployment surge. Image courtesy of businessGreen.
Additionally, China is on a solar binge. According to MIT, "In 2015, the country added more than 15 gigawatts of new solar capacity, surpassing Germany as the world's largest solar power market. China now has 43.2 gigawatts of solar capacity, compared with 38.4 gigawatts in Germany and 27.8 in the United States."
And China's solar spree doesn't seem to be waning—the country plans to triple solar capacity by 2020, adding 20 gigawatts of solar capacity each year for the next five years, bringing the total amount of installed solar power to over 140 gigawatts (as a point of reference, the world's total solar capacity in 2015 was 200 gigawatts.)
It's important to note that, while China's consumption of coal leveled off in 2014, the nation's continued dependence on the dirty fossil fuel means that it remains the world's largest carbon emitter, and even with these large increases in solar adoption, the renewable source only comprises a small portion of the country's total energy portfolio.
With that said, China's leaders are grasping at any potential solution to its horrific air quality issues that are rendering large cities like Shanghai and Beijing unlivable.
Beyond the requisite breathable air required for a thriving population, China has identified a very real economic opportunity in solar. By massively and rapidly adopting the technology, China can exert control over market demand and pricing (especially as industry experts predict an impending flattening of global demand), leading to a virtuous cycle for the bullish Chinese sector.
China's latest Five-Year Plan indicates that the country is no longer concerned only with the pace of its economic growth. It now seems to have a vested interest in the quality of that growth, and the country appears unified in its commitment to a clean energy economy.
With the politicization of anything climate related in the U.S., it's hard to imagine that we have such a clear pathway. The fossil fuel industry and special interest groups are trying to repeal the Clean Power Plan. Utilities and Public Utility Commissions in certain states are fighting tooth and nail to repress the adoption of solar. Even the EPA has dramatically underestimated the impact of fracking relative to water pollution and methane dispersion.
It's clear that countries across the globe—from China to Mexico, Canada to Brazil—are integrating climate action into their current and future socio-economic growth strategies. For the U.S. to remain relevant in this conversation, we must find a way to depoliticize the issue and develop consensus around the fact that we're facing a wildly exciting opportunity for financial growth and unlimited potential for innovation.
How do you think we can facilitate consensus around climate change in the U.S.? Write to me at sara.gutterman@greenbuildermedia.com or follow me on Twitter or Facebook.
For more information about green building and sustainable living, visit Green Builder Media at www.greenbuildermedia.com, like us on Facebook, and follow us on Twitter for regular updates and breaking news.