Last week, I attended a meeting with President Obama, during which he addressed climate change and the urgent need to develop and implement sustainable solutions. He listed the steps that his administration has taken to move the United States towards a greener, cleaner future—including tighter EPA regulations on power plant carbon emissions, ratcheted fuel efficiency standards, and stricter requirements for energy efficiency in buildings. Then, he emphasized the fate-determining elephant in the room: unless China and India get aggressive about climate action soon, nothing that America does really matters.
By 2050, the world's energy consumption is projected to increase by over 50%, driven primarily by growth and increasing prosperity and China and India. Together, the Dragon and Elephant are projected to account for approximately half of the world's energy consumption by 2040 (China is currently adding 100 GW of new energy infrastructure each year, the equivalent of the UK's total annual energy usage.)
While the US aspires to be the world leader in sustainability, our flaccid action has caused us to fall behind in the race to a cleaner economy, enabling other countries to vie for the pole position. And, interestingly, an unexpected groundswell is occurring in China and India that is propelling both countries forward towards achieving significant sustainability goals.
The Chinese government recently announced big plans to spend $600 billion to update the country's energy infrastructure. $300 billion will be spent in 2015 on renewable energy generation and storage, developing 27 GW of wind power capacity and 35 GW of solar capacity. The country also plans to expand its liquefied natural gas (LNG) almost tenfold by 2020 (expanding from 10 carrier fleet vessels in 2014 to 80 by 2020).
While China is embracing multiple solutions to feed its growing industry and population energy needs, much of India is still stuck in the 18th century. Nearly 400 million people live in rural areas without electricity. They use candles, kerosene, and wood to provide light and heat to perform basic functions like heating and cooking.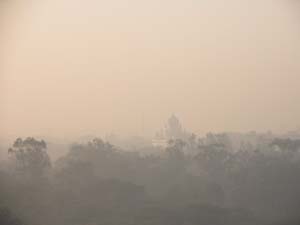 Photo courtesy of asiancorrespondent.com
But the new Prime Minister, Narenda Modi, is ready for change. He is rallying his people to sidestep dirty fossil fuels and embrace renewables, and he is driving to have at least one solar-powered light bulb in every home by 2019.
To help the Indian Prime Minister achieve his goal, innovative companies like Simpa Energy have developed creative approaches to providing renewable energy. Simpa Energy offers a pay-as-you-go model, allowing even the poorest people in rural areas access to solar power. Other companies are establishing mini-solar plants in communities across India, where citizens can power their phones, lanterns, and household devices.
Just as rural India may circumvent 19th century energy sources, it is possible that China and India will leapfrog the US in aggressive climate action strategies and policies. If that happens, it will invariably shift the economic and political power balance on the world stage, placing the two behemoth countries in the limelight and leaving the US clamoring to keep up.
While the thought of this power shift may make Americans jittery, from a sustainability standpoint, it's ultimately in everyone's best interests to encourage advanced, innovative solutions that tackle our urgent environmental needs, regardless of which country ends up on top. As far as I'm concerned, it's game on. May the best country win.
How do you think will happen in the global race to sustainability? Write to me at sara.gutterman@greenbuildermedia.com or follow me on Twitter or Facebook.
For more information about green building and sustainable living, visit Green Builder Media at www.greenbuildermedia.com, like us on Facebook, and follow us on Twitter for regular updates and breaking news.
---