Meet the trailblazers who have made green thinking a lifelong effort.
It requires passion, commitment and perseverance to shape the will of an organization, and it takes colossal effort to pivot the mission and priorities of a company. These Eco-Leaders have dedicated their careers to achieving greater levels of sustainability within their organizations and impacted meaningful change.
The Makers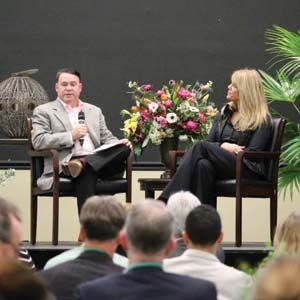 Ingersoll Rand Executive Director Scott Tew has no problem spreading the word about corporate sustainability, such as during this session with Laura Turner Seydel at the recent Sustainability Symposium 2018.
Scott Tew, Executive Director, Center for Energy Efficiency and Sustainability (CEES), Ingersoll Rand
If there's a problem having to do with corporate sustainability, Scott Tew likely knows how to solve it. As the founder and executive director of Ingersoll Rand's Center for Energy Efficiency and Sustainability (CEES), Tew has spent nearly a decade crafting corporate sustainability programs for almost every aspect of the company.
Tew has helped Ingersoll Rand reduce emissions, cut resource use, eliminate waste, develop innovative products, and engage employees in active discussions about how the company can continue to exceed its sustainability goals.
"Holistically integrating sustainability into a company is tougher than it sounds," says Tew, "because you do a lot of hard work upfront for future rewards. It takes a lot of patience, and there is no immediate gratification."
Despite—or perhaps because of—all the hard work, Tew is delighted by the outcome. "Ingersoll Rand has made the boldest commitment to climate action of any industrial company," he proclaims. "We have completely rethought how we do what we do, and how to solve customer problems."
When he is not conjuring up exciting new sustainability strategies, Tew has his hands in the dirt. As an 8th-generation farmer, he is always planting something. He is particularly proud of his plums, persimmons, figs and heirloom bulbs.
---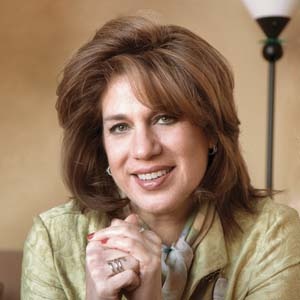 Uponor Corporate Social Responsibility Director Ingrid Mattsson makes profitable sustainability and a commitment to protecting the planet her dual responsibility.
Ingrid Mattsson, Director of Brand and Corporate Social Responsibility, Uponor
If the world ran on heart and spirit alone, Ingrid Mattsson would be empress. Mattsson's zeal for profitable sustainability and commitment to protecting the planet makes her a unique individual in corporate America.
Whether being recognized as an Exceptional Businesswoman by Twin Cities business publications or winning the coveted Carlson-Holohand Award for her exceptional service to the hydronics industry, Mattsson consistently displays refreshing curiosity and exuberance.
Mattsson joined Uponor (then known as Wirsbo) in 1995, at a time when women were scarce in the mechanical contracting industry. Her passion for doing the right thing advanced the company's branding and marketing initiatives. Together with three colleagues, she co-founded Uponor's North American Sustainability Team, assisting in the development of the company's blended-values approach.
"I love the entire process of working with the Uponor team to define and enhance our commitment to sustainability," Mattsson says. "I'm incredibly proud of Uponor's stewardship. The company truly takes care of People, Planet and Profits—all of which are important for the future of our business and the environment."
For Mattsson, sustainability and spirituality are inherently connected. The child of two immigrants, Mattsson grew up on a farm and learned to respect and care for the Earth at an early age. "As I continue to learn about what's happening to the planet," she notes, "I can't help but make sustainability a top priority."
An accomplished speaker and singer, Mattsson uses her voice to inspire, entertain and educate those around her. When not working, you can find her in the garden, behind a microphone, or on a plane winging her way to her next adventure.
---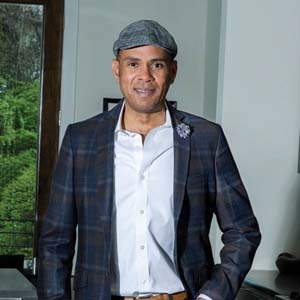 Emerson Commercial & Residential Solutions Business Development and Sales Excellence Director Earnest Morgan throws his personal energy behind development of green energy.
Earnest Morgan, Director of Business Development and Sales Excellence, Emerson Commercial & Residential Solutions
Whether it's in a board room or a social setting, Earnest Morgan embodies politeness, professionalism and refinement, which contributes to his success in balancing the needs of the multiple stakeholders that he interacts with every day.
Morgan's passion for sustainability emerged early in his career, when he worked with the National Trust for Historic Preservation to address the myriad issues facing historic downtowns. It then evolved when he was appointed (and confirmed by the state Senate) to the Board of the Minnesota Pollution Control Agency (MPCA), where he helped develop policy that protected the state's water, air and land resources.
At Emerson, Morgan is most proud of the company's Grind2Energy initiative, which transforms food waste from an environmental challenge into renewable energy. "It's a sustainable game changer for food retailers and services, and a great alternative to landfills and traditional compost programs," he says. He is also active in the development of the award-winning Sensi Wi-Fi Thermostat, Copeland Scroll Compressors, and ceiling fans that provide homebuilders a path to zero-energy-ready homes.
What's next for Morgan? Leveraging smart devices to address predictive maintenance that changes how we think about home repairs.
---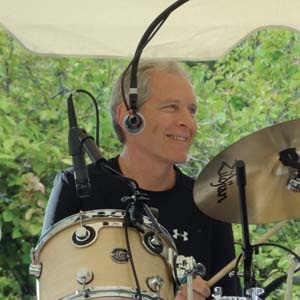 Owens Corning Vice President and Chief Sustainability Officer Frank O'Brien goes from keeping in step with the company's sustainability efforts, to keeping the beat during his down time.
Frank O'Brien-Bernini, Vice President and Chief Sustainability Officer, Owens Corning
If you've been in the building industry for any length of time, it's likely you've come across the drum-playing, solar-installing, bike-riding head of sustainability for Owens Corning.
After 35 years with Owens Corning, Frank O'Brien-Bernini is more excited than ever about his work. His genuine interest in making a positive difference in the world permeates everything he does, and his supportive, "human in scale" approach has resulted in his development of comprehensive corporate sustainability strategies for the company.
In support of the company's ambitious 50 percent greenhouse gas reduction goal, O'Brien-Bernini has led Owens Corning to becoming one of the largest industrial purchasers of renewable energy, with a mix of on-site solar and 250 MW PPAs of new wind capacity.
When not focusing on enhancing Owens Corning's sustainability efforts and high-performance products, O'Brien-Bernini dreams of time travel. "I'm fascinated by the ingenuity of past inventors, and even more intrigued by what's to come," he says.
To get on his good side, host him and his lovely wife, Mary Rose, to a dinner of eggplant parmesan and Chianti.
---
The Builders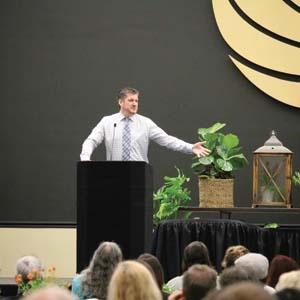 Meritage Homes Vice President of Innovation and Sustainability C.R. Herro has made the marketing of green homes his No. 1 priority.
C.R. Herro, Vice President of Innovation and Sustainability, Meritage Homes
It's impossible to be in the building industry and not know C.R. Herro. His deep grasp of building science makes him one of the most visible—and credible—professionals in our sector.
Herro prides himself on being a disruptor. With a 25-year history of leading new business development for multi-billion-dollar construction companies, Herro has proven his expertise in successfully piloting uncharted waters.
As vice president of Innovation and Sustainability for Meritage Homes, Herro has worked closely with CEO Steve Hilton to incorporate energy efficiency, water conservation, healthy indoor air quality, smart home automation and renewables into the company's portfolio of communities throughout the country.
Top of mind these days for Herro? Tackling the business case for zero-energy homes. "On a total cost basis, zero energy is a great solution for the average homebuyer," Herro says. "But, we need to figure out how to evolve the processes for [real estate agents], appraisers and underwriters, so that they can properly value zero energy at the time of a transaction."
Herro also believes that dramatic changes need to be made in the energy sector to avoid wasting trillions of dollars in outdated infrastructure. He is endeavoring to crack the code on load management by leveraging thermal storage (oversized water heaters, thermal mass, pre-cooling and pre-heating) and behavioral incentives based on time-of-use price models.
To take a break from the brainy work of solving the world's building science problems, Herro hangs out with his American Bulldog Penelope and Blue Nose Pitbull Bessie.
---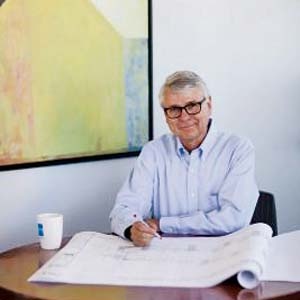 Thrive Home Builders CEO Gene Myers believes embracing change is the key to a stronger, more eco-friendly future.
Gene Myers, Founder/CEO, Thrive Home Builders
When it comes to innovation in housing, Gene Myers is the Pied Piper. As a long-time green builder, founder and CEO of Thrive Home Builders, and board chairman for the Energy and Environmental Building Alliance (EEBA), Myers has solved the riddle of building high-performance, healthy homes.
The Colorado-based six-time winner of the Department of Energy's Grand Award for Innovation, Thrive (previously known as New Town Builders) was the first production builder to deliver "solar standard" homes, build net-zero communities, and use Colorado beetle-kill lumber in the construction of its homes.
According to Myers, the secret to Thrive's success its culture. "Anyone can build net-zero communities," says Myers, "but not everyone can cultivate the culture that we have at Thrive. Our people are committed to continuous improvement. Change is generally hard for most people, but we have a culture of innovation." Myers asserts that the company's collaborative atmosphere creates a highly desirable work environment, which is essential in an industry plagued by labor shortages.
Next on the to-do list for Myers? He is currently focused on evolving Thrive from a homebuilder into a land developer, so that the company can design its own communities with the goal of optimizing orientation, resource use, renewables and other key infrastructure elements. He is also dedicated to delivering affordable, efficient and healthy housing solutions to markets along the Front Range.
Water is a key area of concern for Myers. "In a West that is on fire and experiencing extreme drought, surely we can be better stewards of water," he says.
Myers has a unique perspective on the role that builders should play in the marketplace. "All builders are environmentalists," he claims. "We just happen to deal in the human environment. We want the species to thrive and prosper. It's not just about the environment and climate—it's about people in the environment. If we can keep that in mind, we'll be better builders for it."
To take a break from enhancing the culture at Thrive, Myers heads to the slopes for some backpacking or downhill skiing.
---
The Doers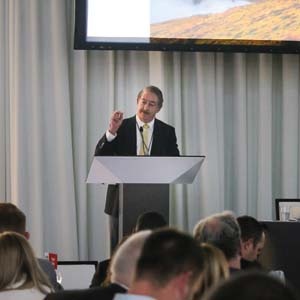 Making opposing sides in Washington, D.C., work together on environmental matters is one of Energy Efficient Codes Coalition Director Bill Fay's key skills.
Bill Fay, Coalition Director, Energy Efficient Codes Coalition
Bill Fay has spent nearly four decades building coalitions and finding ways to create common ground between diverse stakeholders—namely the national government, environmental community, manufacturers and consumer groups. As a long-time Washington, D.C., insider, Fay has mastered navigating the choppy—and often contentious—waters on the Hill, bringing Democrats and Republicans together to get things done.
Fay was the executive director of the Clean Air Working Group, established in conjunction with the Business Roundtable and National Chamber of Commerce, where he headed up efforts to reauthorize the Clean Air Act.
"When I joined the campaign, the impasse between the environmental community and the business community was so intense that the Clean Air Act had expired and was kept alive by annual extensions," he recalls. "But as the discussions evolved, it became clear that the business and environmental communities were 80 percent aligned. By creating policy based on that 80 percent, we were able to meet the majority of our objectives and enact a law that has profoundly improved our nation's air quality."
Since 2007, Fay has run the Energy Efficient Codes Coalition, a broad-based alliance of energy efficiency advocates that work to advance the development and adoption of building energy codes.
Today, Fay is focused on getting mayors to incorporate building energy efficiency in their climate action plans. "Mayors instantly recognized the myriad benefits of efficiency to homeowners, tenants, their community power grids, and national energy and climate security."
Fay thinks extensively about how to bring civility back to Washington. "Public policy works when you can find common ground," he says. "There is no easy solution to address the polarity and paralysis we're experiencing. The only way is to sit down together with open minds, listen to each other, and develop consensus. That's how we'll forge a pathway forward and reestablish a functional system."
When he's not inside the Beltway, you can find Fay and his wife, Lee Ann, on the Amalfi Coast or cruising on a riverboat along the waterways of Europe.
---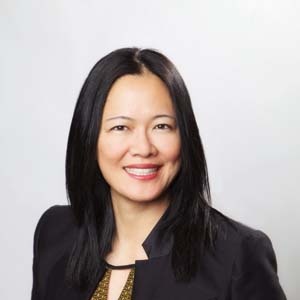 Caesars Entertainment Chief Sustainability Officer Gwen Migita emphasizes the correlation between sustainability, socioeconomics and gender.
Gwen Migita, Social Impact & Inclusion Vice President and Chief Sustainability Officer, Caesars Entertainment
As Social Impact and Inclusion Vice President and Chief Sustainability Officer for Caesars Entertainment, Gwen Migita has turned the hospitality giant's corporate sustainability program into an art form. Migita oversees Caesars' corporate social responsibility strategy and policy through the People Planet Play framework, an overarching program that encompasses CodeGreen, the company's award-winning global environmental sustainability strategy.
As a female Asian American Pacific Islander member of the LGBTQ community, she places a particular emphasis on the impact that sustainability has on human beings. "Sustainability can be an equalizer between socioeconomic classes and gender, along with other marginalized groups in our society," Migita asserts. "The complexity of the various areas of sustainability has an end result on human beings. It's the impact on reducing marginalization that I find fascinating."
In the U.S., there's a correlation between lifetime earnings and where someone grows up, she continues. "Access to nutritious food correlates with educational performance, and education is an equalizer for socioeconomic issues," Migita says. "I get excited about sustainability and the clear impact it has on social justice and overall on society."
An avid adventurer, Migita loves to travel and learn about different cultures. "Growing up in Hawaii, I was constantly exposed to a number of cultures there," she says. "I've been to about 30 different countries." Her global experience is essential, given that she oversees programs for 50 resorts and 70,000 employees worldwide.
When not conjuring up new sustainability strategies for Caesars, she and her wife, Cuc, and their two young children Max and Ava, spend time visiting family in Olympia, Wash., and Hawaii.
---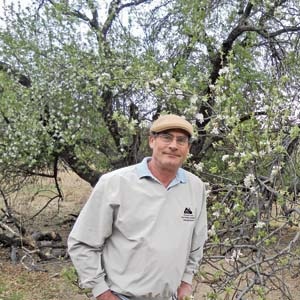 As a veteran green builder and small business owner, Santa Fe Area Home Builders Association Executive Officer Kim Shanahan gains an insight into sustainability that he is all too happy to share with others.
Kim Shanahan, Executive Officer, Santa Fe Area Home Builders Association
They say that once a builder, always a builder. But this outspoken, pioneering, hero of sustainability has broken the mold. As Executive Officer of the Santa Fe Area Home Builders Association (SFAHBA), Kim Shanahan has had the unique opportunity to show by example how to build high performance, water-saving, durable homes. But he also has been able to influence the industry from the inside.
Shanahan's no-nonsense, collaborative style and his uncanny talent for always being informed and prepared, make him an excellent liaison between builders, policymakers, homebuyers and other stakeholders.
This is critical, since Shanahan faces the ultimate dichotomy on a daily basis—he represents a conservative industry in a progressive town. As such, Shanahan does his best to bring the sensibility of a small local business owner to controversial discussions about green building, climate change, affordable housing and growth management.
Leveraging his position in the building industry, Shanahan has nurtured change at all levels of local, state and national policy in favor of sustainability. He helped the City of Santa Fe draft and adopt one of the country's first comprehensive residential green construction codes, based on the National Green Building Standard (ICC-700).
Shanahan has also has played a pivotal role in shaping a national dialogue about water stewardship. He was a central figure in the adoption of strict standards in the water-starved Santa Fe area, including an innovative water bank program. As a board member of the Green Builder Coalition, he was instrumental in the development of the Water Efficiency Rating Score (WERS), a rating system that measures a home's water use.
"The zero to 100 scale of the WERS program plays right into the competitive nature of builders and the marketplace," says Shanahan. "Consumers can easily assess the most water-efficient home. A performance-based metric always produces better results than a purely prescriptive standard. It drives innovation and best practices that are quickly adopted by others."
When he's not shaking things up in the building industry, you can find Shanahan hiking, reading, writing, cooking and contemplating life at his cabin in Cow Creek, N.M.
---
To learn more from some of our favorite change makers, we invite you to join us at our upcoming Sustainability Symposium 2019: The Desert Shall Bloom on Monday, February 18, 2019 (the day before the show floor opens at Design & Construction Week) at the UNLV campus in Las Vegas, where we hope to gather all of our sustainability-minded colleagues for an incredible day of education, inspiration, and networking.
And, don't miss the celebration of our annual Sustainability Award winners on February 17 at 6:00 p.m. at the exclusive Mr. Chow in Caesars Palace.
Click here to register for the Sustainability Symposium 2019: The Desert Shall Bloom and Sustainability Awards gala. Space is strictly limited and by reservation only, so reserve your seat today! Register for the Symposium before October 1, 2018 using the code EarlyBird and you'll receive a $100 discount.
A sincere thank you to our generous sponsors, Samsung, Ingersoll Rand, Emerson, Andersen, and Caesars Entertainment for helping to make the Symposium and gala dinner possible.
Want to learn more about our annual awards program or Sustainability Symposium? Write to me at sara.gutterman@greenbuildermedia.com.
Want to read more? Follow me on Twitter and Facebook. For more information about green building and sustainable living, visit Green Builder Media atwww.greenbuildermedia.com, like us on Facebook, and follow us on Twitter for regular updates and breaking news.