I'm writing live from CES 2016 in Vegas, where boundless imagination delights the senses at every turn and where human imagination seems infinite. This year, IoT is manifest everywhere in the form of connected devices, wearables, appliances, vehicles, smart home platforms, drones, robots, cloud computing technologies, virtual reality, streaming TV systems, 3-D printing, and apps galore.
The advancements in technology from last year's show are substantial relative to intelligence, automation, and proactive functionality —IoT 2.0 is here. Smart technology that enables people to remotely control their homes in ways that enhance convenience, increase security, optimize resource efficiency, and decrease costs is becoming ubiquitous.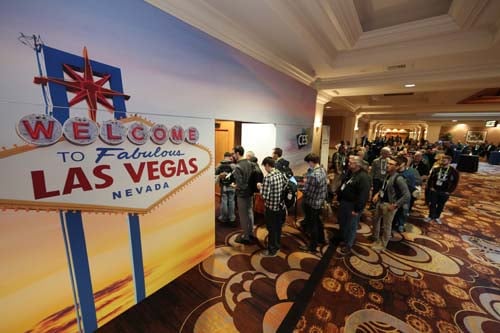 Image courtesy of CES2016
The technologies featured at the show this week are in line with trends that we're seeing in the market. For example, while energy efficiency, cost savings, or interest in improved indoor air quality might be the initial hook to attract a homeowner to smart home technologies, once they're discovered the convenience that enabling technology can bring, they quickly become interested in an ecosystem of integrated systems. In that sense, stand-alone technologies will soon become antiquated, as products from learning thermostats to lighting to smart irrigation are synching together using hubs like Samsung SmartThings or apps like Muzzley. Homeowners will soon be able to control these integrated systems not just through their phones, tablets, and computers, but also through TVs and refrigerators.
Also, it's clear that we're reaching the nexus between sustainability and technology. Smart home technologies can't just be cool, they need to offer a homeowner a tangible value enhancement, which most often comes in the form of saving energy, water, time or money, keeping their families safe and secure, or taking human error out of the equation so that a home can optimize and proactively enhance its own performance. Indeed, sustainability and enabling technologies are inextricably linked, and while technology won't cure all of our environmental ills, they are necessary for us to reach our sustainability goals.
Furthermore, homeowners don't just want technology to identify their problems—they want that technology that is intelligent enough to understand their needs and preemptively identify solutions. In this way, the technologies that will 'win' are the ones that really understand a user and will be able to enhance lifestyle decisions (rather than just taking commands).
It's an exciting moment in time, with tremendous business opportunity for those who are willing to shirk the yoke of status quo and dream themselves into the future. With that said, it's important that we focus on innovation that enhances efficiency and sustainability, rather than just technology for the "cool factor."
For more information about connected homes, autonomous driving, smart cities, and the Internet of Things, be sure to check out Green Builder Media's Internet of Things microsite.
What digital age advancements are you excited about? Write to me at sara.gutterman@greenbuildermedia.com or follow me on Twitter or Facebook.
For more information about green building and sustainable living, visit Green Builder Media at www.greenbuildermedia.com, like us on Facebook, and follow us on Twitter for regular updates and breaking news.