Centennial Woods Reclaimed Wood Planking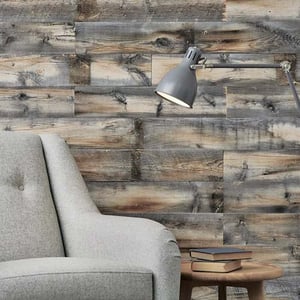 Millions of feet of wooden snow fencing are replaced each year, much of which ends up in the landfill or simply being burned—a pair of environmentally unfriendly options. Wyoming-based Centennial Woods puts the discarded boards back to use as residential siding, decking and wall paneling as part of its reclaimed wood service.
Milled from deconstructed 12-foot-high snow fences, Centennial's product is naturally aged—some of the boards are 10 years old, and they've spent that decade in high-altitude air—which them perfect for accent walls, ceilings and do-it-yourself projects. These weathered wooden boards present a range of gray and brown tones in their natural state. Knots, knot holes, nail holes and imperfections are an expected part of this wood's charm.
The boards are also clean: They have never been exposed to lead paint, barnyard animal waste or other toxins. They're certified GREENGUARD Gold for healthier indoor air quality, and they're definitely carbon negative. And, they're available when needed: Centennial Woods ships its products internationally and domestically to contractors and consumers by the box, pallet, truckload or shipping container.
For more information: centennialwoods.com