BREAKING NEWS: TIME CAPSULE UNEARTHED IN NEW YORK FROM A FUTURE "ECO-TOPIA" says an age of environmental balance and abundance lies within our reach.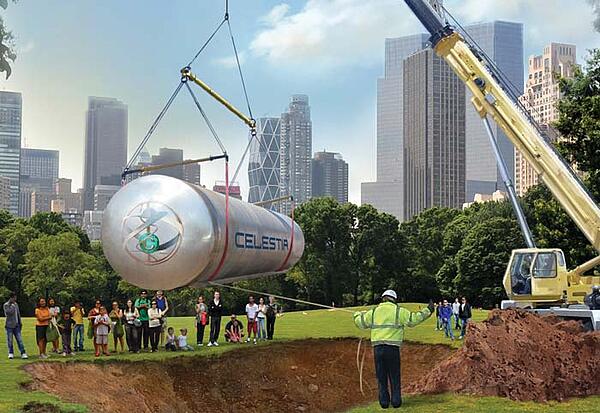 A time capsule has been found in New York's Central Park. But this is no ordinary artifact. It comes from the future—the year 2100. As researchers begin sifting through its contents, they find documents, videos and technology that shake the world from its dystopian trance. A hopeful future is both possible and probable, the record says, as long as we allow current trends regarding food, shelter and resilience to take shape.

"It's time to challenge the prevailing doom and gloom world view," says Matt Power, Green Builder magazine's editor-in-chief. "Dystopian thinking is big right now, and that's dangerous. Visualization makes things happen. But the future doesn't have to look like The Hunger Games, Divergent, or The Walking Dead. We have all the tools and some of the awareness we need to turn things around starting right now."

In The Celestia Project's future, low-tech and high-tech ideas have become integrated. What makes this future more benign than the dystopian one seen in so much popular culture, and longed for by biotech corporations? The choices we make now—choices that will decide whether the fate of the world lies in the hands of the few--or the many.

For example, In Celestia's vision, emerging technologies such as nanobots have been put to good use restoring desert soils and keeping recycled roads repaired—not (as biotech firms like to imagine) converting cellular paste into food (thus turning food into a raw material that is churned out by the lowest global bidder).
The Celestia future is one of local, abundant foods, restored harmony with nature, and vibrant, walkable cities powered by renewable energy.
###

Attention Editors: The Celestia Project is a year-long campaign that will address many of the biggest environmental and social challenges of our time. Each month, Green Builder Media will release beautiful new high-resolution illustrations that you are free to use, with attribution to www.greenbuildermedia.com/celestiaproject

More Info: Matt Power
Matt.power@greenbuildermedia.com

High-Res Images and Press Kits HERE