Can Tiny Homes Enhance your Love Life?
Tiny homes are all the rage with millennials, who want to live "stuff free" in compact living spaces, and as well as baby boomers, who yearn to shed the yoke of energy bills, cleaning fees, and maintenance costs from their oversized McMansions. And now the secret is out—not only can small footprint living decrease your bills and headaches, they can improve your love life!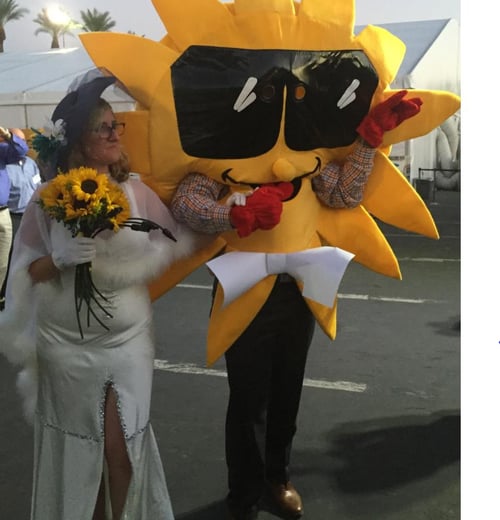 The sunshine appropriately ushering bride Pam down the aisle.
Tiny home enthusiasts boast that their abodes enhance their relationships, since living in a small space with a partner necessitates improved communication, clearly defined boundaries, and simplification on all fronts. As one tiny-house dweller puts it, "there is no way around the truth in that small of a space, so relationships have to be completely open and transparent."
In fact, the number of people looking for love while designing, building and living in a tiny house is growing so quickly that dating websites that have been created with the express purpose of connecting tiny home aficionados! Apparently, cohabitating and even raising a family in a 120-400 square foot home is possible—even desirable to some—albeit the scenario presents a unique set of challenges.
Solar experts Pamela Cargill and Marvin Hamon are hoping that some of the tiny house relationship magic will wear off on them: after meeting years ago at a solar industry event and engaging in a long-term, long-distance love affair, they chose to get married at the Arc House, the hand-crafted, net-zero tiny home that Green Builder Media and Shelter Dynamics brought to this year's Solar Power International (SPI) conference that recently took place in Las Vegas.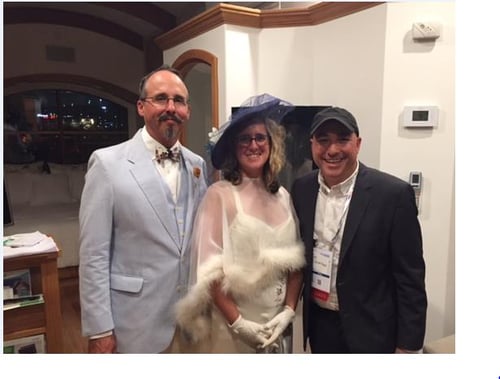 Pam and Marvin with ceremony officiator @SolarFred inside the Arc House
It takes a hard-core love of solar and a certain curious boldness to make to get married at a solar tradeshow, but, because of that decision, Pam and Marvin were surrounded by 300 of their closest friends and colleagues who grew up with them in the industry (not to mention a throng of interested onlookers), all of whom helped celebrate their joyful union.
According to Pam, everyone who attended the wedding agreed that "the Arc House was a perfect venue for two tiny-house-loving solar professionals to say I do."
We trust that Pam and Marvin will cultivate a love as bountiful as the sun itself, and we hope that the enchantment of the Arc House helps them enjoy a charmed life together.
You, too, can experience the magic of the Arc House next week at Greenbuild, taking place October 5 & 6 in the Los Angeles Convention Center. We invite you to be our guest—if you'd like to attend but aren't yet registered, click here to register for a free expo pass.
To learn more about the Arc House, please visit the project's microsite. Heading to Greenbuild and want a tour from one of our project team members? Write to me at sara.gutterman@greenbuildermedia.com.
For more information about green building and sustainable living, visit Green Builder Media at www.greenbuildermedia.com, like us on Facebook, and follow us on Twitter for regular updates and breaking news.