CalPlant Rice Straw Fiberboard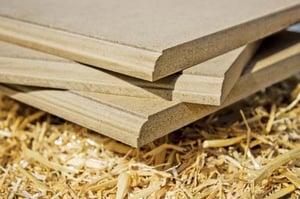 For all of medium-density fiberboard (MDF)'s properties, the ones that are least attractive are the formaldehyde-based resins that kill the sinuses. CalPlant offers a non-smelly, durable and very green version made from rice straw.
The converted material is a boon to the environment—rice straw is an agricultural waste with no practical value. California, the nation's second-largest rice producer, has banned its burning, forcing farmers to flood their fields to speed the decomp process. This wastes thousands of gallons of water and release tons of methane into the air.
CalPlant's MDF performs similar, and in some cases better than, traditional wood fiber-based product in terms of durability and moisture resistance. It's ideal for interior installs, such the cross bands in plied composite panels, laminate flooring, doors, and carved molding and trims. Instead of urea formaldehyde, the rice straw fiber is held together with polymeric methylene-diphenyl-diisocyanate (pMDI), a green building and State-sanctioned adhesive resin common in the composite panel industry.
Currently CalPlant crafts its product using only California-based rice straw, but the process could be expanded to other locales in the near future.
For more information: www.calplant1.com