For the past decade, Green Builder Media has bestowed Home of the Year awards upon a wide spectrum of remarkable projects. This year, we're expanding our annual awards program to include a few new categories, including greenest innovation, most sustainable municipal program, and, my favorite, Sustainability Superhero. Do you, or someone you know, qualify for this distinction?
Since its inception ten years ago, Green Builder Media's Home of the Year awards program has set the standard for recognizing excellence in residential performance, quality, intelligence, and sustainability.
In the beginning, our Home of the Year award entries often highlighted energy efficiency, building science, and sustainable design. But as the green building market advanced, so too did the submissions. Today, the award-winning projects encompass a broad gamut of important sustainability concepts like intelligent water, renewable energy, smart home technology, resiliency, clean mobility solutions, efficient design, health and wellness, and sustainable materials.
Always a fountainhead of ideas and inspiration, our Green Home of the Year Awards never disappoint, showcasing innovative applications of pioneering green products, advanced technologies, and forward-thinking design strategies.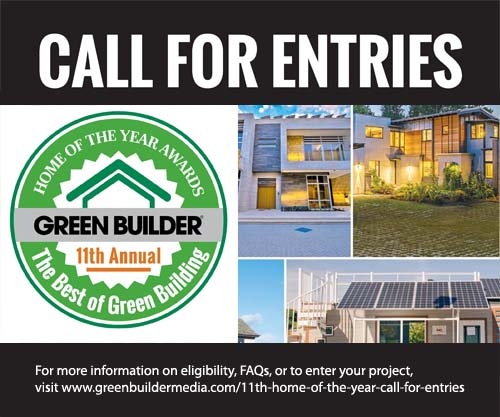 This year, we're delighted to announce the expansion of our awards program to include additional categories, including Most Sustainable Community/Development, Green Innovation of the Year (designed to recognize products, systems, and technologies), Best Small Footprint Living Project, and Best Green Municipal Program.
And then there is my favorite, Sustainability Superhero of the Year. What does it mean to be a Sustainability Superhero, you may ask? Well, that's up to you. As long as an individual has participated in some kind of sustainable activity to enhance the built environment, they're eligible.
I love the idea of selecting a Sustainability Superhero not just because its fun to imagine being imbued with magical powers, but, more importantly, because the world is in dire need of all the Sustainability Superheroes we can muster.
A report released last week by the Proceedings of the National Academy of Sciences reaffirmed the urgent warning that, if immediate and dramatic action isn't taken, the continued collapse of the planet's ecosystems could push "the Earth System toward a planetary threshold that, if crossed, could prevent stabilization of the climate at intermediate temperature rises and cause continued warming on a 'Hothouse Earth' pathway even as human emissions are reduced. Crossing the threshold would lead to a much higher global average temperature than any interglacial in the past 1.2 million years and to sea levels significantly higher than at any time in the Holocene. If the threshold is crossed, the resulting trajectory would likely cause serious disruptions to ecosystems, society, and economies."
The report continues with a rallying cry—or perhaps a desperate plea: "Collective human action is required to steer the Earth System away from a potential threshold and stabilize it in a habitable interglacial-like state. Such action entails stewardship of the entire Earth System—biosphere, climate, and societies—and could include decarbonization of the global economy, enhancement of biosphere carbon sinks, behavioral changes, technological innovations, new governance arrangements, and transformed social values."
That's about as clear as it gets. We're truly at a tipping point. And we cannot have a legitimate conversation about avoiding the 'Hothouse Earth' scenario unless we include discussion about transforming the built environment.
We could continue to ignore the science and suffer the consequences of more frequent and extreme superstorms, heatwaves, wildfire, drought, flooding, and other natural disasters (check out my recent blog to learn about how well that strategy has served us.)
Or you could enter yourself and every other Sustainability Superhero that you know into our awards program, so that we can meet you, learn about your important work, and determine how we can bring all of our Superhero colleagues together to achieve the breakthrough change we so desperately need.
To that end, we invite you to join us at our upcoming Sustainability Symposium 2019: The Desert Shall Bloom on Monday, February 18, 2019 (the day before the show floor opens at Design & Construction Week) at the UNLV campus in Las Vegas, where we hope to gather all of our Superhero friends for an incredible day of education, inspiration, and networking.
And, don't miss the celebration of our annual Sustainability Award winners on February 17 at 6:00 p.m. at the exclusive Mr. Chow in Caesars Palace.
Click here to register for the Sustainability Symposium 2019: The Desert Shall Bloom and Sustainability Awards gala. Space is strictly limited and by reservation only, so reserve your seat today! Register for the Symposium before October 1, 2018 using the code EarlyBird and you'll receive a $100 discount.
A sincere thank you to our generous sponsors, Samsung, Ingersoll Rand, Emerson, Andersen, and Caesars Entertainment for helping to make the Symposium and gala dinner possible.
Want to learn more about our annual awards program or Sustainability Symposium? Write to me at sara.gutterman@greenbuildermedia.com.
Want to read more? Follow me on Twitter and Facebook. For more information about green building and sustainable living, visit Green Builder Media at www.greenbuildermedia.com, like us on Facebook, and follow us on Twitter for regular updates and breaking news.