In 2018, California passed a mandate that will require solar panels on most new homes and multi-family buildings beginning in January, 2020. But as builders, installers, manufacturers, and homebuyers are ramping up to prepare for the directive, its future is in question.
The Golden State made history last May by passing a mandate that requires new homes to have solar beginning in January, 2020. The ruling applies to most single-family homes, as well as multi-family buildings up to three stories (including condos and apartment complexes.) Homes that are not suitable for solar (for example, those surrounded by large shade trees) will be exempt.
Green Builder Media guest columnist Pierre Delforge wrote that California's updated 2020 code "will combine rooftop solar panels with enough energy efficiency measures like insulation and better windows that all new single-family homes and low-rise apartments will use net-zero electricity. This means that their solar array should offset all electricity use for cooling, plug-in equipment, and lighting on an annual basis."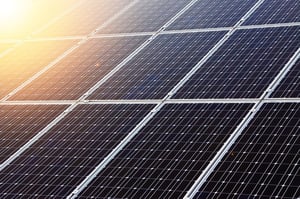 "The code also encourages builders to install energy storage," Delforge continues, "such as home batteries or flexible electric water heating, which allow residents to use more of their own clean energy solar electricity at home as needed instead of automatically sending it to the grid. This helps integrate renewable energy on the grid by storing solar electricity when it is abundant for later use in the evening when demand is higher and solar is no longer generating."
The California Energy Commission (CEC) estimates that the mandate is equivalent to taking 115,000 fossil fuel vehicles off the road and will save homeowners approximately $80 per month on heating, cooling, and lighting bills (which translates into $15,000-$20,000 over the course of a typical 30-year mortgage.)
Supporters of the mandate assert that it will fast-track a cleaner, renewable energy-powered future, and that it takes stress off of California's aging energy infrastructure.
Critics argue that the mandate will increase the upfront cost of a home by up to $10,000, which could increase a 30-year mortgage by up to $40 per month. They also cite that homeowners will be responsible for annual inspections and cleaning at an estimated cost of $300-500 per year and will likely have to shell out upwards of $600 for maintenance costs.
But just as manufacturers, builders, contractors, installers, service providers, and homeowners are gearing up for full scale implementation, the mandate has encountered an unexpected—and potentially lethal—hurdle in the form of a proposal submitted by the Sacramento Municipal Utility District (SMUD), a publicly owned utility servicing more than 1.5 million customers.
SMUD's proposal would allow home builders to access electricity generated by existing solar farms, instead of through the installation of rooftop solar on individual homes and multifamily buildings.
SMUD avows that the proposal complies with the mandate's solar requirements, and the utility has guaranteed an energy bill savings of at least $5 per kilowatt of solar power a year, or about $20 annually for a typical household.
But here's the rub: the original terms of the solar mandate didn't clearly define acceptable parameters for community solar, and SMUD's proposal would allow builders to access electricity from utility-scale solar farms as well as installations in Fresno County, which is 200 miles away.
Needless to say, the proposal did not go over well with solar industry stakeholders. Opponents call the proposal a loophole at best and a sham at worst, decrying that it would effectively overturn the solar mandate and eradicate the benefits of onsite solar, including protecting homeowners from ongoing wildfire-related blackouts.
Furthermore, critics insist that the type of solar installations allowed under the SMUD proposal shouldn't be categorized as community solar, which are usually smaller installations located close to the customers they serve.
In public meetings last week, the CEC heard from a wide spectrum of stakeholders, including builders, solar industry professionals, environmental groups, and utility rate payers.
Some of the Commissioners expressed concern over the broadness of the SMUD proposal and the ultimate value that it would—or, rather, would not—deliver to homeowners.
In the meetings, the CEC did emphasize that the original goal of the solar mandate was to reduce carbon emissions through the deployment of clean, renewable energy, and not just to promote rooftop solar.
Commissioner Andrew McAllister confirmed that the community solar option "would be another way to satisfy and comply with the solar mandate with additive solar capacity that provides direct benefit to the owner/resident. The 2019 T24 regulations explicitly contemplate this option in general terms, pending actual applications, of which SMUD's is the first. We want to get it right."
To that end, the CEC decided to postpone a final decision on SMUD's proposal until they could create acceptable parameters for community solar under the mandate.
So, the silver bullet question remains: is California's solar mandate, touted as the first of its kind to promote onsite solar on new homes and multi-family buildings, in peril? Only time will tell, and the answer will likely reside in the CEC's ultimate characterization of community solar.
Interested in learning more about the transition to a clean, net zero future? Join Green Builder Media for a day of inspiration, education, and networking at our fourth annual Sustainability Symposium 2020: Improving the Human Condition, scheduled for January 20, 2020 on the UNLV campus in Las Vegas.
Speakers include global sustainability leader Andrew Winston, world-renowned architect Ed Mazria, Green New Deal co-author Rhianna Gunn-Wright, award-winning Thrive Home Builders CEO Gene Myers, and distinguished civil rights attorney Kalpana Kotagal.
And, don't miss the celebration of our annual Home of the Year and Sustainability Awards winners at a special gala dinner on January 19, 2020 on the Zappos Campus.
Click here to register for the Sustainability Symposium 2020: Improving the Human Condition and Sustainability Awards gala. Space is strictly limited and by reservation only, so reserve your seat today! Register for the Symposium before November 22, 2019 using the code EarlyBird and you'll receive a $50 discount.
A sincere thank you to our generous sponsors, Ingersoll Rand, Mitsubishi Electric Trane, DuPont, Jinko Solar, and Zappos, for helping to make the Symposium and gala dinner possible.
To learn more about the Sustainability Symposium 2020: Improving the Human Condition, visit the event microsite.
Have questions about the Sustainability Symposium 2020 or awards dinner? Write to me at sara.gutterman@greenbuildermedia.com.
Want to read more? Follow me on Twitter and Facebook. For more information about green building and sustainable living, visit Green Builder Media at www.greenbuildermedia.com, like us on Facebook, and follow us on Twitter for regular updates and breaking news.