Cabinets: Replace, Reface or Repaint?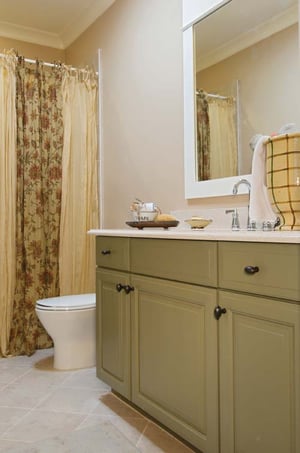 The Estate Collection from Wellborn Cabinet, Inc. offers FSC- and SFI-certified wood choices.
WHEN DESIGNING A kitchen remodel, one of the biggest decisions you may have to help your client with is what to do with the cabinets. If the budget is tight, refinishing and re-staining or painting wood cabinets will do the trick without major remodeling costs. Another way to give them a cosmetic upgrade is swapping outdated knobs and pulls for newer ones. And if you invest in high-quality cabinets to begin with, you can be assured of minimizing the kitchen's impact on the environment.
As awareness (and consequently, demand) grows, there are more and better options. Angela O'Neill of Wellborn Cabinets says that the company continues to lower the VOC emissions of their products and also uses recycling programs that utilize wood waste to generate power and steam.
"We also partner with our suppliers to improve their environmental programs, and this is why you will find the KCMA Environmental Stewardship Program seal on our cabinetry. The Green Choice program ensures that you are purchasing a brand of cabinets from a company that takes conscious steps to protect and minimize the overall impact on the environment."
O'Neill points out that it's important to choose, with the help of designer, a cabinet that is "safe and not trendy such as a white paint or mid-tone stain, which are currently most popular. Other cabinet trends she's noticed: transitional kitchens have become extremely popular across all regions, and mouldings and corbels are on the decline—as are the use of details on the door profile.
Standards for New Cabinets
CARB-II Compliance. The California Air Resources Board has set formaldehyde emissions limits for composite wood products. The more stringent standard of went into effect in California in 2012.
KCMA Environmental Stewardship Program (ESP) Label. This program requires that 100 percent of particleboard, medium-density fiberboard and plywood used in the cabinets must meet CARB formaldehyde emission levels, and must be third-party certified. There are also standards for recycled content, sourcing wood from sustainable sources and responsible chains of custody.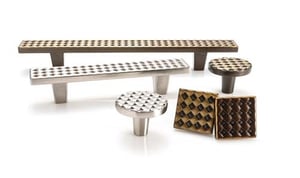 The knobs and pulls from DuVerre Hardware's Argyle collection are made from recycled aluminum.
No-Added Formaldehyde (NAF). Products with this label may emit lower levels of formaldehyde than those that are CARB II-compliant.
FSC-Certified Wood. Many factories offer FSC-certified wood as an upgrade. Look for domestic species, if possible.
Plywood or solid wood construction. Not only will boxes made from these materials last longer, the CARB standards are more stringent for plywood than they are for MDF or particleboard.
Low- or no-VOC finishes, paints and adhesives.
GREENGUARD or GreenSeal certification. These programs set standards for VOC emissions and content, respectively. UL Environment maintains a database of certified products, including cabinetry: www.productguide.ulenvironment.com