Buttoned-up Basements
A well-waterproofed and insulated basement offers a plethora of benefits, including improved IAQ, occupant health and lower HVAC bills.
While your clients may wish to finish their basements so they can squeeze an extra room or two out of their houses, a properly sealed and insulated basement is more than a nice amenity. In fact, finishing these spaces can support better air quality and lower HVAC costs.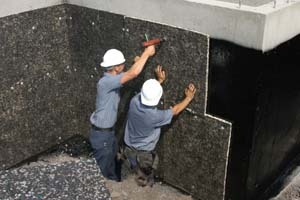 "As much as 80 percent of the cost of air conditioning is dehumidification, so buildings with uncontrolled water intrusion, whether in liquid or vapor form, place an additional load upon the HVAC system," explains Tim Chapin, HHS, CRMI, air quality expert at EZ Breathe in Macedonia, Ohio.
But perhaps more compelling is the fact that homeowners can be free of concerns about mold and mildew compromising their home's structural integrity and occupant health.
"Basement waterproofing is critical, because the foundation holds up the house," states Peter Barrett, product manager of Cosella-Dörken Products in Beamsville, Ontario. "Once water is in the interior, it can begin to rot stud walls or build up behind vapor barriers. This can create mold which leads to smells, structural decay and adverse health affects."
In fact, a number of studies, including one conducted by the Institute of Medicine, have directly linked exposure to damp indoor environments to upper respiratory tract symptoms, coughing, wheezing and asthma flare-ups amongst people with asthma.
GETTING IT RIGHT
Once builders have decided to invest the time and resources, the most cost-effective way to deliver a high-quality waterproofing system is during initial construction, recommends Barrett. "If done properly, a homeowner will never have to think about it again."
A good quality waterproofing system requires both a water barrier and drainage plane to direct water away from the basement's building enclosure. For example, a highly impermeable membrane like Mar-flex Waterproofing & Building's Mar-flex 5000, Tremco's TUFF-N-DRI or Cosella-Dörken's DELTA system should be applied as the first line of defense.
That Musty Smell
Moisture can enter insulated wall assemblies through several mechanisms:
Moisture present in construction materials

Air leakage (humid air enters assembly and condenses)

Capillary rise (through footings)

Diffusion from the interior

Groundwater leakage through the foundation
Source: Building Science Corporation
Next, the drainage board both protects the coating and helps channel the water away from the foundation. Mar-flex offers the ShockWave board, which can also boost insulation, and the "C" Drain drainage tile, which is installed along the footer/foundation walls to send water into the sump/drainage system.
"A proper drainage plane should always be on the exterior of the foundation and be the outermost layer of the foundation protection system," explains Barrett.
Along these lines, Cosella-Dörken offers a couple of solutions. One is the DELTA-MS, an air-gap membrane that offers both damp-proofing and drainage and is installed on the concrete or block foundation. The other is the DELTA-DRAIN, which is a drainage board placed on top of the waterproofing to both protect the waterproofing and act as a drainage composite providing relief from hydrostatic head—defined as pressure created by water build-up.
Another noteworthy option, amongst many solutions in the market, is FORM-A-DRAIN, offered by North American Specialty Products. This three-in-one system forms footings, delivers an integrated drainage system and can also be adapted to vent radon in locations where the surrounding soil contains radon gas. What's unique about this system is that it uses lineal sections, which are permanently installed as the foundation footing forms, as opposed to standard, temporary-placed wood forms. These sections ultimately form a complete sub-slab perimeter loop around the foundation.
Lending its own take on residential drainage system, prefabricated drains from American Wick Drain consist of the SITEDRAIN sheet, delivering full-coverage protection to waterproofing materials without the need for a protection board, and the SITEDRAIN strip, which offers a significantly higher flow rate than perforated pipe and stone drainage systems.
Sharing a couple installation best practices, Barrett recommends running the damp-proofing to, but not beyond the footing. "This guides the water to the cold joint between the footing and the foundation wall, which is an area most susceptible to leaks. Also, by putting the perimeter drain on the footing, and not beside the footing, this leads to water collection at this critical potential leak point."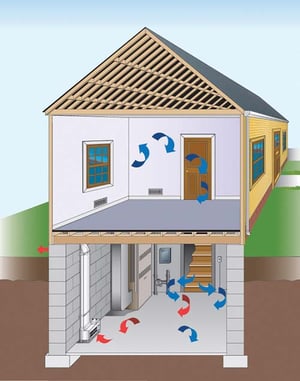 With no filters to change and no water reservoir to empty, EZ Breathe's ventilation system operates by air exchange, exhausting stale air, along with contaminants and moisture, and circulating fresh air throughout the house.
Another pitfall to look out for is not accounting for high or intermittently high water tables. "Best practice is to waterproof to a level of a minimum one foot higher than the anticipated high water mark," he advises.
SOUND SEALING
When it comes to sealing the basement enclosure with air and water barriers, avoiding common mistakes is critical to installing a high-performing system.
Although it may seem simple, Brett Oakley, president of Mar-flex Waterproofing & Building Products in Carlisle, Ohio, says it's not uncommon for builders to assume that damp-proofing is sufficient, even though these products only provide slight protection from dampness, whereas waterproofing forms a barrier from water and seals the surface from water infiltration. "Making sure builders know the difference between damp-proofing and waterproofing, and verifying the product being applied, is crucial to getting the proper waterproofing protection."
In addition, Barrett offers the following pointers:
Make sure the floor slab is poured level with the footing, and not on top of the footing.
Carefully follow the manufacturer's recommendations, and don't stretch the spacing in between the fasteners at the top of the membrane, so that the top tab is properly sealed.
Ensure that there is sufficient sealant behind the flat tab to prevent leakage behind the membrane.
INTEGRATING INSULATION
Although an insulation value of R-12 is a common rule of thumb for basements, this will vary based upon the building code and climate zone.
When working with insulation, it's important to understand that a properly installed system should manage vapor drive, which occurs from the outside to the inside in a below-grade setting. With the soil at 100 percent relative humidity (RH) and interior conditions typically around 40 to 50 percent RH, vapor migrates from areas of high concentration to low concentration seeking equilibrium, as per Boyle's Law, explains Barrett. The upshot is that the vapor barrier must be carefully placed in combination with the insulation. "Correct insulation will affect whether or not there is condensation or proper comfort levels in the basement."
One big question to determine is whether to place the insulation on the exterior or interior of the basement. While there are several pros and cons to both approaches, the overall consensus is that interior insulation is much less expensive, but exterior is considerably more effective.
Drilling down to some more specific benefits, exterior insulation minimizes thermal bridging, thereby reducing heat loss through the foundation; it serves as a capillary break to moisture intrusion; it reduces the risk of condensation build-up on the basement surfaces; and it protects the waterproofing coating and the foundation from freeze-thaw cycle effects, reports Oakley.
On the flip side, not all contractors are familiar with proper detailing procedures, which are critical to performance, and many exterior insulation materials—with some exceptions—are susceptible to insect infestation.
Unlike the more limited selection of exterior insulation products, just about any type of insulation can be used for interior applications, ultimately giving builders more choices. Also, when dealing with an existing building, interior insulation is a much simpler option with less costly materials and installation.
In terms of disadvantages, homeowners have to give up a few inches of usable space when the insulation is installed on the interior. Many insulation types require a fire-rated covering, and if the perimeter drainage is poor, the insulation can become damp, says Oakley.
But regardless of the insulation type, in order for the structure's full envelope system to be complete and effective, all the below-grade systems—including the air and water barrier and insulation—must integrate correctly with all their above-grade counterparts, cautions Benjamin Meyer, LEED AP and building science and sustainability leader at DuPont Building Knowledge Center in Richmond, Va.
"For instance, if there is a basement air barrier, it needs to be continuous from inside of the basement, all the way to the outside where an above-grade air barrier—Tyvek, for example—is installed," he says. "In order to do this, it usually requires pre-planning before the sill plate is ever installed on top of the foundation wall. If it's not, then it's very difficult to fix after the fact, in a manner that is lapped correctly to also shed water above grade."
"The same is true for thermal and water management layers," he continues. "If they are not continuous and lapped correctly, additional durability or efficiency defects may arise over time."
THE ROLE OF VENTILATION
While required in bathroom and kitchen settings, ironically, the building codes don't mandate ventilation in the basement even though this subterranean location introduces more water vapor than these other spaces, according to EZ Breathe's Chapin.
If the basement has two or more windows, then natural ventilation is a great option for reducing moisture while also conserving energy, suggests Oakley of Mar-flex.
For an added boost, box fans or small air conditioning units can be placed inside the windows. For a more proactive approach, Oakley recommends installing exhaust fans that connect to vents located throughout the basement.
"These fans can be permanently installed in windows or might require cutting through a basement wall to install," he explains. "These systems are often equipped with humidity sensors that trigger the fans when moisture is detected within the basement."
One effective solution is the EZ Breathe ventilation system, which actively circulates fresh air throughout the home, in addition to removing excess moisture. Offering "set it and forget it" operation, there are no filters or trays of water to replace.
"In addition to reducing moisture, and the inevitable issues it creates, basement ventilation can reduce radon, remove airborne pollutants, create whole-home ventilation and replace typical dehumidifiers—and in so doing, create a healthier home," Chapin concludes.
It's important to note that the make-up air in mechanical exhaust systems comes from cracks and penetrations in rooms above, and may well introduce humid air into the home. Conditioned air may also be used to ventilate basements and crawlspaces.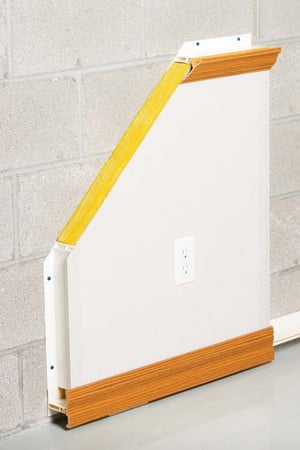 The exterior wall panels of the Basement Finishing System are either 1" or 2.5" thick and made from rigid fiberglass.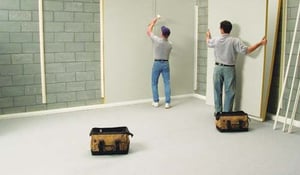 Owens Corning sells materials to its franchise network; only certified installers may install the system.
Finishing School


A retrofit solution from
Owens Corning
can turn a drafty basement into a finished and insulated room in about two weeks. Available only through certified installers, the company's Basement Finishing System consists of modular rigid fiberglass panels onto which a breathable polyolefin fabric is laminated. The prefinished panels can be installed directly onto the inside of foundation walls or into a steel framework (also provided by the installer). The framework can accommodate extra batt insulation, which might be necessary to meet R-value code requirements for basements.
The fiberglass panels come in two thicknesses: 1" (R-4) and 2.5" (R-11). Wall panels measure 48" x 96", while ceiling panels are 24" x 24". PVC trim covers both the seams between panels and a channel at the bottom, which can receive wiring.
While the original panels come in four colors, Owens Corning's newer Unlimited system features paintable 1" panels. "We use the same 700 Series fiberglass boards as our regular system, but a fiberglass mat is laminated to the facing," says Joe Rhodes, Technical Operations Leader for Owens Corning Interior Systems. The installers prime and paint the panels with the customer's choice of color. They can be painted again, although too many coats can compromise the panels' breathability. (In that case, Owens Corning recommends having the panels re-perforated.)
The pros:
An unfinished basement can be transformed quickly and easily using sound-absorbing fiberglass insulation panels, which allow for easy access to the foundation, plumbing, wiring, etc. The panels are mold and mildew resistant and easy to clean, and the system achieves Class A rating.
The cons:
The solution does not address any underlying moisture problems that may be present, and its availability is currently limited to East Coast and Midwest markets.