What's The Situation?
Innovation in whole home automation is critical to achieving ultra-high levels of energy efficiency. The more efficient homes get, the more innovative strategies are needed to address extremely low loads, occupant behavior and other challenges. Innovation priorities include high-efficiency distribution (space conditioning), along with more effective automated home energy management solutions—and workable strategies for basement and foundation insulation in all climates.
Building America's Take:
In some cases, innovations provide interesting alternatives to current solutions. In other cases, more work may be required before new systems are ready for "prime time." The following summaries of emerging technologies and future research needs were captured at the Summer 2012 Building America Technical Update Meeting.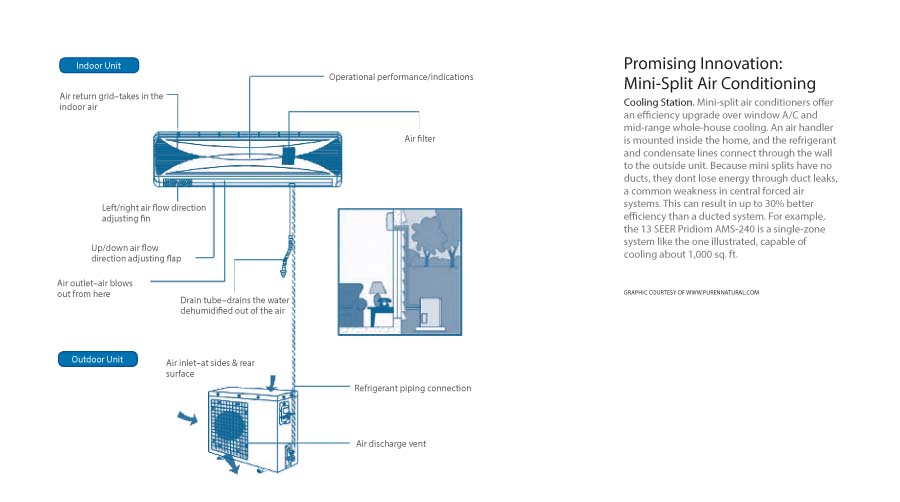 Ductless Hydronic Distribution:
Increased distribution efficiency over air ducts, approaching 10% efficiency, because it is easier to route inside conditioned space.
More energy efficiency because of distribution efficiency, it uses pumps versus fans—and allows for better sizing.
Easier to zone for increased comfort, ductless equipment takes less space, creates no combustion safety issues, and isn't much more complicated than forced air—but requires contractor education.
Cons are that it is difficult to do cooling; there is limited availability of compact air handler products. The system requires engineering, and has a high cost of heat pump equipment.
High-Performance Windows:
Low U-value, high solar heat gain coefficient (SHGC), low-cost windows don't really exist yet, though there are companies working on this—now that incentives for the hot climate windows have gone away.
The role of highly-insulating windows in achieving 50% energy savings in residential retrofits is significant and follows two types—primary replacement and storm window additions.
Retrofits are increasing, but window upgrades are not always pursued because of cost and lack of awareness of current products.
BA needs to verify performance of highly insulating primary windows and low-E storm windows.
Right now, it is hard to get the cost down for high-performance windows because there is a lack of regional distribution.
BA needs to give more guidance on how to deal with historic window replacement
Home Energy Management Systems:
Home energy management systems can significantly reduce energy consumption, but the technology is still being optimized.
People don't want to think; they want technologies that make their lives easier.
Expert prediction is that everything with a plug is going to have a chip in it, and the smart meter will be the gateway.
Ideally, everything will work together with minimal interaction from occupants.
The most compelling technology today is the Nest, thermostat, which learns from occupant behavior—but it's not a Home Energy Management system.
Building America intends to quantify how much energy is actually saved using smart power strips.
Foundation Insulation Systems:
Foundation exterior insulation systems that require almost no excavation are needed. Current exterior basement insulation methods (retrofit) involve digging up the whole yard—and don't account for the high replacement cost of landscape features. Exterior insulation has various hygrothermal benefits: the warmer wall can dry toward the interior, and the lack of capillary break is less important because the concrete wall is drier.
Inside insulation options are common and easily done, but have issues, including:
Other Emerging Technologies:
In addition to the more specific topics detailed above, some "out of the box" emerging technologies that are worth watching include:
Exterior shading options.
Heat pump clothes dryers.
Wireless/GPS-enabled, zone-controlled air handlers.
More HVAC solutions such as window air conditioners that minimize refrigerant needs, and are factory-sealed without need for maintenance, easy to install and cost-effective.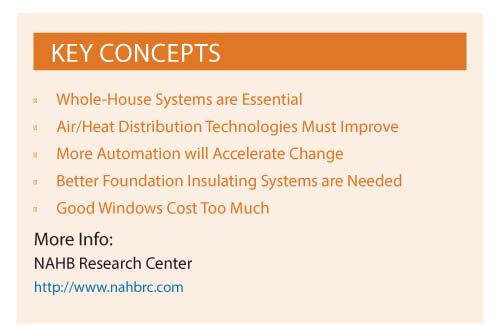 Derived from responses by David Springer (ARBI), Duncan Prahl (IBACOS), Garrett Mosiman (NSTAR), Terry Mapes and Sarah Widder (PNNL) at the 2012 Building America Technical Update Meeting.
---