What's The Situation?
High-performance homes inherently have lower loads than traditional construction. This is brought about by improvements in building envelope performance—air sealing, insulation quantity and installation quality and management of thermal bridging. Unfortunately, commonly available capacities for residential equipment aren't designed for these low loads. What's the short-term solution?
Building America Expert Recommendations: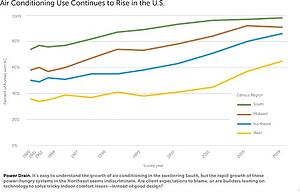 In lieu of new products to address the issue, Building America experts provided the following guidance:
In some cases, appropriately-sized systems can cost more, particularly for high-performance homes. This is an area where the new construction market can help to achieve cost reductions via increased demand and corresponding economies of scale. Innovations in this area will not be driven by the replacement or retrofit market.
Anecdotal evidence from manufacturers says it is more expensive to build a smaller furnace, and perceived demand isn't great enough to instigate the production of these products. The problem isn't a technical challenge, but a market challenge.
Decent heating solutions are available. The problem is air conditioning. Sensible and latent load control can be achieved with a centrally ducted, variable capacity space conditioning system in low-load environments.
Smaller air handling units for low-load homes are needed, but few manufacturers are making them.
Combination systems (dual-integrated appliances) are good solutions.
Minimized space conditioning distribution strategies for low-load homes are needed along with good design guidance.
Should minimize the need for supplemental dehumidification, but this integrated function can increase equipment cost.
Need to consider domestic hot water as a space heating source when looking at low-load HVAC as burner capacity is comparable. If a condensing hot water system is used, the space conditioning system must be designed to ensure a low enough return temperature to maintain condensation.
Distribution systems pose a problem, as they must be designed for larger capacity even if not needed—we need non-standard equipment.
Ductless systems may work in smaller homes but don't address need for ventilation, filtration or mixing in standard size homes.
The multi-family market is an excellent place to start to work on this problem, as there's a real market opportunity there for manufacturers—and this may drive technical solutions that can be used in the residential market.
Where Is Future Research Headed?
Up to this point, the U.S. has led the world in the development of practical, high-performance, reliable and cost-effective comfort conditioning. As has occurred in the past with the auto industry, this lead could be challenged if the industry does not develop new products that are optimized to take advantage of current market trends including smaller and higher performance homes, development of systems that can effectively reduce peak demand during peak cooling events, and development of systems that can control moisture during periods with low sensible loads.
Derived from responses by James Cummings (BA-PIRC), John Straube (BSC), Ben Schoenbauer (NSTAR) and Dave Stecher (IBACOS) at the 2012 Building America Technical Update Meeting.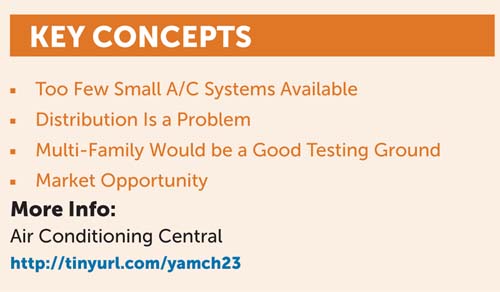 ---