What's The Situation?
Water heating is a major contributor to energy bills, particularly in northern climates. New technologies promise big energy savings. Do they deliver?

Building America's Take: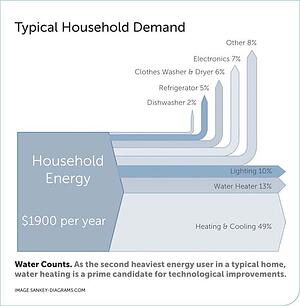 Energy efficient construction strategies must maximize the benefits of high-performance water heating systems, while keeping costs reasonable. Technical solutions without economic viability don't make it in the market.
Regional Caveat. At this time, high-efficiency water heating systems may not worth the extra cost, especially in warm climates with higher ground water temperatures and lower hot water heating loads. However, water heating efficiency improvements can contribute to whole-house energy savings if incremental system costs can be reduced to reflect incremental energy savings.
Installed costs relative to standard systems are still too high, which may have to do with familiarity by plumbers, local competitive pricing and lack of economies of scale.
There is a need to look at systems as a whole, including distribution. System interaction with the whole house is not entirely understood and accounted for.
Concern about Carbon Monoxide. Under-sized vents and lack of combustion air drive most of the CO problems.
Point-of-use water heaters are a good alternative, where the wet wall is far the central water heater.
If you can't replace the water heater, look to load reduction options such as low-flow fixtures, and more efficient distribution systems.
Where Is Future Research Headed?
Emerging low-cost solar water heating systems look promising for multifamily applications, but installation and maintenance costs are still big barriers to broad use of high-performance systems. Innovations in these areas will provide large benefits for both homeowners and resellers.
Derived from responses by Dan Cautley and Ben Schoenbauer (NSTAR), and Marc Hoeschele (ARBI)
at the 2012 Building America Technical Update Meeting.

---