What's The Situation?
Improperly installed HVAC systems can over-promise on energy performance and radically under-deliver, negating the benefits of high-efficiency systems. Defects in cooling systems can reduce overall efficiency by more than 50%. These include low airflow, undercharged systems, duct leakage, coil blockage and equipment installed in the attic. Similar issues can be found in many home heating systems.

Building America's Take: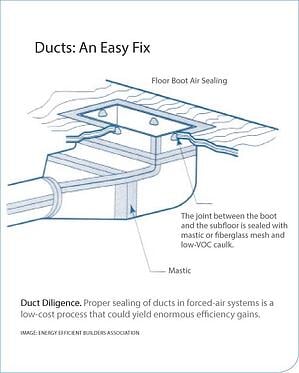 Technology isn't always the problem. Installation and quality control/quality assurance methods can also contribute to reduced system performance. The following tips would help ensure proper installation of HVAC equipment and improve expected performance:
Tighten Up. Fixing (seal/insulate/test) all of the ducts in the U.S., would save about $25 billion a year. Contractors need to change from low-bid service techs to high-profit professionals.
No Brainer Test. Measure the temperature split between return and supply plenums for quick and effective AC inspection. This split is easy to measure and is used to determine system health.
More Training. HVAC technicians, installers and sales people need more training. Promote participation in ENERGY STAR, ACCA QI, SAVE and other programs that focus on HVAC installation.
Get Serious. Develop a pre-delivery inspection (PDI) checklist and label for HVAC, make it law, regulate it and require it. Label and certify for tight equipment.
Educate. Homeowners will equate more value with higher cost only with outreach and national verification by qualified organizations.
Derived from responses by David Springer (ARBI), Tim Hanes (PARR), and Iain Walker (LBL) at the 2012 Building America Technical Update Meeting.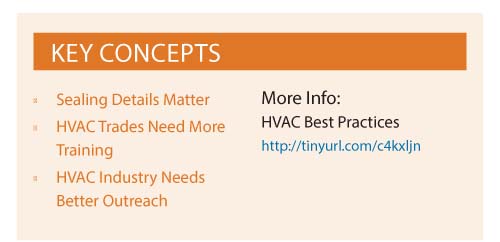 ---