What's The Situation?

To achieve extremely high levels of energy performance, thermal enclosures have to optimize the effectiveness of the insulation, windows and air sealing to minimize heat loss and gain in all construction assemblies. This begins with achieving cost-effective high-R enclosures; thermal enclosures must be thoroughly sealed, insulated and water-managed.

Building America's Take:

The challenge with high-R enclosures is that compared with older, leakier, and less insulated construction techniques, high-R enclosures cannot dry—because the thermal flow through them is extremely small. Thus, any air, vapor or water leakage can lead to serious moisture problems, including dry rot and mold, negatively impacting durability and occupant health. The following recommendations pose some of the most current thinking on how to effectively build high-R enclosures.

All Enclosures:
Deal with moisture and water control as a top priority when air sealing and insulating homes for a low-cost, super-tight envelope.

Walls

:
The best wall system should always align and connect the four primary layers:

Water Control

Air Control

Vapor Control

Thermal Control
One highly recommended wall system adds rigid insulation over an insulated advanced frame assembly (applicable for up to 4" of insulating sheathing). The keys to success with this system:

Advanced framing—it's less expensive and works better.
OSB in corners, insulating sheathing everywhere else. Wherever you have insulating sheathing, you must have a gap between the cladding and the sheathing to back ventilate and drain your cladding systems.
Rigid insulation over OSB: as rigid insulation get greater than 1 ½" thick, this becomes a potential structural concern with code approval. Research is developing data to resolve this issue.
Wrapped and taped insulating sheathing seams.
Flashing on window openings. This requires good windows, installed properly (SHGC .2-.25). Most of the time, the problem isn't the window, it's connection of the window to the wall. Pan flash the sill, with conventional flashing at jambs and head.
Furring strips over wrapped insulating sheathing to ensure a drainage gap (½" min., ¾" better). This is the only technology that is going to work, because we need to allow drying.
Cladding on OSB over furring strips.
Liquid applied membranes. These are a great emerging technology, especially when they become cost-effective and readily available—but they won't work in areas that remain wet for longer periods of time, such as the bottom of the drainage plane.
SIPs/ICFs have moisture control issues, but there are solutions. For example, ventilated cladding is a solution to this moisture problem. SIP roof panels have the same problem and solution.
With ultra-efficient homes employing double-wall framing, the outside sheathing layer is so cold, it needs to be more permeable to ensure drying. Thus, OSB is not recommended in this application. Instead, more permeable sheathings—such as plywood and exterior grade drywall—should be used. Note that double-wall construction is more risky in cold climates because of the inability to locate the dew point outside of the wall.
Retrofitting existing walls with insulation needs to be carefully considered, and rejected if it is not possible to provide a complete water management system.
Insulating sheathing used as the backer for spray foam can be a good strategy in retrofit scenarios.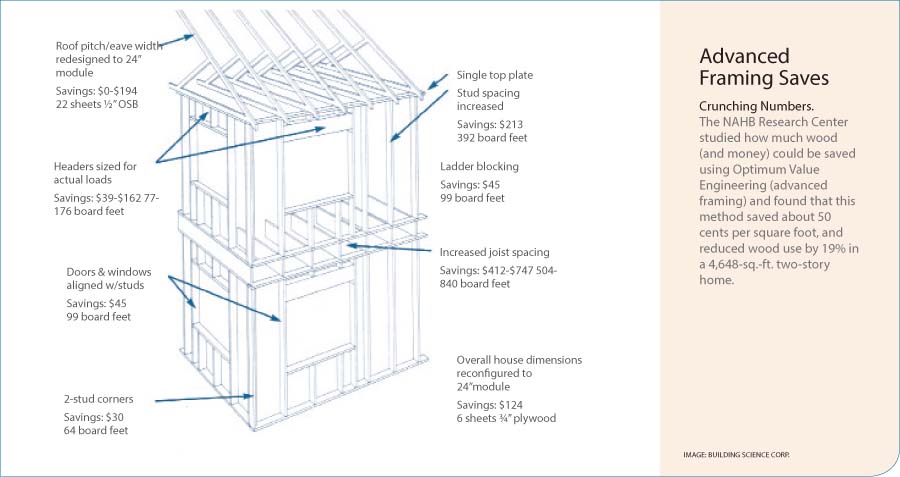 Attics: To Vent or Not:
While there is increasing interest in unvented attics with insulation installed at the roof sheathing, vented attics work best and minimize moisture control issues. A common error is to put mechanical systems in the attic. Don't.
That said, unvented attics can work. They make it feasible to put HVAC ducts inside conditioned space, but they should include a furred vent space above the insulation in cold climates.
SIP roofs have moisture control issues, but there are solutions. Add a ventilated space over the panels to address this moisture problem.
Foundations:
Exterior foundation insulation requires effective moisture management—and is expensive.
Interior foundation insulation needs to allow for effective drying to the interior.
Best strategy for slab-on-grade retrofit is an insulated stem wall.
For a post-tension monolithic slab, insulating on the edge is futile. Instead, insulate on top.
Windows:
There are two types of windows—windows that leak and windows that will leak. Build with this understanding. In retrofit scenarios, pull windows and reinstall—to ensure that flashing connects with the wall drainage plane. This also allows for resealing the rough opening gap.
Codes & Standards:
Building codes should provide minimum requirements, not mandates for every situation.
The industry needs better, more specific guidelines, in order to optimize systems—not just install products.
More is not always better. Too much insulation can create moisture in wall structure—and minimizing condensation in walls should be a key concern.
Codes should not require a vapor barrier on interior walls.
Relative humidity should be maintained, as outlined in ASHRAE 160.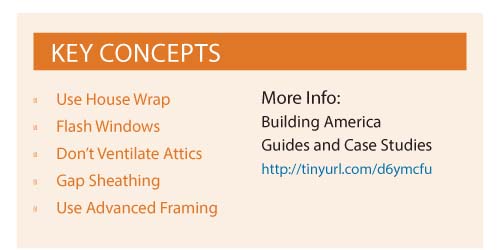 Derived from responses by Vladimar Kochkin (NAHB Research Center), Joe Lstiburek (BSC) and Richard Baker (IBACOS) at the 2012 Building America Technical Update Meeting.
---