BATTERIES ARE THE PROBLEM. Could solar roads be the solution? If you know anything about electric vehicles, you know that storing electrical energy has been the Achilles heel of the electric car dream for decades. But maybe the problem of long-distance EV travel can be solved in a completely different way--a solution that also solves other long-term environmental negatives associated with asphalt infrastructure.

If you examine some of the R&D and innovation going on in the auto industry, you'll see a convergence of thought on this topic. For example, so called "wireless charging" is coming on strong. It's a way of recharging electric vehicles, and may expand to charging vehicles intermittently as they travel down the road, allowing them to carry much less battery weight.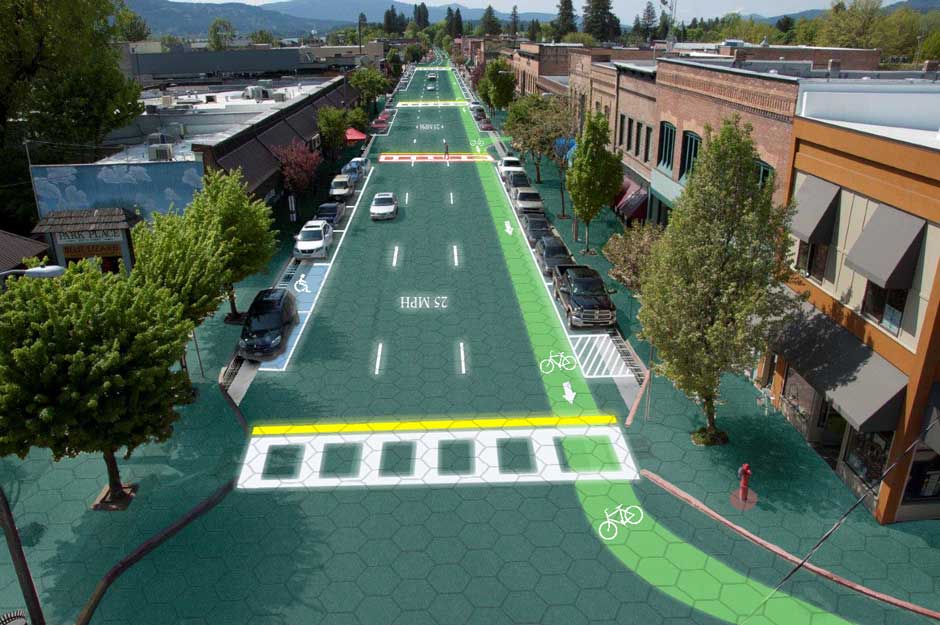 Artist's Rendition of a Solar Roadway.
A natural progression from wireless charging is to put the actual energy source closer to the chargers--and photovoltaic technology could be a great way to do this. If PV panels can be built to be durable, replaceable and affordable, they could actually "become" the road.
That's exactly what a company called Solar Roadways is working on. Now into their second prototype, they're creating a mom and pop version of solar roadways that is clever and cool. For a primer, here's a video by one of the inventors.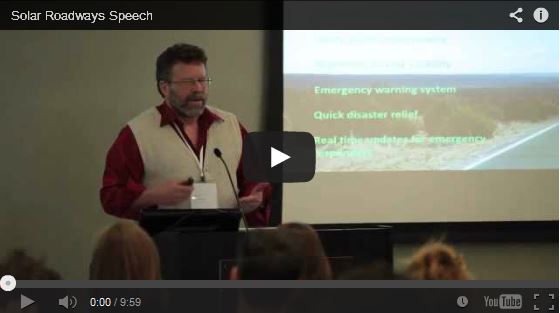 One of the things I like best about solar road technology is that it could be built with modular components, with powerlines and communications cables underneath or next two it. Consider the advantages.
Phasing Out Asphalt. Less use of costly, environmentally polluting asphalt, with potential for use of recycled composites and plastics.
Less Demolition. Need new cables or sewer pipe repairs? No problem, just pop off a few solar road panels and go to work. Pressure on C&D landfills could decrease dramatically.\
Durable Grid. Widespread use of the panels would not only power cars, but could be tied into existing grids, creating a massive, resilient new source of power nationwide.
In our latest issue of Green Builder magazine, we've been creating The Celestia Project, a narrative about life in the year 2100, and we actually put a futuristic solar roadway on the cover--before we'd even heard about Solar Roadways. I guess we're all thinking the same things these days, putting old and new technologies in ways that make sense.-GB