Building Science: SIPs Go Up at Mariposa Meadows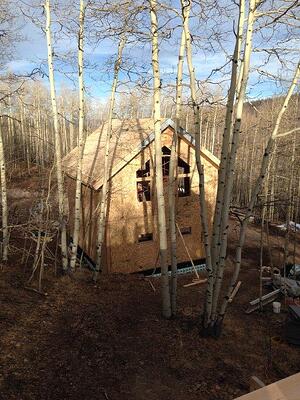 Spending the last quarter-century in the SIP industry has given me the opportunity to meet a lot of individuals in the construction arena, and one of my most prized contacts is Mr. Green Builder himself, Ron Jones. When Ron presented his thoughts on the latest VISION House project at the SIPA Annual Meeting last April, my company PanelWrights was one of the first in line offering SIP design and installation services.One of the many advantages of building with Structural Insulated Panels is the speed of construction, an important factor when you're trying to get your building roughed in before the Colorado winter sets in. It's important to note that the SIP industry provides packages in three different formats, and I believe that the key to meeting a client's expectations relies on their understanding of the cost vs value-added when considering each of these options.
A blank panel package is just that – blank structural insulated panels. No fabrication, no edge treatment, no additional work beyond the lamination. While the low initial price is attractive, the client must consider the additional on-site labor and slower erection process. The blank panel package comes with an attractive price at the front end but can mar the SIP experience if site labor is expensive or the Gantt chart can't afford the luxury of time.
A second option is to order a package which has been fabricated in the factory. This value-added feature will correspond with an increase in upfront cost, but may be well worth the allocation should your site conditions demand a quicker install. The typical factory fabricated package will include a panel layout design that establishes how the panels fit together and individual panel designations. These panels are cut to size and shape and are ready to receive lumber and spline material. The SIP installation crew's progress is a function of how quickly they can cut and install lumber while erecting and sealing the system.
The third and final option is the ultimate in value-added, the "Ready-to-Assemble" or "Ready to Install" (RTA) package. An RTA package should come with all panels fully fabricated, that is, cut to finish shape and size per approved drawings as well as:
Lumber pre-cut and pre-installed where applicable (windows, doors, corners, etc.)

Posts pre-installed for point loads

Headers pre-built into one-piece components
Beams (if included in package) pre-cut and beveled
Beam pockets cut and ready to receive structural elements

Pre-assembly of some panels to form larger component pieces and further reduce the number of lifts or sets
All the above items for a RTA package can be accurately accomplished when using 3D CAD software. This process allows the SIPA Manufacturing Member to design the complete project with assurances that the factory fabrication will result in a real world structure that fits together on site as well as it did on the monitor of the CAD station.
The Mariposa Meadows project was delivered as a fabricated package. The experience of our SIP installation crew ensured that lumber installation and SIP preassembly was quickly done onsite (explored further in my next post). Even with the speed of SIPs, Mother Nature decided that the third building envelope erection will have to wait until Spring.
---