A growing list of machine-to-machine solutions vanquish many profit-killing variables of building rental properties.
The front end of a development project, once you get past the planning and permitting phase, is typically where good builders can really shine. And if you're a reader of this magazine, chances are you're already pushing the envelope in terms of craftsmanship, home performance and scheduling. But are you following the market, or leading the way? If current trends continue, the future of most residential construction lies in cities, not the old model of single-family production homes on greenfields. Sure, there will always be a market for one-off, high-end custom homes, but is this how you want to spend your twilight years, serving an ever-smaller group of ever-more-demanding clients?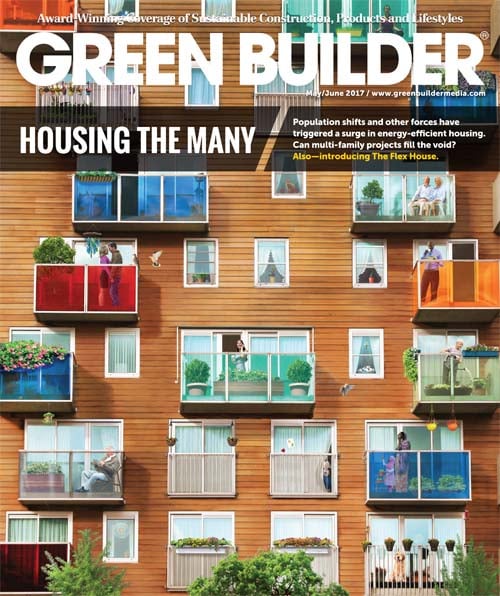 When you sweep up the last sawdust from a custom home, you're stuck marketing yourself again. There's no additional income from that huge investment of your time and labor. Word of mouth can carry you a long way, yes, but will you swing a hammer while others are retiring and kicking back?
How about a rental property that keeps on paying the bills long after the crews have gone home?
Building a large, multi-family rental project is a years-long process. It requires some specialized knowledge, ambition and persistence. But multi-family rental housing is exactly what's needed now.
A recent Trulia study of homeowners and renters finds that the market is shifting toward rentals, and not only because of affordability (although that's a large factor). The group most aggressively moving toward rentals and away from ownership is millennials in the upper-middle class, the group that traditionally becomes the next crop of homebuyers.
Big cities are where the biggest demand is, of course, but smaller cities are not far behind. Investment in rental properties in secondary markets hit a 16-year high in the last quarter of 2016, according to JLL. The market is hot, and money is available.
Now let's put a sustainability spin on this idea. Until recently, the potential risks of rental properties kept many traditional homebuilders from crossing over. We've all seen overly optimistic condo projects struggle to find renters. Add in strict rules requiring more market-rate units, parking, greenspace and so on, and the risk often seems to outweigh the potential benefits.
But Internet of Things technology has created a safety net, if you will. Assuming you do your homework, and build in an area with rental demand, you now have tools to help you control the operating cost of those rentals. If you've ever been a landlord, you know how a small oversight can result in long-term hemorrhaging of profits. To attract more reliable renters, many properties roll heat, cooling, water and electric utilities (and Wi-Fi access) into a single bill. But research shows that this arrangement often leads to irresponsible behavior by tenants, who have no financial incentive to reduce energy use or shorten showers.
The IoT adjusts for bad behavior. With the advent of smart thermostats, zoning control for mini-splits, smart shower controls, smart meters, smartphone-enabled HVAC monitoring, occupancy sensors, window sensors and the software to synthesize all of this information, you—the landlord—are back in the driver's seat.
Another advantage to smarter housing control: It makes affordable units feasible. A well-thought-out apartment management plan doesn't have to be draconian to reduce energy and water waste. Operating in the background, it can automatically shut off lights in unoccupied rooms; keep baths free of excess, damaging humidity; clear kitchens of greasy cooking fumes; and keep residents comfortable while also aware that opening windows with the heat on will not fly.
As you explore the multi-family projects in our May-June 2017 issue, think of them with IoT systems in place, fine tuning their performance.
A well-built unit, engineered with smart systems in mind, will require less maintenance, less energy and water, and command a more competitive rent than the "dumb" alternative.