Serious about catapulting your business forward? Understanding the role sustainability plays in the growth and success of the building industry should be your first order of business.
Spending a day hearing from esteemed sustainability experts and networking with building industry leaders at the Sustainability Symposium 2020 is an enjoyable way to start off Design & Construction Week. But, more than that, it is a crucial education opportunity for professionals who want to compete and prosper in the rapidly evolving construction industry.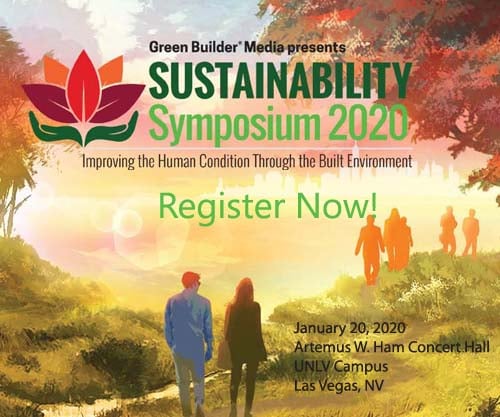 If you haven't registered for the fourth-annual Sustainability Symposium 2020, now is the time. This one-day event features sustainability experts who will detail how the housing industry is moving toward a greener future and how you can retool your business to take advantage of changes.
Understanding where and how sustainability will be integrated into the building industry through energy and building codes, green financial vehicles, incorporation of renewables, net-zero energy design, and fulfilling the green desires of the burgeoning Millennial generation are just a few of the topics that will be addressed during the event.
The remarkable lineup of luminaries who will be presenting include:
Andrew Winston, Global Sustainability Expert and Author of Green to Gold and The Big Pivot who will speak on Sustainability Strategies for a Changing World;
Rhianna Gunn Wright, Co-Author of Green New Deal and former Policy Director for New Consensus, who will deliver "Climate Action Now," a session focusing on the fundamentals of the Green New Deal;
Ed Mazria, founder of Architecture 2030 and internationally recognized architect, author, and educator, who will lead the session, "Getting to Zero: The Urgency of Zero Emissions";
Building industry experts Sam Rashkin, Department of Energy Chief Architect, and Gene Myers, Founder/CEO Thrive Home Builders, who will address how to deliver sustainability;
Dr. Javon Johnson, Director of African American & African Diaspora studies at UNLV, who will deliver a spoken word performance; and
Heidi Harmon, Mayor of San Luis Obispo, and Kalpana Kotagal, Civil Rights & Employment Litigation Partner at Cohen Milstein and co-author of the "Inclusion Rider," who will host the session, "Sustainability for All: The Nexus Between Sustainability and Social Justice.
Don't wait! Register today by clicking here.
Event In a Nutshell:
What: Sustainability Symposium 2020
When: January 20, one day before the start of Design & Construction Week
Where: Artemus W. Ham Concert Hall on the UNLV Campus
How: Click here to learn more and register.