Sharing utility bills in public maps creates peer pressure among neighboring properties. Why not become an equalizer?
Human nature is a fickle thing. Builders with good intentions with regard to housing performance and sustainability often run up against would-be homeowners who care about little other than square footage and countertop materials. For years, those of us in the "green" camp of construction have sought the magic bullets that will convert everyone to the side of conservation and responsibility. To date, our strongest allies have probably been the ever tightening parameters of building codes. The time is rapidly approaching when no new home in the U.S. will be built with less than Net Zero-plus performance.
In the meantime, however, we have roughly 130 million existing homes in need of performance upgrades, and with the advent of certain new technology, these under-performing homes, for better or worse, will have no place to hide.
This technology is data sharing via interactive maps.
For example, Gainesville, Florida, has launched a Beta website called Gainesville-Green.com that publishes the relative energy used by different house parcels in the same neighborhood. This interactive mapping system allows homeowners, utilities and city officials to quickly identify individual homes and entire neighborhoods that use a lot more power than their neighbors.
Peer pressure from neighbors has historically proven an effective method of getting people to tighten up. According to Popular Science, studies by Opower and other organizations have shown significant reduction in energy use by neighbors, when presented with the fact that their neighbors are doing upgrades.
Not everyone loves the concept. Writing in The Gainesville Sun, for instance, Kayla Sosnow skewers the town's plan to extend the service to rentals. She says that such information will further divide the haves and have nots, sending good tenants to the most energy efficient buildings, poor tenants to the worst performing structures.
Sosnow makes some good points. Not everyone can afford to renovate and upgrade buildings and equipment, and low income people demonstrably spend way too much of their income on energy. But I would need to see some data supporting her hypothesis that poor energy efficiency ratings would influence which neighborhoods renters choose. I would actually like to believe this is true, but in my experience, I've found that poorer families tend to pay even less attention to energy efficiency than more affluent ones. They're looking at the monthly nut, not thinking about how they'll pay for a huge heating bill in January.
Silver Linings for Builders and Planners
The silver linings created by heads-up energy reporting also deserve a callout. Identifying energy-wasting neighborhoods allows them to be targeted by city officials. Chances are that if the neighborhood has lots of older homes with poorer occupants, carefully placed and subsidized energy upgrades could relieve struggling residents of high utility costs. Among certain research circles, this is a familiar concept--the idea that "Zip code is not destiny." The theory is that if people are freed of the burdens of survival, they can create savings and invest in other products and education that will improve their economic future.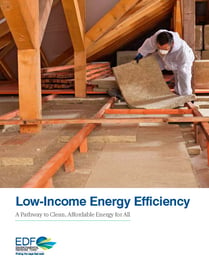 Here's a comprehensive plan of action (pdf), from the Environmental Defense League, outlining how properly focused funding of energy efficiency can make an immediate impact in monthly energy bills.
For the building industry, the applications for energy maps is obvious. It's easy to identify properties where certain upgrades could save the owner thousands of dollars in energy expenses each year. In other words, whether or not the would-be client is green minded, the economic benefits of new windows, better insulation, high efficiency HVAC and so on can be demonstrated with real numbers. Combine this pitch with a partnership with a local utility or housing organization, and the list of potential new clients should last for many years. In this way, the builder/remodeler becomes an "equalizer," bringing all properties closer to their net zero potential.