The housing market is starting to recover. Put yourself in front by offering truly sustainable, high-quality homes.
WE"RE AMERICANS. And as Americans. we can't help ourselves—we want things bigger, faster and better, despite the hard lessons we may have learned that should cause us to behave differently. To that end, I worry about builders—especially the ones not reading a magazine targeted toward green builders.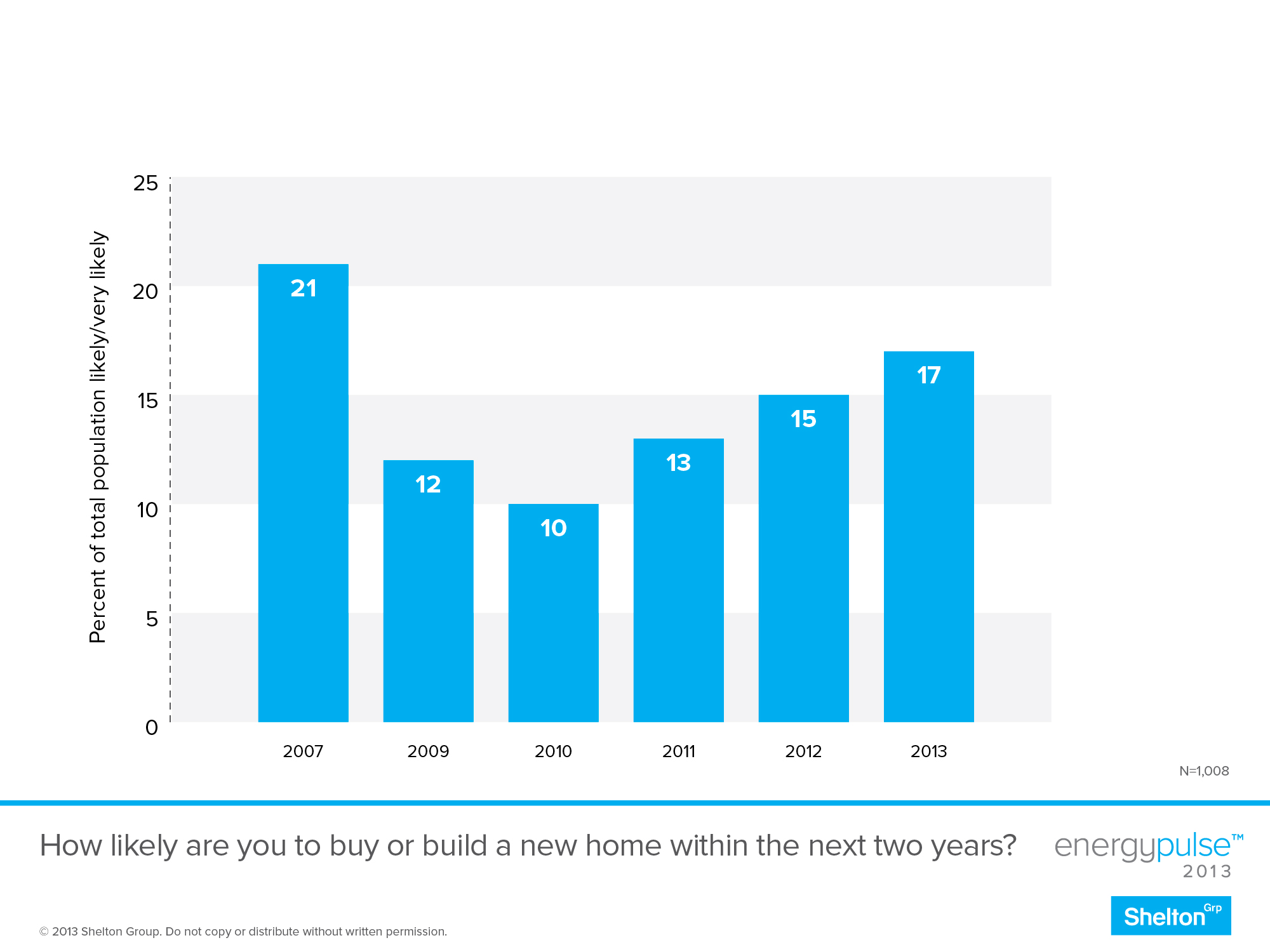 Now that consumer confidence seems to be coming back, and the housing market is picking up (with demand even exceeding supply in some cases), the temptation to go back to the rush of the early 2000s could be great. The temptation to apply a "wham-bam-thank-you-ma'am" approach to building a home will be ever-present. Build more, faster. Code is good enough. And if you can cut corners without the inspector noticing, even better!
What gives me faith is this: According to our Energy Pulse 2013 report, 17 percent of Americans plan to buy or build a new home in the next two years. And these buyers are greener than the ones we saw a decade or so ago. They are:
Younger (25-44).
Educated and affluent (with college degrees and household incomes of $75,000+).
Far more likely to choose an energy-efficient home over one that's not (81 percent say they would).
Far more likely to believe an energy-efficient home is a higher quality, more comfortable and healthier home.
Interested in protecting the environment.
Driven by taking care of their families or doing the right thing for the world at large—or both.
In its 2012 New and Remodeled Green Homes study, McGraw Hill Construction predicts that 29 to 38 percent of the housing stock built by 2016 will carry green labeling. That means the other two-thirds of homes built won't. And if the most likely buyer skews greener, wants efficiency, comfort, quality and an environmental hall pass, they'll have a limited stock to choose from.
If demand for greener homes increases, it should allow prices for those homes to increase for a bit…and that could cause some of the "wham-bam" builders to come over to our side, chasing the dollars. That creates a little more competition, which isn't a bad thing, if you know how to best position your approach and building practices.
So, how do you do that?
First off, be authentic. The future new homebuyer genuinely wants a home she can feel good about—aesthetically, quality-wise and environmentally. This buyer also wants to select from authentic brands—brands that are about something bigger than just selling a product, brands that she can identify with, whose values align with her own. Let that show in your marketing efforts. To quote Simon Sinek, "People don't buy what you do; they buy why you do it." Let your "why" come through loud and clear.
Focus on comfort and health. This audience is concerned about chemical content in the products they buy—even more so than their impact on the environment. The trick is realizing that they don't actually know what to be concerned about. They don't actually understand off-gassing and VOCs, and terms that you may use as second nature, like "indoor air quality," don't resonate with them. (From our Energy Pulse study: Only 28 percent of Americans feel they could confidently and correctly explain that term to a friend. Which means 78 percent feel they could not.)
So, instead, focus on the benefits—that their homes will be free of toxins and their families will be comfortable and breathing easier. Specifically, messages that resonate with these consumers are:
An efficient home is a higher performing, higher quality home.
An efficient home is a healthier home.
An efficient home helps my family feel cozy and warm.
Talk about resale value. These buyers want to feel smart about the decisions they're making. They want to know that if they build a greener, better quality home, it will sell for more when the time comes. Begin documenting your homes. Track what they initially sell for and then what they resell for, compared to similar, non-green houses. UCLA and USC conducted a study in California on this very topic and found that on average, green-labeled homes there sold for a 9 percent price premium. Prove out a similar statistic with your homes and, in your selling conversation, talk about the value of your homes today—and tomorrow.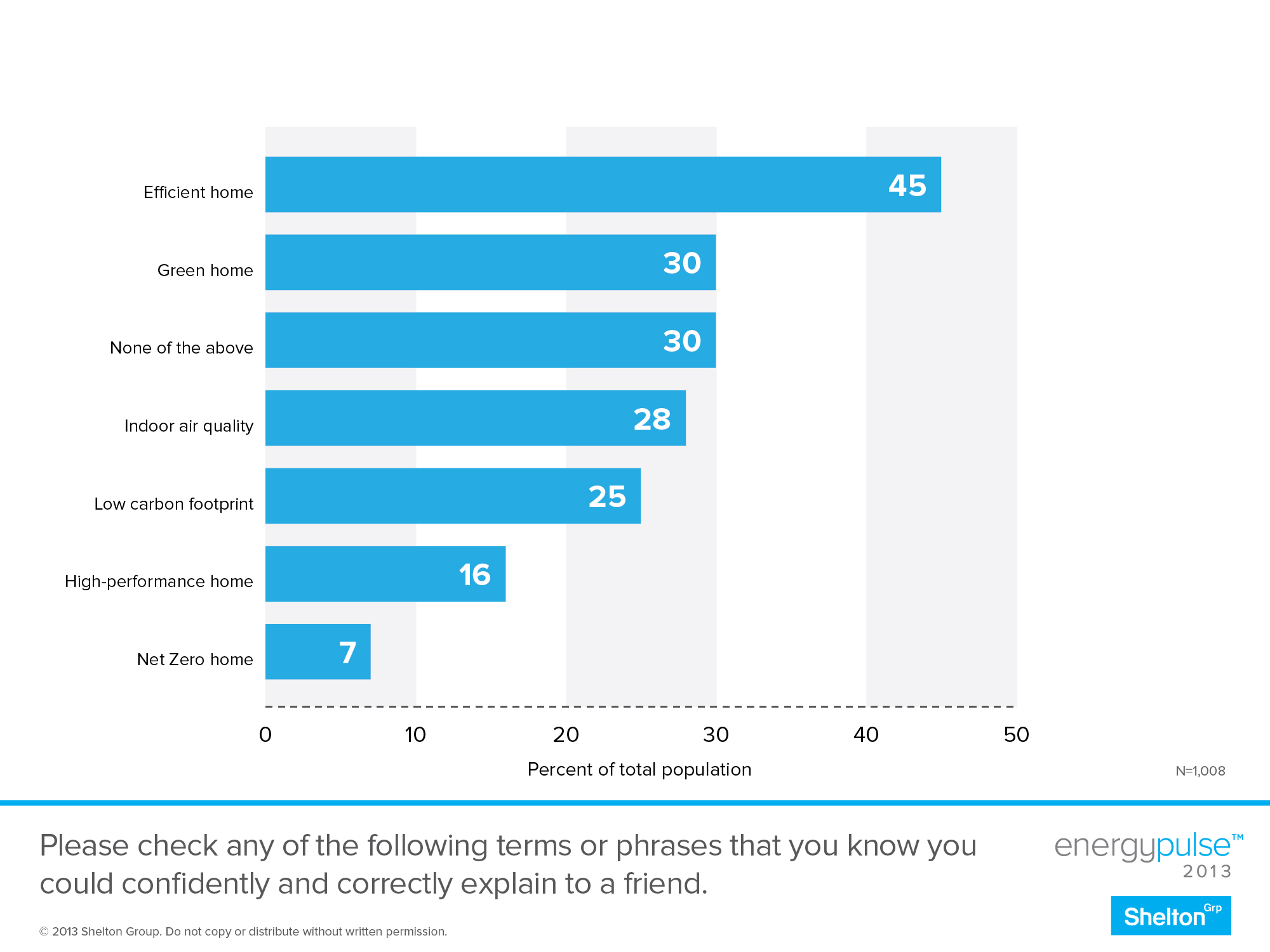 Empower them. Even before you've closed the sale, talk to them about how you'll train them to operate their home so they fully understand the advantages of owning a greener home. Talk to them about how you'll leave a kit of the right cleaning supplies, since the house will be so well sealed. Lay out how you'll program the thermostat to energy-saving settings, set the water heater to the most efficient temperature, put LED lights in all the sockets (and leave behind a pack for the fixtures they'll bring into the home), and give them a couple of energy-optimizing plug strips. These consumers are early technology adopters, so packaging these features as the "latest in better homes" will delight them. Plus, it will differentiate you from the other builders and show that you are truly focused on helping your customers, by ensuring they fully see the benefits of their new home. And that will engender trust, which is ultimately what tips the scales in decision-making—and is something these particular consumers are willing to pay a little more for.
So, great: now you know how to be with these folks once you have them in front of you, but how do you get them in front of you? Where should you be advertising? Remember, this greener homebuyer:
Is very active on the Internet and social media. So buy ads on travel, recipe, and home and garden sites. Buy search terms related to green homes and efficient homes. Get your past customers to recommend you on their Facebook pages, Angie's List, etc.
The version of this consumer who is concerned about doing the right thing for the world is listening to NPR, talk radio (not the conservative type, though), reading newspapers—online and the kind you hold in your hand—and watching HGTV, MSNBC, DIY and Turner Classic Movies.
The version of this consumer who is driven by taking care of their family is reading magazines about fashion and parenting, listening to adult contemporary and pop radio, and watching TV with their kids (ABC Family, TLC, MTV, Cartoon Network).
There's a tremendous opportunity to align your belief in green homes with the likely future buyer. Let's not fall into the old ways of throwing up anything that will stand and fibbing about how high quality and "green" it is. Build homes with quality, performance, air quality and the environment in mind. You will be rewarded.