California Plans to Source Only Clean Energy by 2045
Last week, the California State Assembly advanced a bill that would require the state to access 100% of its power from carbon-free energy sources by 2045, offering an example that other states may soon follow.
California took another important step away from fossil fuels last week when the State Assembly passed Senate Bill 100 (SB 100), mandating that electric utilities and other service providers generate 50% of their power from clean energy sources by 2027, 60% by 2030, and 100% by 2045.
There is an important nuance in the bill worth noting: rather than calling for renewable energy, the bill mandates carbon-free sources of electricity, which doesn't just include solar and wind, but also large hydroelectric dams (not considered renewable under California rules), nuclear reactors, and new clean energy technologies (such as fusion) that become viable in the next 30 years.
Even so, SB 100 certainly represents major progress towards a sustainable future, and, given that California is now the fifth largest economy in the world, would provide a huge boost to a broad spectrum of clean energy solutions.
With that said, the bill still needs to be approved by the state Senate and signed by Governor Brown (who is apparently holding off his support until he gains commensurate backing for his proposal to connect California's electricity grid to other states in the region.)
If passed, the bill would further strengthen California's environmental leadership, making it the second state in the U.S. to require carbon-free energy by 2045 (Hawaii passed an aggressive clean energy standard in 2015.)
After nearly two years of grueling debate over financial and feasibility concerns, a majority of lawmakers in the Assembly finally reached consensus that the bill was imperative to protect California from the intensifying impacts of climate change, such as devastating drought, ravaging wildfire, and extreme temperatures, that are pummeling communities throughout the state.
"The damage will continue to be done as long as we refuse to act," Assemblyman Ash Kalra (D-San Jose) said. "There are no more tomorrows left.
Supporters of the bill were thrilled by the outcome of the Assembly vote. "This is a huge victory for the state of California," said state Sen. Kevin de León (D-Los Angeles), the bill's author. "It's a victory for clean air. It's a victory to tackle climate change and the devastation that it's leaving in its wake."
And it's not just the left who support the bill—the SB 100 has drawn support from both sides of the aisle. Former Governor Schwarzenegger publicly backed the legislation, arguing that the rollback of environmental regulation by the federal Administration makes this bill, and others like it, more urgent and important than ever.
"California must take a stand and tell the world we are, as always, undeterred by those who wish to stop our progress and move backwards," Schwarzenegger wrote in a statement. "We continue to move forward, and passing SB 100 is one of the boldest moves we can make to help save our climate and way of life."
Despite its high-profile support, the bill faces a windy road to approval and enforcement. Detractors argue that phasing out fossil fuels by 2045 would dramatically increase energy prices, placing further burden on California families who are already struggling with exorbitant housing prices and living expenses.
"We pass all these goals for renewables, but at the same time our families back home will pay the cost with an increase in the electric bills every year as we try to achieve this," said Assemblyman Devon Mathis, R-Visalia.
Nonetheless, Massachusetts, New Jersey, New York, Washington, D.C., and other states are keenly watching to see how things unfold in California, with the goal of gleaning ideas and best practices for the further development of clean energy policy.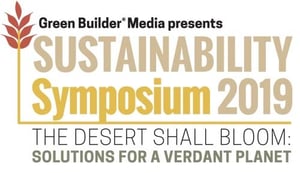 Want to learn about cutting edge developments in sustainable building, renewables, advanced technology, and other key contributors to the transition to a clean energy economy? Please join us at our upcoming Sustainability Symposium 2019: The Desert Shall Bloom on Monday, February 18, 2019 (the day before the show floor opens at Design & Construction Week) at the UNLV campus in Las Vegas, where we hope to gather all of our Superhero friends for an incredible day of education, inspiration, and networking.
And, don't miss the celebration of our annual Sustainability Award winners on February 17 at 6:00 p.m. at the exclusive Mr. Chow in Caesars Palace.
Click here to register for the Sustainability Symposium 2019: The Desert Shall Bloom and Sustainability Awards gala. Space is strictly limited and by reservation only, so reserve your seat today! Register for the Symposium before October 1, 2018 using the code EarlyBird and you'll receive a $100 discount.
A sincere thank you to our generous sponsors, Samsung, Ingersoll Rand, Emerson, Andersen, and Caesars Entertainment for helping to make the Symposium and gala dinner possible.
What do you think about California's efforts to aggressively tackle climate change through clean energy policy? Write to me at sara.gutterman@greenbuildermedia.com.
Want to read more? Follow me on Twitter and Facebook. For more information about green building and sustainable living, visit Green Builder Media at www.greenbuildermedia.com, like us on Facebook, and follow us on Twitter for regular updates and breaking news.