Fortress Mentality: Earthquake and Fire-Proof Homes?
A FRIEND OF MINE makes documentaries for "Nova" and the "History Channel." She calls their approach "History through the mask of Darth Vader." Cue ominous music. Cue blurry picture of terrified people. Dirty bombs! Monster storms! A new ice age!
I'm not a fan of such scary world scenarios, but I wondered if an article assuming the worst predictions of climate change might encourage some interest in durable, disaster-proof construction.
For example, can homes be built "earthquake proof?"
Ready to Rumble
Prepping homes for seismic activity is built into codes in most high-risk areas, of course, But scientists say seismic activity is on the rise.
While earthquakes are probably not caused by climate change, they belong near the top of the list of future natural threats. We've seen them create massive tsunamis and set cities aflame.

Engineers have been trying to create "earthquake-proof" homes for years. They have the technology now to do it, says Rochman, but the price is way out of reach.
"At some point, you have to look at the severity of a disaster. Is it worth it to try to create a house that can withstand an 8.3 earthquake? It would it cost gazillions of dollars. One thing we find is that it doesn't make sense to aim construction at the most extreme events. Keep in mind that Hurricane Katrina was only a Category 2 storm. In some cases, you want people to just get the hell out and get to safe ground."
Fortunately, product manufacturers such as Simpson Strong-Tie have created systems to bridge the middle ground between small and giant earthquakes—tie-down systems to keep wood framed houses together during a moderate quake.
The same is true of other types of homes. The Portland Cement Association has information on how to make quake-resistant concrete homes, for example. It's not the building material that creates a quake-ready house, Rochman explains. It's the engineering.
"Always the first goal of seismic construction is to protect human life," Rochman says. "The building should be able to stand long enough so people can get out of it.
She adds that most injuries happen from furnishings and items inside the house. "A large earthquake damages the structure of the home, but even a small quake causes havoc inside. People are often injured by a bookshelf or an oven falling on them.

"Keep in mind that when you're facing a mega disaster, you can only have so many systems in place," Rochman adds. "You can't protect against everything. But the whole idea is to remove the fear—to allow you to sleep at night, whether you're at home or away when the event happens."
But let's back up for a minute:
Imagine a future in which "natural" disasters become more intense and more common. Drought and wildfires sweep across the West and Southeast. Sea level rises and hurricanes become more powerful than ever. At the same time, seismic tremors shake established population centers. The "big one" finally hits the West Coast.

Forget how all this change will disrupt and wipe out ecosystems and change the balance of nature. These forces will also separate well designed housing from inferior designs. We know that good design works, because we've had plenty of chances to study the aftermath of places like New Orleans after Hurricane Katrina, La Plata, Md., after an F4 tornado (winds up to 260 mph), and Los Angeles after the Northridge earthquake of 1994.
Can we build homes that are fortressed against all but the most severe weather? Yes. Homes on pilings have survived for decades even in standing water on the coast of South Florida. We've seen sturdy homes withstand all but the worst hurricanes, and shrug off wildfires that torched every other home in the area.
But there is one caveat. With a natural disaster, there's no such thing as going it alone. What if only a few homes in the neighborhood are built disaster ready? A sturdy house on stilts may be knocked over by one that floats away during a storm. And if only one house in a neighborhood remains standing after the cataclysm, how long can the owner expect to sit on the porch with his rifle, as his neighbors tread water and beg for help?

Let's leave those moral questions aside for the moment, and look at the engineering of disaster-proof homes of the future. We consulted with the Institute for Business and Home Safety (IBHS), creators of the Fortified programs for new and retrofit homes.
Land Use First
Julie Rochman, president of IBHS, explains that while storm-ready housing is essential, disaster-prepping homes really begins with land use. Houses built in extreme risk areas—such as the 9th Ward of New Orleans, are not good candidates for storm proofing. Getting them high enough off the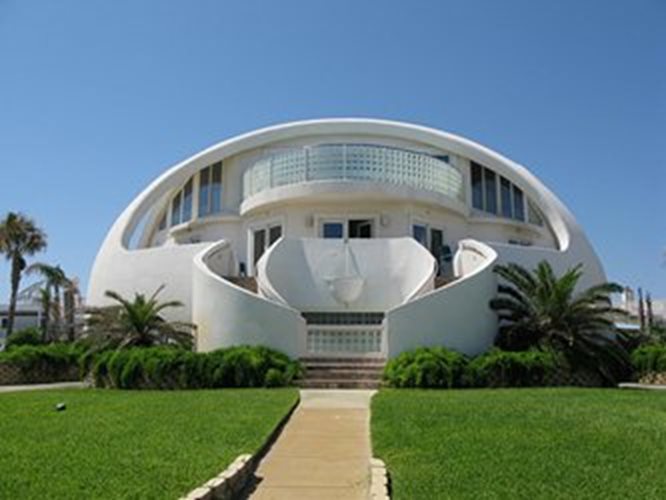 ground to survive a storm surge might be technically possible, but is economically out of reach.
She adds that environmental buffers must also be considered. "Those wetland coastal barriers off New Orleans scrub a lot of energy from storms. But a lot of them had been destroyed and more were wiped out by Katrina. The conversation has moved from one of public versus private land uses to a lot more shades. What do we do, for example, when a piece of developed property is wiped clean by a storm?"
Climate change housing is no different from other types of storm-ready housing. Building codes in high-risk areas already have built-in provisions that make them far more durable and "survivable" than those in the next county over. But that's the problem, says Julie Rochman, president of IBHS. "Disasters in areas that expect it like New Orleans are tragic, she says, but not unexpected. What wakes people up is when they happen in places no one expected.
"If you believe in rising seal levels," she adds, "then the next storm like Katrina could be a 20-state storm."
But what's to be done about cities and homes already built in harm's way? Should they be torn down and rebuilt from scratch? Or can retrofit do the job?
"Politically speaking," Rochman says, "you can't ignore the fact that Miami Beach exists or New Orleans exists. You have to accept a level of exposure. Unfortunately, the only solution is to elevate living spaces or admit that the first or second floor will be gutted by the next flood. That's why they have "wash through" homes in parts of the Caribbean.
Post-Apocalypse Green?
The moment after a disaster strikes, says our own Ron Jones, who has a lot of first-hand experience with post-disaster planning, is the perfect opportunity for a wiped out area to rebuild with green, disaster-ready homes.
He notes, however, that if proposals get too far out of the comfort zone of local officials, they stop listening. Jones has served on many code committees, so he's often privy to what happens behind official doors.
"In New Orleans," he recalls, "some of the groups involved with HERS ratings and renewables got out on the edge with their design ideas. So it came down to two camps. On the one side you had the HBA, and on the other Brad Pitt and those other folks."
"Contrast that with what happened in Greensburg, Kan.," he continues. "This little town was obliterated by a tornado. I talked to Elton Parsons of the Wichita NAHB chapter, and he told me the people in that area 'don't give a damn about green building.' But a year later, all the government buildings in Greensburg are being built to LEED Platinum, all commercial to LEED Gold, and they're building a chain of green demonstration homes."
Why the popular embrace of green building following the storm? "Anybody who's been through those storms doesn't want to go through it again," says Jones. "So it made sense to adopt an ethic of environmental responsibility while at the same time getting more durable, safer construction."
Above the Flow
Can conventional storm-proofing really work, given the rising intensity of storms?

"There's something called indigenous architecture that we tend to ignore in this country," says Rochman. "Homes used to be built to respond to local weather risks, but now we import our housing styles no matter where we live. It's not designed for the same perils."

Retrofitting a New England-style framed home to withstand flooding and hurricanes in Florida can require a whole new way of thinking, she says. That may mean converting the entire first floor to a wash zone.

"You don't want to put anything on the first floor," she says. "IBHS offers a retrofit program, where we encourage people to take a systematic approach. First, you install a secondary water barrier, then you provide openings for water to pass through if that fails. And third, you really tie the whole home together."

One new type of passthrough is this stainless steel flood vent that also acts as an air vent.

The payoff—aside from possibly saving the home in a storm—is discounts on some insurance policies. "Fireman's Fund offers green policies," Rochman notes. "They'll actually pay for you to rebuild to LEED for Homes certification, in the event of a total loss." The coverage also pays for the cost of hauling off environmentally sensitive debris.

Some climate change predictions show the oil-poisoned Gulf

of Mexico (and other ocean bodies) rising by as much as 6 meters over the next 150 years (left), although faster than expected melting means the time frame keeps getting smaller.

That's a lot of elevation to add to homes to keep them from going under if the worst predictions prove accurate. Every foot of sea-level rise results in about 100 feet of land being flooded. One study done at University of Arizona by Weiss and Overpeck suggests that if the Greenland ice pack melts completely—the worst sea-level rise scenario will come true. The area of the pack melting has increased 16% since 1979.
Not for Burning
In some regions, of course, flooding is not a worry, but drought and wildfire is. Assuming that people continue to build in or near forests, and budgets for fire fighting continue to shrink as the federal deficit grows, homeowners have little option but to plan for fire.
"The firefighters I talk to say it's the southeastern United States that keeps them up at night," says Rochman. "That's the region that's not prepared for massive wildfires."
On the other hand, she says, many more products and techniques are now available to protect homes in high-risk areas, including PV shingles that generate power for occupants to run ventilation and specialty paints that reflect heat.
"One of the new philosophical approaches is to make a fire-adapted community," she says. "If you get caught in that home there are vent systems, or there should be, so you can seal the house and stay put. Part of the problem is people try to evacuate.
"The big thinking on wildfires is coming from the materials people," she adds. "For example, some solar panels are not impact-resistant glass, so the metal people have developed some PV that has no glass and is impact resistant."
Backup generators are often a good idea, she says, because solar batteries may run out when they're needed most, as smoke blocks the sun. "What we really need is a battery that lasts," she says.
---
Title Photo Credit: A dome house in Pensacola Beach, Fla., in 2004 set on 22" stilts survived a hurricane that destroyed many nearby structures.