Will we choose to live in harmony with nature or separated from it?
Last weekend, I watched two movies. The first one, set in in the 1920s, was about a female immigrant who came to New York City to build a new life. Instead of finding streets paved with gold, she encountered heartbreak and deception everywhere. The movie was grim and grimy, depicting the hardships of the era. As I watched, I remember thinking how grateful I am to be alive today, with all of our amenities, technological innovations and medical advancements.
The second movie transported me to the future. It was a science fiction fantasy set in the 2100's, in which Earth had become so polluted and inhospitable that the wealthiest people had moved off the planet to a pristine manmade habitat in Space.
After watching the two movies, both portraying frightening, ravaged places and undesirable, immoral societies, I couldn't help but wonder what our future has in store, and how we'll look back on this moment in time.
Will we develop the emotional, technological, economic, and environmental intelligence to clean up our act and create a future that is abundant, healthy, and clean? Or are we destined to manifest dystopia, a future in which everyone is dirty, angry, underfed and unsatisfied?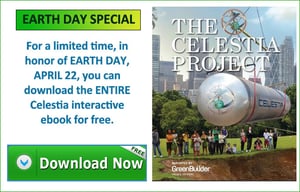 Will we look back on today as the time when we judiciously transitioned to renewable energy, efficient technology, and appropriate resource management strategies, or will it become known as the period when we foolishly squandered our natural resources and turned the planet against us? As far as I can tell, the two outcomes seem equally as possible.
There are many factors that will determine our future, some of which we have control over (for example, how we deal with energy, carbon emissions, water, and land use), many of which we don't (for example, shifting weather patterns and precipitation rates, rising sea levels, biodiversity loss, ocean acidification and stratospheric ozone depletion.) The factors that we can't control will certainly be accelerated or mitigated by those that we can control.
Energy
The first factor that will determine our fate is how we deal with energy. While fossil fuels have been considered the most enduring and effective energy source, the rapid adoption of solar and other renewables could change the course of our future. Every day, the political and regulatory landscape are becoming more favorable towards renewables, and improvements in technology are eliminating the price advantage of fossil fuels.
China will play a major role in this story, as the country's energy demand is expected to jump from 19% of total global energy use to an almost unfathomable 27% by 2040. Clearly, any significant steps taken by China to employ renewables rather than fossil fuels for its escalating energy needs will have a positive effect on the health of the planet.
Under rising pressure from Chinese citizens to reduce choking levels of toxic urban smog (cancer caused by air pollution is now the number one cause of death in the country), Chinese President Xi Jinping has announced an ambitious plan to shift away from coal in favor of solar, hydro, nuclear, wind, and natural gas. "We will strive for zero-growth in the consumption of coal in key areas of the country," Premier Li Keqiang informed the Chinese legislature in March. Apparently, his words aren't empty—not only did China burn less coal in 2014 than in the previous year (the first such decline in decades), the country also increased spending on renewables by 33% to $83.3 billion (the most ever spent by a single country in one year.)
Carbon Emissions
Carbon emissions are another key factor that will determine our future. This year's global climate summit, to be held in December in Paris, could mark a meaningful change in our approach to emissions. In preparation for the summit, nations across the globe are required to submit carbon reduction plans to the U.N. known as "intended nationally determined contributions", or INDCs, these could result in a substantial decrease in global emissions, currently at dangerously high levels.
Interestingly, Mexico has submitted what is considered to be one of the most aggressive proposed carbon reduction plans to date. The country has committed to peak its greenhouse emissions by 2026 and, by 2030, reduce total emissions by 25% and "black carbon" emissions by 51%. These emission reductions will come mainly from changes in the energy, industry, agriculture, waste, and forestry sectors. Mexico has committed to improve the resilience of key infrastructure and ecosystems to appropriately deal with climate change and rising sea levels. The country has also pledged work collaboratively with the U.S. to develop policies for clean energy, grid modernization, appliance standards, energy efficiency, and clean transportation.
Water
Water management is another essential fate-determining factor. The increasing urgency of proliferating drought and lack of access to potable water has made it crystal clear that we need to change the way we approach water. It is forecasted that by 2050, approximately half a billion people will be negatively affected by water shortages, making water reclamation, filtration, recycling, and monitoring technologies absolutely essential.
In the U.S., at least 40 states are expected to suffer from drought in the next 10 years. The Government Accountability Office (GAO) reports that state water managers across the nation expect freshwater shortages to increase over the next decade, even under what they described as "average" conditions. If those conditions change—due to factors such as accelerated population growth, low precipitation rates, or extreme temperatures—water shortages would be even further exacerbated.
It's estimated that 400 billion gallons of water are used in the U.S. each day. Commercial facilities, such as office buildings, hotels, retail stores, schools, and hospitals account for approximately 17% of our nation's publicly-supplied water use. Programs like WaterSense have contributed to a savings of 757 billion gallons of water since 2006, but finding ways to become more water efficient (for example, using reclaimed water for non-potable applications, using low flow plumbing fixtures, and employing sub-metering for water-intensive facilities like commercial kitchens and spas) is absolutely paramount.
According to the EPA, the average American household uses 320 gallons of water per day. Depending on the region, the EPA estimates that between 30-60% of the total residential water use is devoted to outdoor uses, and that 50% of the residential water used outdoors is wasted from evaporation, wind, or runoff from inefficient watering methods and systems.
While enhanced water conservation in residential and commercial applications is essential, it's agriculture—the world's biggest industry—that is the main water use (and waste) culprit (not to mention the sector's notorious use of toxic fertilizers and pesticides that pollute our air and water, its pervasive use of genetically modified crops and substances, and its overuse of soil and mono-cropping practices that result in widespread erosion.) California's agricultural sector, for example, uses 80% of the State's rapidly diminishing water resource. By deploying less water-intensive strategies (including new 'dry farming' practices), planting climate-appropriate crops, recycling water, and using smart irrigation technology, the sector can make a significant dent in its water consumption.
Buildings
Not only will our built environment become more resource efficient, healthier, and more intelligent, structures will also provide essential ecosystem services, such as carbon sequestration, migration corridors, pollinator pathways, and water and air purification. In a sustainable future, cities will become virtually indistinguishable from their surrounding wild landscapes, enhancing ecosystems and habitats (rather than destroying them) and eliminating the destructive effects of "nature deficit disorder", so often felt by urban dwellers.
Of course, there are many other factors that will influence our fate and determine our future, including transportation, manufacturing and industry, chemical dispersion, and land use and forest management. If thoughtful, sustainable solutions are crafted today, we may just witness a rapid and meaningful transition away from our current environmentally destructive, resource intensive economy to a nature-based, regenerative one—and not a moment too soon, as the planet is becoming more inhospitable with each passing day.
The choice is in our hands. It is my sincere hope that we'll be able to look back on today as the moment we seized the opportunity to point ourselves towards an abundant, sustainable future.
How do you think we can make better choices that will lead us to a sustainable future? Write to me at sara.gutterman@greenbuildermedia.com or follow me on Twitter or Facebook.
For more information about green building and sustainable living, visit Green Builder Media at www.greenbuildermedia.com, like us on Facebook, and follow us on Twitter for regular updates and breaking news.