After working for over a decade to spread ideas and inspiration about sustainable living, I find myself at a crossroads, asking tough questions as I reflect on the state of the world. Is addressing resource conservation, healthy homes, renewable energy, high-performance building, and enabling technologies enough? After all, what is sustainability?
As many of you know, esteemed green builder Ron Jones and I founded Green Builder Media in 2005 to affect positive change within and beyond the building industry. In conjunction with our extraordinary team, we've held fast to our mission of perpetually expanding the frontiers of sustainability, with the goal of offering topical information about sensible, cost-effective solutions and elevating the national dialogue about how we can more appropriately align the built environment with the natural one.
We've explored a wide swath of topics like building science, energy efficiency, intelligent water, healthy homes, sustainable design, renewable energy, mobility solutions, smart cities, and enabling technologies. But perhaps, given the escalation of mass shootings, extreme weather events, and general polarization in this country, it's time to broaden our focus—at least for a moment—and consider a more expansive definition of sustainable living.
If we're honest with ourselves, we must realize that our lives are an anomaly. Our perpetual state of plenty has become the ultimate paradox, and our system is revealing its flaws—as evidenced by the systematic degradation of ecosystems across the globe; in the mass extinction of species across the planet (I just learned yesterday about the tragic life of, Sudan, the last living male Northern White rhino on the planet, who lives under 24/7 armed-guard in Kenya to prevent poachers from killing him just for his horn); in the propagation of destructive deceptions by well-funded industries that place profit over people; in the rage that has led to all too many school shootings and mass killings; and in the general lack of civility that dominates our social and political dialogue.
Clearly, something is amiss. Our values are not aligned with our lifestyles—a truth that is simply not sustainable.
So I must ask, how can we turn the current narrative, which is plagued by fear and antagonism, into one of hope, joy, and change? What can we do to transform our anxiety and aggression into non-violence—towards ourselves and the planet? When will we begin to treat each other, and our precious Earth, with loving kindness rather than savagery?
I certainly don't have the answers to these existential questions, but I suspect that the process begins by rationally and straightforwardly addressing today's most explosive issues.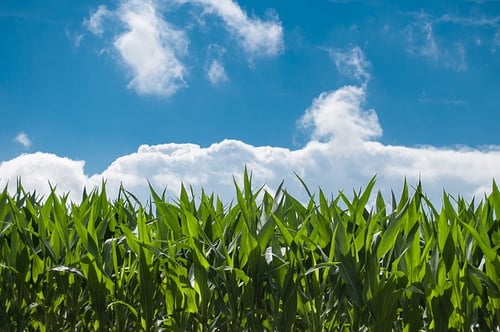 There are a few of these that I can't help but contemplate today. Let's start with big-ag. With its invasive techniques and harmful chemicals, industrial agriculture not only plunders the earth, causes erosion, and pollutes waterways, it is also the biggest source of global carbon emissions.
We've all been brainwashed since childhood to think that the world would starve without big-ag, but that's really just fake news. "Smallholders" (who own 5 acres or less) produce over 70% of the world's food. In contrast, big-ag produces 25% of the global supply.
While big-ag's genetically modified food and noxious pesticides and fertilizers have been linked to cancer, strokes, heart disease, and diabetes, the food produced by smallholders is generally natural, local, and grown using regenerative farming practices that can actually replenish the soil.
Larger-scale farmers in North America are also turning to regenerative agriculture. "From Saskatchewan down to Texas, there is a regenerative agriculture revolution underway," says sustainability pioneer and Project Drawdown founder Paul Hawken. "Farmers are realizing that they got sold a bill of goods by industrial agriculture companies. They have used big-ag's chemicals and GMO seeds, and they've seen their soil production go down, their bills go up, the sickness in their families increase—but they've had enough."
"They're now moving to regenerative agriculture," Hawken continues. "They're selling off their plows, they're not killing their land, they're using complex cover crops and rotating their grazing animals. They're not using fertilizers or chemicals—instead, they're using life to create life in their soils. And these guys are sold on this solution—their water retention has gone up, soil productivity has increased, costs have gone down, and profits are exploding."
In reality, we can meet our planet's growing population needs without the violent, destructive tactics used by big-ag. We just need to change our narrative.
Let's tackle coal next. Plain and simple—coal is a dying industry, and anyone who talks about the rebirth of the sector is lying. The sector isn't failing because of political scheming or unfair subsidy allocation. It's vanishing because of pure economics, not to mention very real health and environmental concerns.
The writing is on the wall for coal (with oil soon to follow for the very same reasons.) The price of natural gas, solar, and wind is making coal infeasible, particularly since the days of easily accessible coal are gone, forcing miners to work long, arduous hours to reach thinner seams that are all but impossible to access.
These longer hours and more treacherous extraction conditions have led to unprecedented levels of black lung disease in coal miners, according to a recent study by the Journal of the American Medical Association, and miners are dying at much younger ages than ever before.
And it would be utterly irresponsible to broach the subject of coal—or any fossil fuel for that matter—without recognizing its severe environmental impacts. It is well documented that the burning of coal is one of the leading producers of greenhouse gas emissions (including carbon dioxide, sulfur dioxide, and nitrogen) and other toxic chemicals (including arsenic, lead, mercury, and radium), and the industry's widespread destruction of ecosystems, pollution of waterways, and buildup of toxic waste is nothing less than shameful.
With the coal industry's mounting economic troubles, unfavorable operating conditions, and grave environmental impacts, 2018 is expected to see a wave of coal plant retirements, many of which are in states that President Trump won in 2016.
And finally, I simply can't finish a sermon on sustainable living without addressing the fiery topic of responsible gun laws. True, guns don't kill people—people kill people. But there is no reason whatsoever why we shouldn't be able to agree on reasonable gun laws that protect all citizens—irrespective of whether or not they own, or like, guns.
Clearly, the students of Marjory Stoneman Douglas High School have had enough, and their fervent demonstrations and bold classroom walkouts demanding reasonable gun laws have rallied their young peers from California to Washington to follow their lead.
Feeling like the elected officials in this country aren't listening, these students have vowed to take whatever action is necessary to ensure that the heartbreaking event at their school will be the last. Certainly, their passion is driving further investigation into bump stocks and background checks, but will the loss of yet another 17 children's lives really make a difference?
And so I come back to the topic of living sustainably—within the parameters of our ecosystems, with grace and integrity. We all work so hard to get ahead, but are the results we're achieving the ones we really intend? And what exactly is it that we're hoping to sustain?
Perhaps it's time to ask ourselves the hard questions and redefine our expectations—not in the context of what we'll lose by giving up the status quo, but instead by recognizing what we'll gain in the metamorphosis.
For, as child development researcher and author L.R. Knost said, "Do not be dismayed by the brokenness of the world. All things break. And all things can be mended. Not with time, as they say, but with intention. So go. Love intentionally, extravagantly, unconditionally. The broken world waits in darkness for the light that is you."
How do you think we can more appropriately align our values with our lifestyles? Write to me at sara.gutterman@greenbuildermedia.com.
Want to read more? Follow me on Twitter and Facebook. For more information about green building and sustainable living, visit Green Builder Media at www.greenbuildermedia.com, like us on Facebook, and follow us on Twitter for regular updates and breaking news.