Careful fleet management not only saves you money, it's an environmental win.
Some experts estimate that implementing building automation, or "smart building" technology, could save U.S. businesses up to 25 percent of their energy costs annually.
However, were you aware that tracking and monitoring can also bring tremendous energy savings to your vehicle fleet?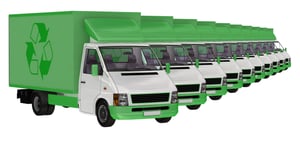 Managing your construction fleet for a greener footprint
Fleet tracking software has come a long way in the last decade. It's no longer the exclusive domain of large trucking operations. GPS tracking for small fleets is now readily available and affordable for the average construction business. In fact, many builders will tell you it's something they can't afford not to have.
GPS fleet management is like "smart building" for your vehicle fleet. There are many ways it can help you maintain a more efficient operation, but let's first take a look at how it can lower the cost of operating your vehicles — and your carbon footprint.
5 ways fleet management software can save you fuel and money:
More efficient routes. A University of Minnesota study[iii] estimates that it costs about $.15-20 per mile to operate a typical construction truck, including wear and tear on the vehicle and a very conservative fuel cost estimate of $1.50 per gallon. That may not seem like much, but over time, a few extra miles here and there can add up to significant losses to your bottom line over the course of a year. Smart fleet management can help you identify the most efficient way to get from point A to point B — which saves you time as well as money.
Reduces aggressive driving. Jackrabbit starts, abrupt stops and harsh cornering can increase truck fuel consumption by up to 31 percent, and maintenance and repair costs by 15 percent. Speeding also burns excess fuel, and puts your truck at risk for accidents and speeding tickets. GPS tracking allows you to monitor drivers in real time to ensure safer driving and more responsible fuel usage.
Stops needless idling. When your trucks are idling, they are effectively getting 0 mpg. You can bet it affects your bottom line. By tracking your fleet's performance, you can be instantly aware of idling vehicles regardless of location, and remind your drivers to turn off the engine.
Help lost drivers. A driver who can't find the job or delivery site can waste many gallons of fuel and loads of valuable time. Fleet monitoring limits wasted miles by allowing you to pinpoint a vehicle's location and easily direct the driver through unfamiliar areas with a high degree of efficiency.
Extend vehicle life span. Reducing miles driven and encouraging safer driving keeps your vehicles in better shape for longer. Ultimately, this saves you money and is good for the planet as well.
As you can see, fleet management software is one of the greenest investments you can make for your construction fleet — but the benefits go beyond green. GPS tracking can also help you track and recover stolen vehicles, prevent unauthorized use of vehicles, and avoid billing disputes by providing proof of a work crew's location at any given time.
Whether or not you consider yourself a green builder, tracking and monitoring your construction fleet for fuel savings and other benefits is not only a green choice, but can make a real difference to your bottom line!