Behind the Walls: VISION House at Mariposa Meadows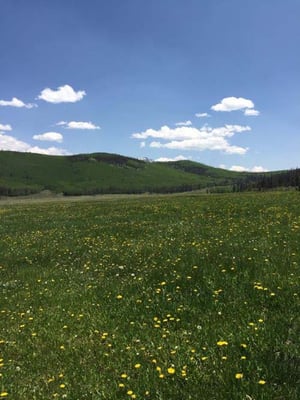 Green Builder Media is making steady progress toward building durable, resilient and energy-efficient structures in Colorado's high country.
COMPARED TO THE rest of the country, it's been a quiet fire season in Colorado. The wet spring weather also produced a bountiful crop of wildflowers at Mariposa Meadows, Green Builder® Media's ambitious VISION House® project in southern Colorado. Progress has been slow but steady, as the team lays the groundwork for what will eventually serve as the Green Builder® Media Sustainability Institute.
Two structures are up; a third is poised to follow early this fall. These first three buildings represent Phase I of the carbon-neutral compound, which will function completely independent of the grid. Eleven sustainability tenets guide the project, and although Green Builder® Media President Ron Jones and CEO Sara Gutterman are considering all of them from the outset, three—Energy Efficiency, Durability and Disaster Mitigation—are driving many of the early decisions around site development, building design and material choices.
"We're taking a whole-building approach," says Jones. "Because we're off grid, we need to minimize demand. So we're asking, what are the limitations and the opportunities?"
Working with SIPs and ICFs
These first three structures—Aspen Cabin, Atrium Duet and Studio—feature foundations made from insulated concrete forms (ICFs) and walls and roofs made from structural insulated panels, or SIPs.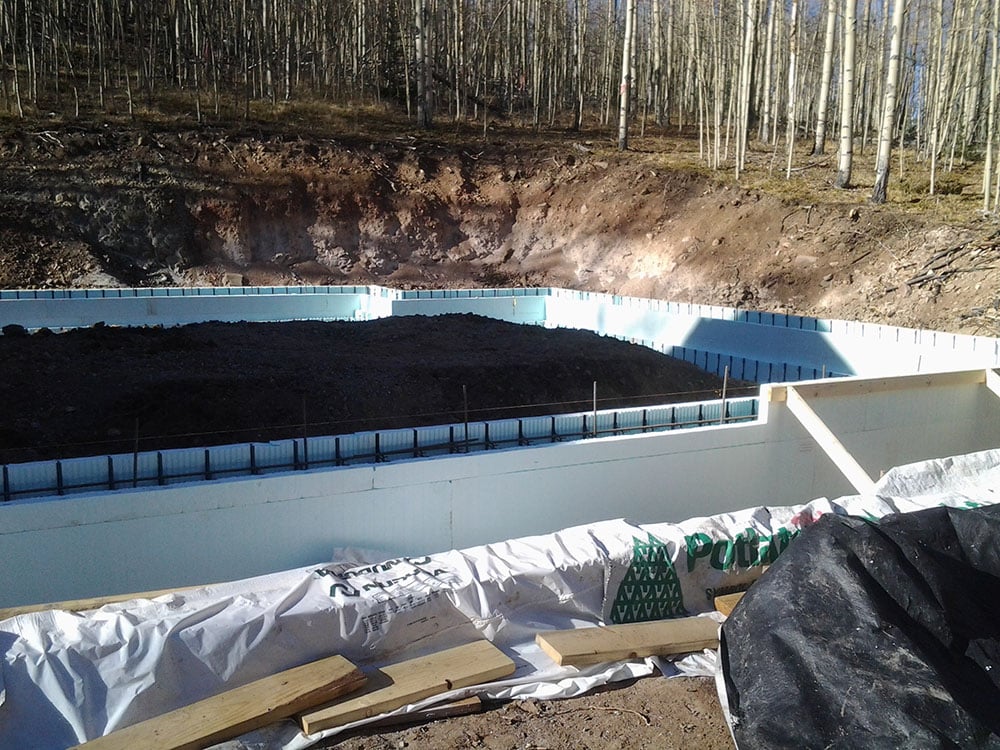 ICFs consist of rigid polystyrene forms filled with concrete, which is reinforced with rebar. The forms can be adjusted to accommodate desired wall thickness. ICFs are strong, energy efficient and fast. Jones has worked with them since the 1970s.
"I'm a firm believer in ICFs," he says. "One of the main advantages is that a few guys can handle quite a bit of material." Using ICFs instead of a full concrete structure also reduces the total amount of concrete, which is expensive and difficult to deliver to a remote site such as Mariposa Meadows. Jones says an ICF foundation wall is the perfect complement to a radiant heat (hydronic) floor, as the airtight system helps contain the heat in the slab, making it more efficient. (All three of the initial structures feature hydronic floors served by Uponor PEX and powered by Bosch LP-fired boilers.)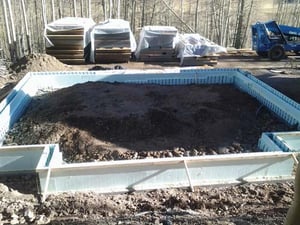 The insulation and reinforced concrete in the ICF system creates a "sandwich" of thermal mass.
But ICFs don't need to be confined to foundation walls, says Murray Snider, vice chair of the Council for ICF Industries, or CICFI. In fact, they see their greatest energy efficiency benefits above ground, where they are subject to more extreme fluctuations of air temperature.
The R-value of the foam is 4.2 per inch, but R-values are inadequate for evaluating the whole ICF "sandwich," says Snider. Because ICFs combine thermal mass with airtight, thermal bridge-free assemblies, it takes a long time for external temperatures to affect building interiors.
While Jones and Gutterman may use ICFs for complete buildings in the future, the first three feature ICF foundation walls and use SIPs for the above-ground walls and roofs.
The SIPs were provided by the Structural Insulated Panel Association, or SIPA. Working with SIPs required a learning curve, says Jones. "There's a simple but detailed procedure to prepare. It also takes more machinery than conventional construction," he says. "But it's clear to me that if you have the equipment and an experienced crew available, it can really speed up the [building] process."
Getting machinery to such a remote site was challenge enough, but there were also logistical issues on the site itself. The buildings are tucked against the side of a mountain, which means a crane cannot get around all sides.
Bringing the SIPs to the site was another challenge; fortunately, the local building supply company stored material until they were ready and able to get it to the site. The SIPs for the third structure were delivered by semi directly to the end of the driveway.
Jones plans to build and dry in the third structure before the snow flies this fall. He's grateful to not have any concrete deliveries scheduled.
Durable and Resilient Materials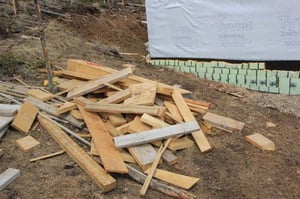 The SIPs and ICF construction created very little waste. Rather than being thrown away, trimmings from the ICFs were used to add extra insulation to the foundation walls.
Concern for fire resistance and durability drove Jones and Gutterman toward high-quality materials. Standing seam metal roofing was "a no-brainer," says Jones, not only for its durability and fire resistance, but as a sound architectural style choice. Vertical board-and-batten HardiePanel siding from James Hardie will complement the roofing. Made from sand, wood fiber and Portland cement, fiber cement siding is both fire resistant and durable, and its dimensional stability keeps paint from cracking or peeling. The material Jones chose is prefinished with ColorPlus technology.
James Hardie launched ColorPlus in 2004 with just 12 colors; today, all James Hardie exterior cladding products can be prefinished, and the 25 color options vary from region to region. The product is covered by a 15-year product and labor warranty, which guarantees against chipping, peeling or color fading. It's likely the siding won't have to be repainted for even longer.
"Several factors affect color fastness," says John Dybsky, senior marketing manager for James Hardie. "UV exposure is the big challenge. We're quite excited to test the technology at this elevation."
One of the most important strategies for fire resistance lies inside the structures: the fire sprinkler systems, provided by Uponor.
"Sprinklers are green, but most people don't think of them that way," says Lorraine Carli, president of advocacy and outreach for the National Fire Protection Association, or NFPA. If sprinklers successfully snuff a fire, they save the greenhouse gases and pollution caused by the fire and the water wasted in fighting it. And if sprinklers save the home, the materials and embodied energy in the building are preserved.
Green Builder® Media began working with the non-profit NFPA during the construction of VISION House® Orlando Exhibit, which featured a sprinkler system. This early adoption of residential fire sprinklers was unusual, says Carli. "In-home fire sprinklers are the 'last frontier,' even though the majority of fire deaths happen in homes."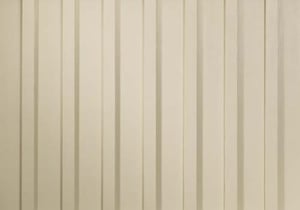 The board-and-batten Cedarmill HardiePanels are impressed with a wood-grain texture and prepainted in the factory.
The NFPA is actively campaigning to mandate home fire sprinklers in new construction and is working with coalitions to pass the requirement on a state-by-state basis. Though model codes have included the requirement since 2009, it is frequently amended out before adoption. As of now, only California, Maryland and the District of Columbia mandate fire sprinklers in new one- and two-story dwellings (see http://bit.ly/1NDHEPz).
"We had similar resistance to smoke alarms in the 1970s," says Carli. "But if you can reduce the chance of dying in a fire by 80 percent and the chance of property damage by 70 percent, why wouldn't you do it?"
Site Considerations
There are two main strategies for reducing the risk of fire damage to structures. The first involves design and construction materials: choosing non-flammable roofing, siding and decking. The second strategy lies beyond the building footprints. Jones and Gutterman have been working with the NFPA on this strategy.

There is no need for formal landscaping at Mariposa Meadows, given the natural beauty of the site, but Jones and Gutterman will be adding hardscaping in the form of paths and pads, terraces and retaining walls. These will be composed of porous pavers and natural stone, including stone pulled from the site."Number one was choosing a favorable location," says Jones. They chose to build in an area dominated by aspen groves rather than conifers and have been thinning the aspens, where appropriate. They are also maintaining a defensible perimeter—an ongoing process that involves clearing litter from the forest floor and removing dead trees. Some will prove valuable as firewood; the rest will likely be hauled off-site or burned.
The Bigger Picture
The Mariposa Meadows property includes several distinct ecological zones: mountain meadows, sloping forests and a riparian zone. The property abuts thousands of acres of public land. Jones and Gutterman are working with federal agencies under the umbrella of the USDA on a pair of initiatives. In the first, the Forest Service is allowing timber harvesting of tracts that have been devastated by bark beetles.
According to the 2014 Report on the Health of Colorado's Forests, the spruce beetle earned the dubious distinction as being the state's most widespread and damaging forest insect pest. A total of 485,000 acres with active infestation were observed in high-elevation Engelmann spruce forests throughout Colorado.
Spruce beetle epidemics are a natural phenomenon, as are wildfires. But the drought has exacerbated the beetle epidemic, says Drew Stroberg, timber management assistant for the Gunnison National Forest in Colorado.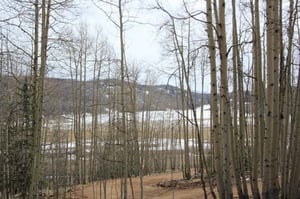 The first structures at Mariposa Meadows are located near aspen groves, some of which have been thinned to reduce the risk of fire.
"The epidemic really started around 2004 in the Rio Grande National Forest, with a big blow-down event in a wilderness area," he says. Hundreds of large-diameter Engelmann spruce trees fell, serving as "incubators" for spruce beetles. The epidemic spread rapidly, buoyed by the decade-long drought. The Gunnison National Forest lies in the heart of the epidemic, with over 200,000 acres of beetle-killed trees. "On the south side, everything over three inches in diameter is dead," says Stroberg.
The Forest Service is feeling pressure from Hinsdale County, where both Mariposa Meadows and the town of Lake City are located, to do something to minimize the fire risk from the dead stands and recover some of the timber resource. In response, the agency is allowing limited logging. (Because much of the acreage lies in wilderness and roadless areas, the Forest Service is restricted to practicing "active management" on just 4 percent of the forests in their jurisdiction.)
"We've identified 1,400 acres near Mariposa Meadows for potential treatment," says Stroberg. Once a sale is closed, they have five years to meet "restocking standards," which means replanting the logged areas with seedling trees. When the outbreak began, Forest Service personnel began collecting seed; today they have 90 pounds, which represents 2.5 million seedlings.
"Every beetle-killed tree removed is one less fuel tree," says Jones. "And the small trees are really beginning to take off [in areas that have been logged]."
Jones and Gutterman are also working with the Natural Resource Conservation Service (NRCS) to develop a conservation plan for Mariposa Meadows. This long-range plan will help guide choices, such as when and where to irrigate and place fencing, that will enhance habitat for wildlife.
Click image to enlarge.