Outside the D.C. bubble, politicians see green issues as common sense priorities.
I'm always excited to introduce you, our readers, to some of the best green projects of the year. And yes, once more you're going see some real showstoppers in our annual awards lineup. But before you get there, I want to mention what happened in Orlando in January, when we held our first Sustainability Symposium.
First, the event almost sold out. More importantly, we witnessed some remarkable moments: A Democrat and a Republican mayor on stage, having a conversation. No hostile exchanges. No finger pointing and insult hurling. Democrat Dr. Phillip Stoddard from South Miami and lifelong Republican James Brainard from Carmel, Ind., showed us how two different American towns are managed. On issues as diverse as affordable housing, traffic circles to reduce gridlock and creating resilience for worst-case climate scenarios, the two men found complete agreement. In fact, so harmonious were their responses that they occasionally finished each other's sentences.
If this is possible, why is such bitter, partisan conflict playing out at the federal level of government? I think the answer is simple: Mayors see themselves as public servants. Federal politicians see themselves as policy dictators.
At the local level, the mission is clear: Keep the water clean. Keep people safe and housed, address natural threats before they become disasters, and make life better for the greatest percentage of the population.
At the state level, governors sometimes—but not always—follow the same game plan. A good example is Martin O'Malley, who just finished his term in Maryland. He broke new ground with many sustainability initiatives. "But not a single one of them," he told the crowd in Orlando, "involved any help from the executive branch of the government."
The closer you zoom in to any place in the U.S., the better things look, and the more you can see forward motion on sustainability. Solar jobs are booming, electric cars are selling like wildfire, and more homes than ever will be built to net-zero standards.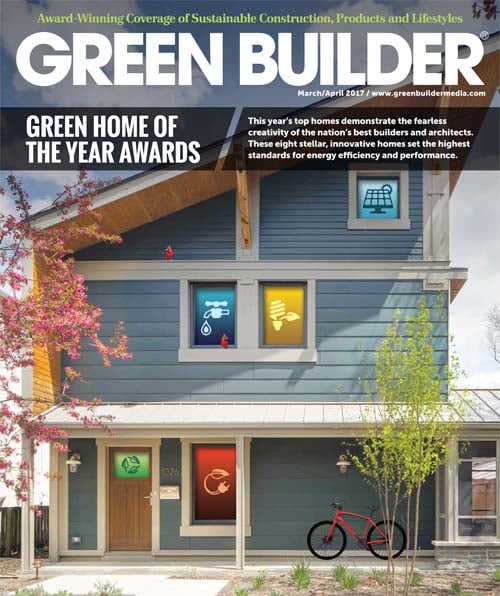 The reality is that nearly ALL of the economic opportunities of the future lie in green industries. The fact is that U.S. manufacturing now represents just 8 percent of total jobs nationally. For the populist dream of making things in America again to become reality, there's no better prospect than building solar cells, wind turbines and hydroelectric generators.
If you want proof that localism is where the action is, take a look at this year's Green Home of the Year winners. You'll find some beautifully designed homes that take energy efficiency very seriously. I'm especially intrigued by this year's grand winner, the Montana Ranch Residence. It's an "alternative" home with a green roof that's mostly underground. It includes geothermal HVAC as well, a technology that has really come of age in recent years.
Think of these eight homes as islands of hope in a sea of dystopian thinking. Sure, not every American can afford a custom, one-of-a-kind home, but these projects are full of good ideas that can be replicated in other floorplans or existing homes.
Let's not forget, as we go about our daily business of assembling sticks and bricks and SIPs and ICFs, that our industry plays a major part in climate change. Every time we raise the bar with a new or remodeled home that requires fewer resources to operate, we create a "conservation ripple" that may carry on for decades. It's the one legacy, other than educating the next generation, that's guaranteed to have lasting value. Thank you all for your beautiful work, your willingness to lead the industry and your willingness to share such high artistry with your peers.