Most building professionals—builders, small architect firms, designers and so on— don't have enough time left in the day to impact political events, regulatory changes and employee standards on their own. We know, for example, that about half of homebuilders have fewer than 10 employees, and about 80 percent have receipts under $1.5 million. Unlike their big builder brethren—Lennar, Pulte and Toll Brothers, for instance—the little guys don't have marketing divisions, lobbyists or even HR departments that can spend a week chasing down new labor pools, sending their trades to update classes or even securing better insurance.
The U.S. Census shows that between 2007 and 2012, the number of residential builders declined by half. In 2012, according to analysis [https://bit.ly/2LPdb3R] of the Census by the National Association of Home Builders (NAHB), the majority of residential construction businesses were self-employed independent contractors, accounting for 81 percent of all residential building construction (RBC) and specialty trade contractor (STC) establishments, and 83 percent of land subdivision firms. They also accounted for more than half of workers in RBC, 41 percent in land subdivision and 31 percent in STC.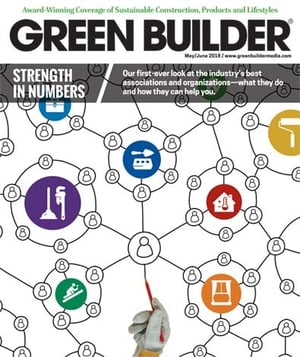 Although the latest Census figures aren't available, it's clear that those numbers have been on the rise. The industry is recovering, but it may never achieve the density of the last boom days.
Historically, a major perk of joining an association was (and still is in some cases) the offer of various types of discounted insurance. One form of these shared plans, Association Health Plans, became much more regulated in the 1990s. The NAHB is pushing to increase AHP flexibility. That's political pressure that's well placed—an example of an association pursuing goals that could benefit all small businesses.
The mere presence of an association or organization, however, is not an automatic good. Legacy can become a roadblock to industry progress. NAHB's membership, for example, does not reflect the times. NAHB's associate members (everyone but builders, who account for 32 percent of membership) skew 96 percent white, with a median age of 56. The industry also struggles to attract women—estimates put females in the construction workforce at 3 percent to 8 percent.
This is not to say the individuals in the building industry are especially "anti" diversity. Most of the builders and tradespeople I've known over the years are simply too busy to spend time trying to change the "big picture." They depend on organizations and associations to do this for them. When they don't, the industry looks out of touch. Is it any wonder young people are not joining the ranks?
Not all organizations are as retroactive as the NAHB. Many of the groups highlighted in this special report demonstrate that progress is possible, if the leadership and mission is progressive. The Portland Cement Association, for example, has embraced R&D, pushed for greater sustainability, and generally helped keep the cement industry from getting an environmental black eye. The same is true for the National Fire Protection Association, with a strategy for protecting lives of the public and emergency respondents.
Also included in our roundup are organizations that exist to make buildings and products better, such as RESNET. Others, such as the Painting and Decorating Contractors of America, focus on improving the strength of an entrepreneur's business. Their relevance goes without saying.
Instead of reinforcing an outdated world view, associations and building organizations have the chance to step into a void—real support for small business people. By focusing on what members really need—more affordable healthcare, better building code knowledge, access to research and a "message" that attracts young people and minorities—they can bring the whole industry forward, and make it vibrant and well regarded.