ASSA ABLOY Door Security Solutions

How safe is that building component? Just read the AADSS label.
ASSA ABLOY Door Security Solutions offers a wide selection of door and hardware brands, as well as the services of consultative door opening experts for contractors, builders and end-users in multi-family, commercial, retail, government and institutional facilities. The parent company has 47,500 employees in 70 countries and is based in Stockholm, Sweden. The North America headquarters is in New Haven, Conn.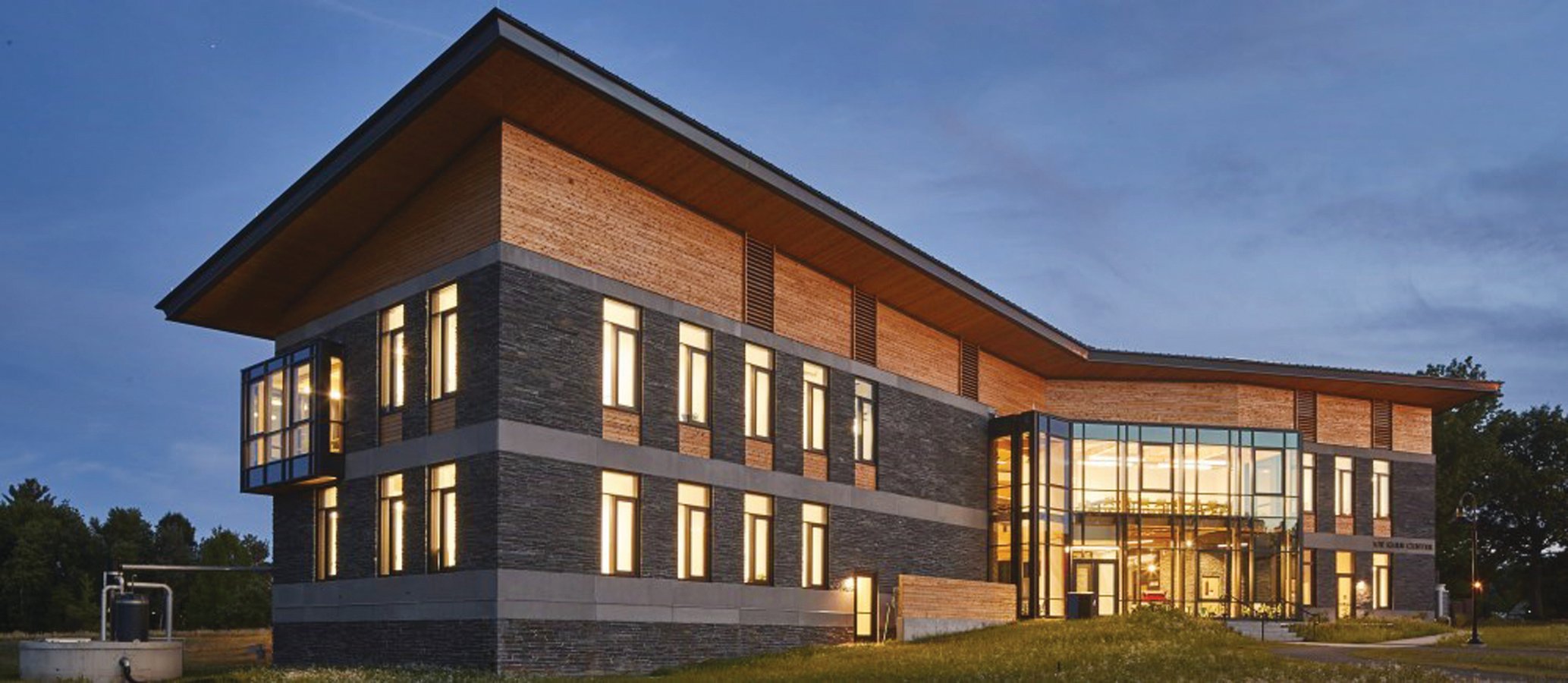 Hampshire College met its goal of building the R.W. Kern Center, a green classroom and administration facility, partly due to product Declare labels provided by ASSA ABLOY.
In keeping with its environmentally focused ideals, Amherst, Mass.-based liberal arts school Hampshire College wanted to construct a new, sustainably sensitive classroom and administration facility.
According to ASSA ABLOY officials, the R.W. Kern Center at Hampshire College was constructed in accordance with the Living Building Challenge (LBC), the built environment's most rigorous sustainability performance standard.
The intent of the LBC is to build structures free from harmful chemicals, protecting those who live and work within, builders, workers who produce the building materials, and the environment as a whole. To achieve this, a structure must avoid building products—including door openings—containing Red List chemicals, such as alkylphenols, asbestos, lead, mercury and wood treatments with creosote.
Achieving this goal requires selection of building products with transparency statements that openly list material ingredients. Finding products with transparency labels can be a challenge, according to ASSA ABLOY.
ASSA ABLOY helped the construction firm building the Kern Center, Wright Builders, by providing Declare labels that list material ingredients for its products.
"The labels allow architects, designers, specifiers and builders to know immediately whether or not the product will meet most green building guidelines, including the Living Building Challenge," says Andrew Solem, assistant project manager for Wright Builders.
They're an Eco-Leader because...
ASSA ABLOY ensures suppliers are audited for their practices, products are designed with efficiency in mind, and manufacturing sites are reviewing their overall carbon footprints each year. This is done in addition to achievement of industry standards such as ISO 14001.
Electrified solutions have been designed and delivered to use less energy and, in some cases, can be offered as a complete regenerative product—pulling no power from the grid.
Exterior opening solutions offer superior protection against the transmission of heat and cold, providing efficiency, savings and overall load and footprint reduction.
Door and accessory products have been GREENGUARD Gold certified, demonstrating low levels of chemical off-gassing—important for the health of people inside the built environment.
As a way to support the greater demand for human health and product transparency, hundreds of ASSA ABLOY products offer information regarding their environmental and human health impacts, in the form of EPDs, HPDs and Declare labels.