Months of lockdown laid bare the flaws in many a kitchen's design and functionality. Will tedium, time wasting and poor appliance performance lead to upgrades or avoidance?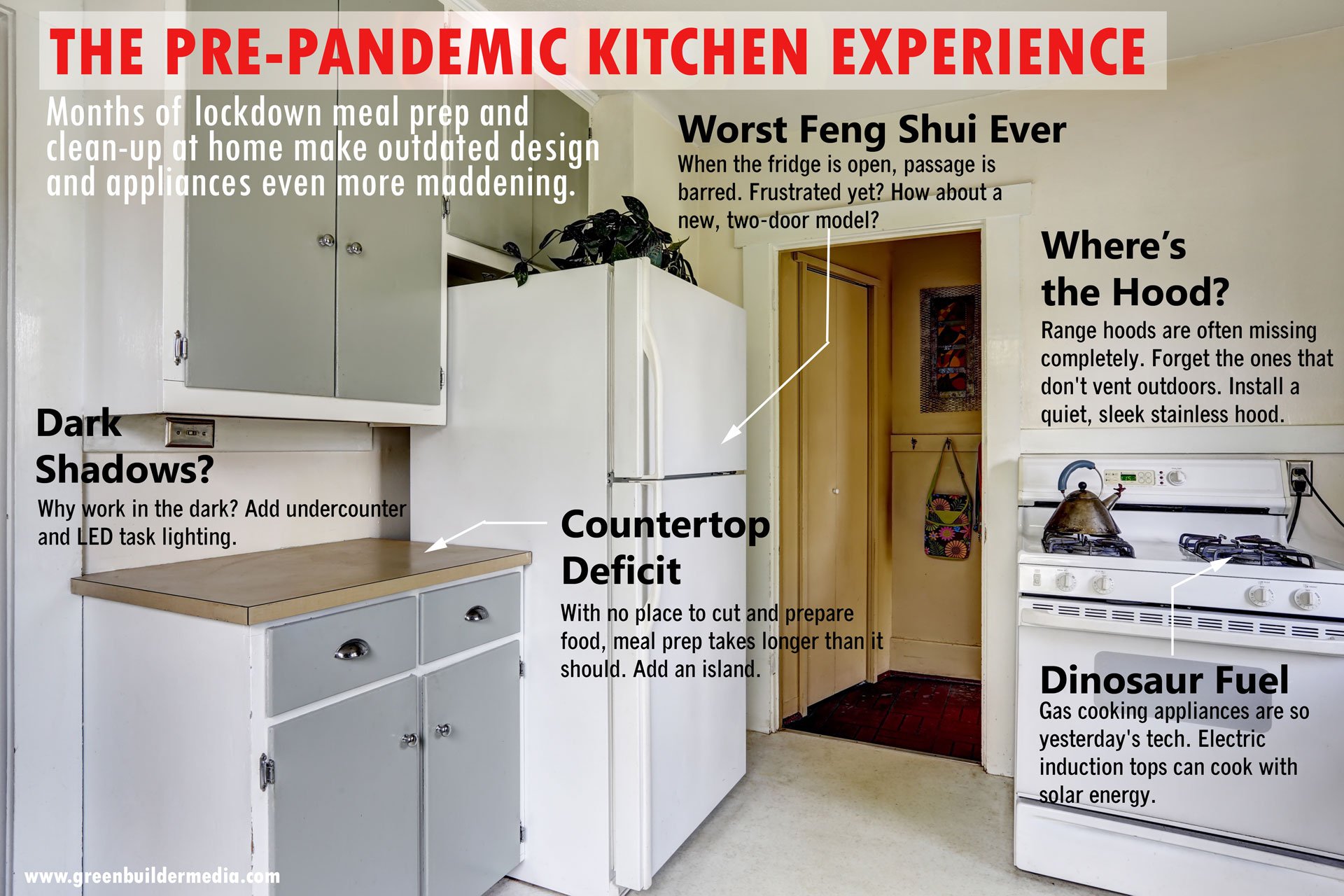 Americans have a complex relationship with cooking. About half say they enjoy it. Others have re-discovered it as a way to reduce anxiety during the Covid-19 pandemic.
Will kitchens change measurably due to the Covid-19 pandemic? If you asked that question three weeks ago, as the federal government essentially greenlighted the re-opening of the U.S. economy, and governors responded in kind, the answer would probably be no. But with enormous surges in infection taking place in many U.S. States, we might cross the tipping point that causes lasting behavior change and a true cultural shift.
That's not just a hunch. There's past experience and data to back it up. Sociologists have observed that human beings tend to forget pain quickly and move on like before, unless a crisis is truly world shattering. It's one of our resilient qualities, but also a fault. In the case of a short-lived crisis, even an intense one, we typically don't learn from our mistakes. Instead, we quickly resume the behavior that brought us to the brink.
The "Cooking Fatigue" Rhythm
During the long periods of Covid-19 stay-at-home lockdowns, many people began to use their kitchens in ways they never had. Keep in mind that fewer than half say they like cooking, and that's in the best of times. Suddenly, people used to eating about two-thirds of their meals out of the home had to up their culinary game in a big way, figuring out what to buy, where to store it all, and ultimately producing decent fare.

At Green Builder, we've been tracking in real-time how people "feel" about cooking and cleaning, and what they're talking about online. We do this with a combination of web analysis, third-party research, and our own Cognition SmartData service, which analyzes and breaks down trends in communication online.
What we found was a gradual erosion of positive feelings about cooking at home, as lockdown time wore on. Terms such as "cooking fatigue" began to show up in blogs, posts and tweets. Drilling down further, we identified various aspects of kitchen use and performance triggering negative sentiments: spaces that are too small or poorly designed, appliances that underperform, "missing" technology such as range hoods and other variables that basically make cooking a drag.
We also found that sentiment has continued to shift, following the lockdown pattern. At first, online tweets and posts reflected a generally positive vibe about cooking, discovering new recipes and having more time at home, but then, at a point about three weeks ago, as the Covid-19 crisis appeared to plateau, we noticed a lot of activity online and negative sentiment beginning to peek through around the edges. We've also seen renewed interest in kitchen remodeling.
Then the interest in all things cooking faded, almost overnight, as states and cities began to open up again.
This wasn't surprising. It fits with general tendency of people to try to re-construct the lives they knew before a crisis, rather than adapt to a new reality.
Back to the Brink
This week, however, about half of the United States saw huge and frightening coronavirus infection spikes. Talk of new lockdowns is afoot. As you can see from the line graph above, as the crisis deepens, sentiment about cooking is once again on the rise. Perhaps its simply human nature to try to make lemonade when handed lemons, and prepare once again for months of cooking at home.
What does this mean to product manufacturers and kitchen remodelers? The longer the period of disruption continues, the more likely people will be looking to radically change and upgrade their kitchens. We haven't yet hit the tipping point that could result in a complete overhaul of the home food prep experience, but that too is on the horizon.
Where will the "white space" of this new market be? Faster, more efficient cooktops, such as electric induction technology, faster dishwashers, bigger countertops, better LED lighting, extra freezers, more flexible refrigeration, and a lot more storage for foods of all kinds. Every one of these products and design shifts can be achieved with sustainable products and design principles.
Major change following a crisis is not impossible, however, as Professor Katie Gibbs points out, "Research has also shown that residents in New Jersey, US, became more likely to support environmental policies following two devastating hurricanes. Experiences of flooding in the UK have similarly been shown to lead to a willingness to save energy. Meanwhile, bushfires in Australia have boosted green activism."
We can't predict where Covid-19 will end, but we can read the data to see where it's taken us, and where we may be headed in terms of public sentiment. With the right information, at the right time, we can be ready to capture the new reality of serious cooking at home.
---
About COGNITION Smart Data:
COGNITION Smart Data offers advanced intelligence and insights about market trends and important customer information like behavioral patterns, purchase drivers, buying preferences and sentiment. COGNITION enables clients to make informed business decisions, yielding specific deliverables and tangible results. COGNITION provides a definitive competitive advantage by allowing companies to stay a step ahead of their competitors.
For more information on how you can tap into the power of COGNITION Smart Data, visit www.greenbuildermedia.com/cognition or contact Sara Gutterman at sara.gutterman@greenbuildermedia.com.