The old reality seems to be collapsing around us. Can business-style planning convert Neros into Heroes?
It's easy to give up on our fellow humans these days. We're killing off most of the other large life forms on Earth. Heat waves, spurred on by runaway climate change, have nearly reached a temperature in Las Vegas where composite plastic decking begins to melt.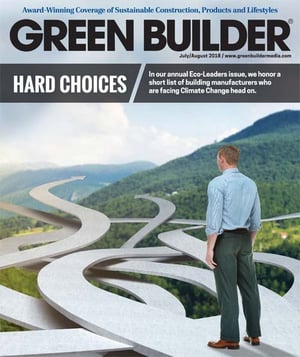 It's not like we have no solutions at hand. Researchers inform us that we could reverse, or at least mitigate, this fast-unfolding global disaster. But to do so, we would need to change our behavior: Stop eating meat, have fewer children, build every home net-zero or better, stop buying palm oil, fly less and embrace urban lifestyles.
I'm increasingly of the mind, however, that people don't change until they have to. Worse, when they do curtail one destructive behavior, they often tally up their "green dividend" and spend it on other environmental indulgences.
Unless—and oh, what a whopper of an "unless"—change is thrust upon them.
The same, oddly enough, is not always true of corporations. Business entities sometimes take existential threats more seriously than individuals. Their executives schedule regular meetings where they look at troubling trends and change course.
That's not to say all corporations are responsible. Many do much more environmental harm than good. But the companies selected for this year's Eco-Leaders recognition are out in front, among the first to "wake up" to the dire environmental threats facing all of us.
We're fortunate to work in the building industry, with its clear pathways toward sustainability. Shelter is a survival need, not a frivolous commodity. And almost every building product—from insulation to smart thermostats to bath fans and solar panels—has the potential to make housing more efficient.
As progressive companies embrace more-conscious use of resources and more-efficient products, they may not turn America's millions of Neros into heroes. But they'll be extending their own viability and relevance.