Armstrong Flooring Paragon with Diamond 10 Technology Solid Hardwood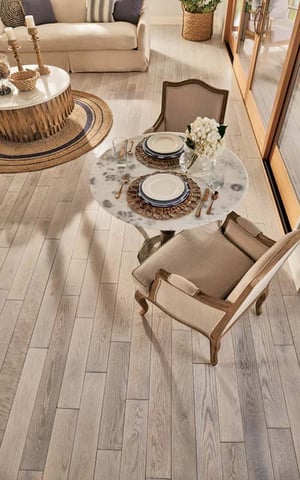 Hardwood floors can last for generations, which makes hardwood a natural and sustainable flooring option. Armstrong Flooring's Paragon is made from 100 percent solid Appalachian hardwood with patent-pending Diamond 10 Technology, a flooring innovation that incorporates cultured diamonds to create a powerful layer of scratch protection without clouding the beauty of the hardwood underneath.
Some competitor hardwood floors incorporate aluminum oxide into the bottom coating layer, where surface traffic does not reach, leaving the top layer vulnerable to damage. Diamond 10 Technology forms a hard traffic-and-wear-resistant barrier on the surface that also protects the wood from soils and stains. Paragon is built to endure real-life demands, such as active kids, pets and heavy foot traffic.
Most raw materials are locally acquired, and 90 percent of total volume is manufactured in the United States. This reduces the company's environmental footprint by making deliveries shorter, meaning less impact to air quality.