As multi-family homes increase in popularity, here's how they will impact green building and how you can prepare.
Multi-family investment properties are increasing in popularity, and they now represent a significant proportion of existing building stock in urban areas. Therefore, multi-family properties are considered perfect opportunities to improve sustainability. Homebuilders and architects alike are capitalizing on these opportunities for more reasons aside from return on investment. Out of the single-family and multi-family homebuilders that participated in a survey conducted by Dodge Data & Analytics and the National Association of Home Builders (NAHB), 33 percent reported that green building accounts for over 60 percent of their total projects. Furthermore, out of the multi-family builders, almost 30 percent revealed that green building accounts for over 90 percent of their portfolio. Over the next five years, it is believed that almost half of single and multi-family builders will find that their overall activity is 60 percent green building. NAHB Chairman Granger MacDonald, a homebuilder from Texas, stated that "These findings show green building has become an established part of the residential construction landscape." Members of the NAHB are clearly recognizing the potential market of green building, and furthermore of green building in multi-family homes. That potential is huge.
Planning for the Big, Green Boom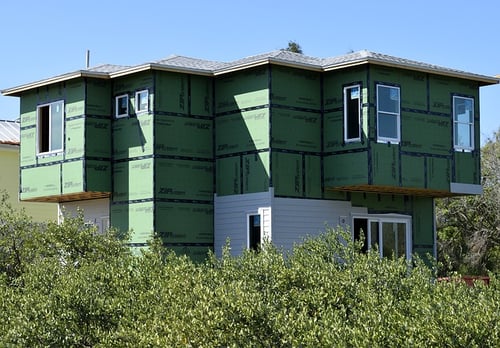 As consumers are becoming more educated about the impact buildings have on their health, wealth and environment, the demand for sustainable, green-built multi-family homes is only going to continue to grow. Building smaller, more energy-efficient homes with less harmful recyclable materials are all priorities for this growing share of the consumer market. However, as a homebuilder or architect, how can you prepare for the next green building boom of multi-family properties? It comes down to planning, and that usually comes down to budget. A three-pronged approach of incorporating no-cost, low-cost and higher-cost fixes usually balances out financially and is a more holistic approach. No cost is usually educational, in that tenants are encouraged to be vigilant about the energy they consume. Low cost can be changing to energy-efficient bulbs or opting for a mechanical control system so you can curate your environment at home as you see fit. Higher-cost solutions are new boilers or chillers. For example, 75 percent of housing in San Francisco was built before the area's first energy efficiency codes were established. Like most of America and Canada, these properties are further away from green building standards than their newer-built contemporaries. While this isn't going to be necessarily attractive to the growing trend of green and health-conscious tenants, it certainly provides a fantastic opportunity for a run-around.
The Greening of Multi-family Buildings
Here are some ways you can make multi-family structures a little more green:
In multi-family houses, water heating can provide the perfect space for energy savings. You could increase thermal efficiency, incorporate solar water heaters and boost existing distribution functions. Water fixtures are usually non-negotiable for high-efficiency properties. Consider aerators and specially designed faucets to help conserve water.
Replacing appliances is an easy step to long-term efficiency — focusing more on heating, ventilation and air conditioning (HVAC) appliances. Replacing aging boilers is always a priority given the rebates and incentives available.
Ensure less exposure where possible. Perhaps your multi-family unit could benefit from new glazed windows, cool roofing or more effective insulation.
Install measures for tracking energy use and consumption of other resources. Data collection benefits not only you as the builder, but also the emissions output of the building. If you had access to that data, it could help you reduce breakdowns, cost of machinery and also reduce emissions produced as the house is being built. Equipment data collection helps improve performance, whether this comes from meters tracking electricity, gas or water.
Increasing interest in multi-family green building from consumers certainly provides a perfect opportunity for homebuilders and architects to capitalize on this growing trend, as well as helping the environment and the health of tenants. Transforming older multi-family properties is not an impossible feat, and costs of making them sustainable should be spread through a three-layered strategy.
Using technology where relevant to record useful data of individual resource consumption could also help empower your tenants to manage their own energy efficiency and carbon footprint, as well as make your job a lot easier.