Record heat and 'Arctic Amplification' is causing sea ice in the Arctic to melt at alarming rates.
Scientists have known for years that melting ice in the Artic is causing sea levels to rise. What they recently discovered, however, is that a phenomenon called 'Artic Amplification'—the exacerbation of melting ice caused by rising temperatures—has created large areas of dark, open water that quickly absorb warmth from the sun, causing the ice to melt even faster (in contrast, white frozen ice reflects sunlight back into space.)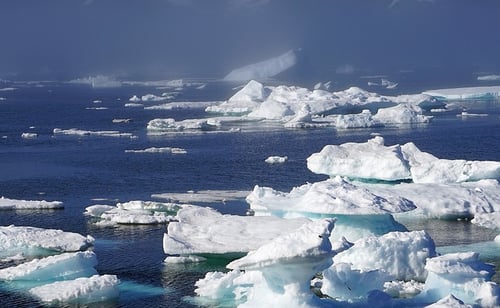 Image Courtesy of Barni1, CC
In May, temperatures were about 5 degrees above average, and the total amount of Arctic sea ice was 4.63 million square miles—about half a million square miles below average levels, with new record lows expected in the coming months.
According to the National Oceanic and Atmospheric Administration (NOAA), the amount of sea ice in the region has been steadily shrinking over the past few decades due to man-made global warming.
Why, you may be asking, should you care about Arctic Amplification and melting sea ice? The answer is simple: the faster that sea ice melts, the greater the impact on coastal cities across the globe that are already being deluged by rising ocean levels. Just ask the Mayors—even the staunchest Republicans—in cities like Miami, New Orleans, Hoboken, and New York about the problems that they're facing due to our changing climate.
And, even if you're not on a coastline or island, melting sea ice contributes to increased evaporation and a wetter climate, which leads to more frequent superstorms and intense weather events.