Arc House and The Changing Consumer Zeitgeist
While the warm reception of the Arc House—a net-zero, smart + solar, resilient, healthy, tiny home—at this year's Greenbuild conference in Los Angeles was hardly a surprise, it certainly reaffirmed that homebuyer's tastes, preferences, purchasing patterns, and priorities are changing.
We have now taken the Arc House, a 432 square foot example of next generation sustainable living designed by specialty builder Shelter Dynamics, to three conferences: PCBC, Solar Power International, and Greenbuild. On our west coast tour, thousands of people had the opportunity to experience this hand-crafted, small footprint home.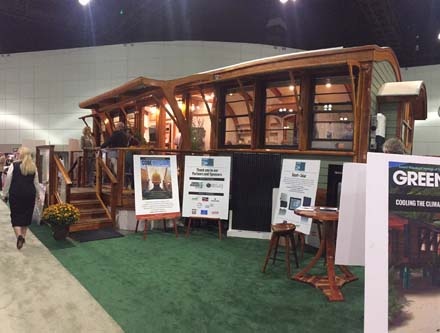 The most common refrain heard by visitors was, "Oh, I could live here," said in a way that clearly indicated that the concept of downsizing was refreshing, and that the idea of living relatively "stuff free" was liberating.
I'm not surprised—in our increasingly-connected and always-on world, the notion of "home as a sanctuary" is more important than ever. Trends are showing that homeowners want to create a place of peace that takes them away from their bevy of devices to a simpler and easier mind space.
In some respects, it's the great dichotomy of our time—consumers want to revel in the sensation of being disconnected even as their homes become more intelligent, driven by increased adoption of smart home technologies. In essence, they want the ease of connected living and the benefits of self-optimizing homes without invasive technology that impinges upon their private time.
This theme popped up in several discussions that I had last week at Greenbuild, as building professionals and product manufacturers alike try to get their arms around how to create living spaces—and the products and technologies that fill those spaces—that provide an entirely new level of automation, optimization, and comfort, while not being intrusive or violating the privacy of homeowners.
As I engaged in these conversations, I kept asking myself the same question: can we continue to integrate advanced technology into our lives without losing some of our humanity in that process?
Perhaps the answer is in structures like the Arc House, with its hand-crafted arches and lovely design elements that make the small space feel cozy and human-scale. In the Arc House, the fast-paced world of technology seems far away, only until you realize that the smart, solar, and connected home is producing, storing, monitoring and optimizing its own energy use.
The Arc House successfully marries comfort and design with full-scale automation, making it a model worthy of replication.
For more information about the Arc House, visit the project's microsite or write to me at sara.gutterman@greenbuildermedia.com.
Want to read more? Follow me on Twitter and Facebook. For more information about green building and sustainable living, visit Green Builder Media at www.greenbuildermedia.com, like us on Facebook, and follow us on Twitter for regular updates and breaking news.