Green Builder Media is delighted to announce the Sustainability Symposium 2019: The Desert Shall Bloom, scheduled for February 18, 2019 at the fabulous Artemus W. Ham Concert Hall on the UNLV campus. For anyone who cares about green building, sustainable innovation, and climate action, this is truly a can't miss event.
Green Builder Media's annual Sustainability Symposium has established a reputation for being one of the most interesting, inspiring, and fun events of the year, drawing an influential national audience of esteemed sustainability professionals, business executives, building professionals, elected officials, city planners, students, and national media.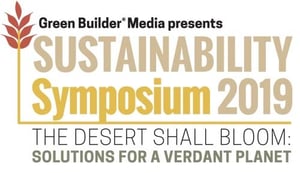 Our Sustainability Symposium 2019: The Desert Shall Bloom promises to exceed expectations and transcend the high bar set by the ambitious Sustainability Symposium 2017: Ready for Anything and the epic Sustainability Symposium 2018: Champions of Change.
Scheduled to take place on Monday, February 18, 2019 (the day before the show floor opens at Design & Construction Week, otherwise known as IBS/KBIS) from 9:00am-5:30pm at the stunning Artemus W. Ham Concert Hall on the University of Nevada Las Vegas (UNLV) campus, the event will bring together some of the brightest and most progressive minds in the sustainability sector.
Brimming with vision and ingenuity, the Symposium's agenda features global leaders including:
A welcoming message

by Jeff Bridges, Academy-Award winning actor and climate activist (yes, 'The Dude'!)
General Wesley Clark (ret.), four-star general, former Army Chief of Staff, Presidential advisor, and fervent climate action advocate
Bill Walton, NBA All-Star icon and passionate sustainability enthusiast
Susan Kucera, award-winning Director, Cinematographer, and Producer of eco-films including "Breath of Life" and "Living in the Future's Past" (co-produced with Jeff Bridges)
Gwen Migita, Social Impact & Inclusion Vice President and Chief Sustainability Officer, Caesars Entertainment
Ron Jones, Founder/President Green Builder Media and industry provocateur
While I'm bursting with excitement for the entire day, I'm particularly looking forward to the closing session, when The Green Builder®--our very own Ron Jones—will go one-on-one with legendary NBA Giant of Sustainability Bill Walton, in what promises to be a raucous, irreverent, and wildly entertaining session covering a wide range of topics that are guaranteed to motivate and enlighten.
If you're not convinced yet that you should carve out the time (and resources) to attend the Sustainability Symposium 2019: The Desert Shall Bloom, let me give you some more incentive. Join us at the Symposium and:
Experience a fascinating and unique blend of internationally recognized presenters.
Participate in the industry's most interesting and inspiring event of the year!
Learn from global leaders about important sustainability trends, technologies, and strategies.
Glean ideas for your company about how to simultaneously increase your sustainability and profitability.
Network with like-minded professionals to explore the most important topics of our time.
But wait, there's more! New this year—Green Builder Media will celebrate our annual Home of the Year Award winners, and our expanded Sustainability Award winners, at a festive dinner on February 17 at 6:00 p.m. at the exclusive Mr. Chow in Caesars Palace.
Our renowned awards program recognizes the industry's most authentic, advanced, beautiful, sustainable projects and the professionals who design and construct them (got a great green project you want to enter? Click here!)
The awards gala will enable us to recognize progress and innovation within the building community. Don't miss this rare opportunity to network with Symposium speakers, sponsors, and VIPs, as well as the industry's leading sustainability professionals.
Click here for more information about the Sustainability Symposium 2019: The Desert Shall Bloom and Sustainability Awards gala.
Space is strictly limited and by reservation only, so reserve your seat today! General admission for the Sustainability Symposium is $350. Register before October 1, 2018 using the code EarlyBird and you'll receive a $100 discount. Tickets for the Sustainability Awards gala are $150.
A sincere thank you to our generous sponsors, Samsung, Ingersoll Rand, Emerson, Andersen, and Caesars Entertainment for helping to make the Symposium possible.
Want to learn more about the Sustainability Symposium 2019: The Desert Shall Bloom? Write to me at sara.gutterman@greenbuildermedia.com.
Want to read more? Follow me on Twitter and Facebook. For more information about green building and sustainable living, visit Green Builder Media at www.greenbuildermedia.com, like us on Facebook, and follow us on Twitter for regular updates and breaking news.