Andersen Corporation

Matt Power, Editor-In-Chief
2 min read
Strides in innovation reduce fossil fuel production and increase efficiency.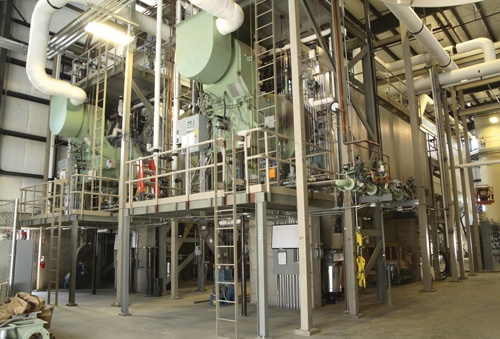 Andersen's $20 million energy plant injects sawdust into a boiler to create steam, which powers manufacturing equipment.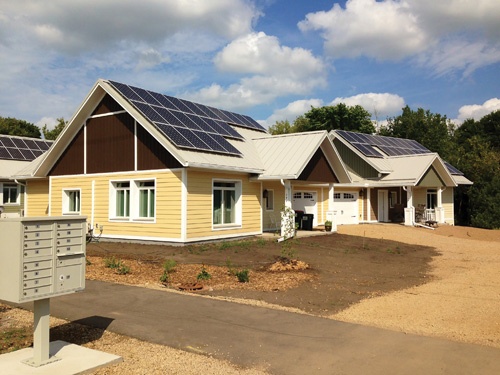 Andersen donated windows to 18 net-zero homes built by Habitat for Humanity.
Company Profile
Founded: 1903 by Hans Andersen
Headquarters: Bayport, Minn.
Leadership: Jay Lund, Chairman and CEO
Products and Services: Andersen Corporation and its subsidiaries manufacture and market window and door products under the Andersen, Renewal by Andersen, Silver Line and American Craftsman brands.
Employees: 11,000
Website: www.andersenwindows.com
LAST YEAR ANDERSEN Corporation signed the Ceres Climate Declaration, which is a commitment to ensure the company doesn't contribute negatively to climate change. As part of that declaration, Andersen published its 2020 goals, which holds the company accountable for reducing waste, water and energy use by 20 percent per unit of product built by 2020.
'We were one of the first building product companies to sign on and spread their work and message about how we all need to contribute to minimize footprint," says Susan Roeder, director of corporate and community affairs.
Sustainable Office Operations
One of the biggest investments in that goal is Andersen's new $20 million energy plant, which reduces fossil fuels by injecting sawdust into a boiler to create steam that powers plant equipment.
The company is also working on sourcing energy from three nearby solar farms—from which the company will buy up to 19 MW of energy. That energy will power Andersen's headquarters and one of its manufacturing plants, with some energy left over.
Sustainable Products
Andersen recently introduced VeriLock, which ties into a homeowner's existing smart home control or mobile device to determine whether doors and windows are locked. By ensuring all windows are locked, homeowners can save on energy bills.
Sustainable Communities
Andersen also prioritizes giving back to its community. The company recently donated windows to 18 net-zero homes built by Habitat for Humanity in River Falls, Wis. The community, Eco Village, works to make net-zero affordable using off-the-shelf technology.
"The residents are working families that don't have enough income for a traditional mortgage but have too much income for government help," Roeder says. "The discretionary income that comes from saving on energy bills is everything—it's eye glasses and band camp for their kids. We loved being a part of the project."
Did You Know?
Locked windows are three times more efficient than unlocked windows.
A recent study by Andersen's research and development team tested 32 different windows and found locked windows to be significantly more energy efficient.
---

Veteran journalist Matt Power has reported on innovation and sustainability in housing for nearly three decades. An award-winning writer, editor, and filmmaker, he has a long history of asking hard questions and adding depth and context as he unfolds complex issues.