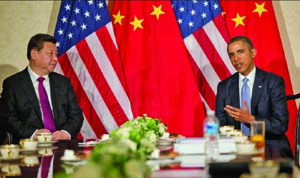 TOGETHER, THE UNITED STATES AND CHINA produce almost 40 percent of global greenhouse gas emissions. Consequently, to be effective, any plan to address climate change must include the full participation of both of these major polluters. For a long time, U.S. opponents of climate action have used this fact to argue that it would be senseless for the U.S. to incur the burden of climate solutions without a full commitment from China to do likewise. Setting aside the question of whether investing in climate solutions actually constitutes a "burden"—there's plenty of evidence it doesn't—the opponents' argument recently got a whole lot weaker. On November 12, President Obama and President Xi Jinping jointly committed their respective nations to major emissions reductions.

The announcement was remarkable for numerous reasons, starting with its explicit acknowledgement that climate change is "one of the greatest threats facing humanity," and that it is "already harming economies around the world." It also stated that "economic evidence makes increasingly clear that smart action on climate change now can drive innovation, strengthen economic growth and bring broad benefits," none of which will come as news to regular readers of Green Builder.

The substance of the commitments was also significant: The U.S. intends to reduce emissions to 26 to 28 percent below 2005 levels by 2025. This builds on the existing U.S. commitment to reduce emissions to 17 percent below 2005 levels by 2020. Achieving the new target will require the U.S. to double its current rate of emissions reduction.

For its part, China announced it would peak its CO2 emissions "around" 2030 and make best efforts to peak earlier. This marks the first time China has agreed to peak its emissions. The country intends to achieve this goal by massively increasing its share of non-fossil fuel energy to 20 percent by 2030. This will require 800 to 1,000 gigawatts of new nuclear, wind, solar and other zero-emission power sources by 2030—more energy than that produced by all of the coal-fired power plants that exist in China today.

Are these commitments enough? No. Even if all targets are met, emissions will still be far above the levels recommended by the Intergovernmental Panel on Climate Change to keep global temperature rise within manageable bounds. But no one should expect to solve climate change in one fell swoop. The appropriate yardstick, for now, is political progress. This marks the first time the world's two biggest emitters have made a joint commitment to address climate risk; it's a real step forward. As Secretary of State John Kerry put it after the announcement: "There is no question that all of us will need to do more to push toward the de-carbonization of the global economy. But in climate diplomacy, as in life, you have to start at the beginning."

Perhaps most importantly, this agreement injects momentum into preparations for the next round of international climate negotiations, scheduled for December 2015 in Paris. For any country that has been waiting for the big guys to exercise some leadership, the time has finally come.
---