If you're serious about creating a kitchen that's less costly in terms of embodied energy for construction, here's a primer.
A RESIDENTIAL KITCHEN ACCOUNTS FOR A SIGNIFICANT PORTION of its initial resource "footprint." It typically involves products that are costly to extract from the earth: granite, metals and plastics for appliances, acrylic finishes, pvc-based flooring or heavily coated wood floors and so on. So when it comes time to remodel your kitchen, why not make the most sustainable choices possible? With the "big five" high environmental cost materials in mind (plastics, glass, concrete, paper and aluminum), it's possible to reduce your project's impacts significantly. Here is a helpful roundup of eco-friendly kitchen improvements you can refer to as you plan your sustainable kitchen remodel.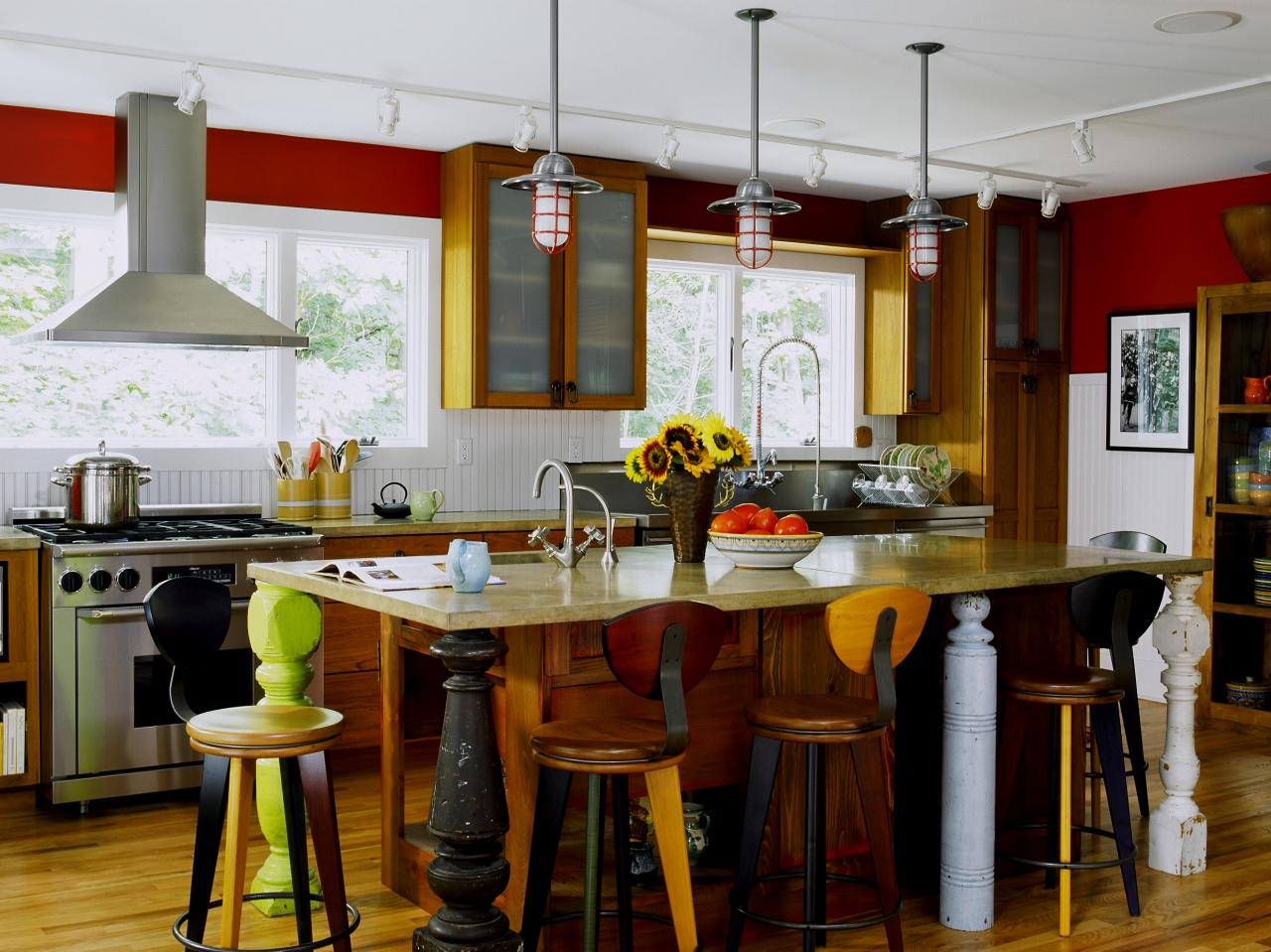 Salvaged Beauty. This electic red kitchen, featured on hgtv.com, includes many second-hand accents, such as the balusters supporting the corners of the island bar..
Sustainable Materials
As with most approaches to resource reduction, the "three Rs" still apply to kitchen planning, and they are not equal, nor consistent. Reuse is almost always the best choice, but reducing is often a much better choice than using recycled content. As with most things, the devil is in the details. A product with 4% recycled content (such as a ceramic floor tile that just hit the market, is just one tiny increment "greener" than its competitors. But a composite decking such as Trex, which uses almost 100% HDPE (plastic) is head and shoulders superior to its 100% virgin vinyl competitors. That said, here are some general concepts to consider in your kitchen planning stages:
• Repurposed materials. The most sustainable product purchase will always be an item that will otherwise end up in the landfull. First, before you make changes to your kitchen, determine if there are elements you'd like to keep. Do you love your existing light fixture or cabinet handles? Use them again. Be creative. Perhaps an old butcher-block countertop could be cut up to make trivets for your new kitchen. Next, visit your local ReStore, salvage depot or even flea market to spot deconstructed materials from other buildings. These often end up being the "signature" detail of a new kitchen, connecting past and present and adding a narrative to your work.
• Recycled materials. From quartz-based countertops to bamboo and tile flooring, materials containing recycled content are becoming ever more readily available. As mentioned above however, check the PERCENTAGE and source of recyled content. A respectable figure is 30 percent or more recycled content. Post consumer waste is the Holy Grail of recycled raw material, although post industrial waste is better than no recycling at all.
• Local materials. Building materials are heavy and bulky, and transporting them adds a lot of carbon to the atmosphere. Using locally quarried stone, locally made tile, local lumber or accent pieces created by area artisans reduces your carbon footprint, supports your local economy and helps tie your home in to your surrounding environment.
• Natural materials. Nothing adds to the luxury of a room like natural materials such as stone or wood. Consider using natural clay paint, adding a hardwood floor, or adding a backsplash made from a mosaic of river rocks. These materials minimize the use of potentially harmful synthetic chemicals in your home.
Operational Efficiency
As important as the choice of products and materials used in a kitchen are, the actual operation, maintenance, conditioning and durability of a kitchen account for at least half-—perhaps more (building science is divided on this)—of the life cycle impact of people using it.
The kitchen should be designed to hold up for many years under tough wet/dry conditions. It should be highly functional, well designed so that owners and future owners do not attempt to renovate it again until the house itself has reached the end of its viability. Appliances should be super-efficient, with a quitet, efficient range hood in place. Smart planning can prevent generations of ongoing CO2 impacts.
Key concepts to keep in mind:
• Weatherization. Take the time during your remodel to eliminate air leaks in the outside walls of your kitchen. Use silicone caulking *usually the most durable option) to seal around doors and windows, baseboards, vents and pipe.This is also a good time to replace old windows with energy efficient ones.
• Lighting. Daylighting is the most energy-efficient kitchen lighting option, and is also proven to support health and well-being. If your kitchen doesn't get much natural light, consider adding tubular skylights (photo courtesy of proconstructionguide.com) to provide extra daylight with minimal energy loss. For nighttime, install energy-efficient LED bulbs.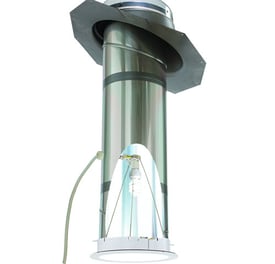 • Appliances. Replacing old refrigerators and dishwashers with new, Energy Star-approved kitchen appliances will reduce your carbon footprint and save water. They are a good investment, because they pay for themselves over time—often in as little as two years. Don't forget to look for the Energy Star logo when you are shopping for ceiling or ventilation fans as well. Panasonic brands are typically the most reliable and quiet, and offer many customizable click-in modules.
• Faucets. A low-flow kitchen faucet is an inexpensive way to conserve water in your eco-friendly kitchen. Look for the WaterSense label.
• Water heating. Almost 18 percent of the average U.S. household's energy bill goes toward heating water. Installing a new energy-efficient water heater is a big investment, but it will pay for itself in the long run, and doing it in conjunction with your remodel will minimize disruption to your household. If you have a suitable home site, the most eco-friendly water heating option is to install a solar water heater. Another energy-saving option is to install a tankless, on-demand water heater. If you are considering replacing your water heater, you will want to consult with an energy efficiency specialist and/or qualified contractor.
Kitchen Ecology
The importance of composting food wastes should not be underestimated. Many cities now offer curbiside composting pickup. It's not the only option of course. We're all familiar with the ubiquitous sink waste disposals. Companies such as In-Sink-Erator make the claim that the ground waste sent into large scale treatment plants by households is an essential part of their biological treatment system. You can read the research on this topic here, and decide for yourself if they've made their case. In the meantime, the low-tech options are as follows:
• Composting. In nature, anything that is not eaten is broken down and returned to the soil to nourish future generations of plants and animals. You can emulate nature's process in your kitchen by composting your food waste. Kitchen composting need not be elaborate. Most people use a collection container for food scraps and an outdoor bin. However, if your yard space is limited you may want to consider indoor composting. You may be surprised to learn that there are many easy-to-use, odor-free indoor composter options available. You can make one yourself or purchase a commercial one. Some can even be installed in your kitchen cabinetry. And if you have room, of course, you can always put a compost tumbler just outside the kitchen door.
• Kitchen greenery. NASA research proves that houseplants improve indoor air quality, and they have been shown to reduce stress as well. Easy access to water makes your kitchen an ideal place to keep plants. Use hanging plants if space is tight, or build planters into your walls or above your cabinets for an 'indoor rain forest' effect.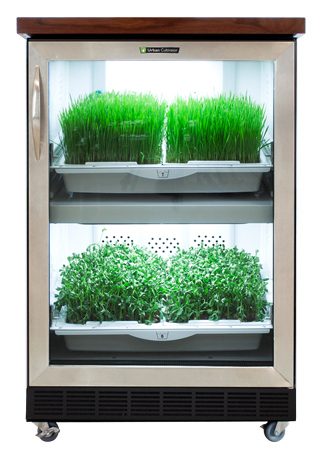 • Food production. There's nothing more sustainable, or more delicious, than local, freshly grown produce. If you have enough light you can make your kitchen greenery do double duty by including edible plants in the mix. A company called Urban Cultivator also makes some cool indoor greenhouses (shown),Herbs and greens are also a great choice. You can also grow salad greens and tomatoes or peppers in containers on a sunny windowsill or in a greenhouse box for your window. If you do install one of these however, make sure it is sealed and flashed properly. Otherwise it can become a source for water leakage and (later on) problems. Making long-range choices for sustainability can increase the value of your home and save money on utilities. There's no real downside, so why not take the high ground?
Darryl Crosby is a home renovation blogger and the senior director of marketing at Case Design/Remodeling, Inc. Darryl loves to write on home improvement and eco friendly remodeling projects, as well as providing tips for designing your home just the way you want it. Reach him at casedesign@straightnorth.com
This article was edited and expanded by Green Builder Media staff.