AMICO Hydrodry Self-Draining Vented Wall System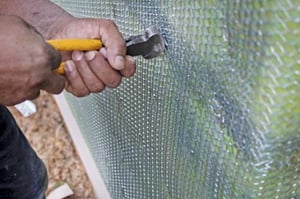 AMICO (Alabama Metal Industries Corporation) has just launched Hydrodry, a self-draining vented wall system for use behind veneer stone, stucco and masonry siding.
This innovative product creates a dedicated drainage and ventilation cavity behind exterior walls—with patented profiles that allow the wall to vent and drain—extending its useful life by drying and creating continuous airflow throughout the wall cavity.
Moreover, Hydrodry accommodates draining over doorways, windows, sill stones, roof pitches and other detailing.
Hydrodry moisture management system works is to visit the product website and watch the brief intro video that shows various types of materials being used on top of the drainage materials.
For more information: amicoglobal.com/hydrodry-system